Meet Chef Cyril Kabaoglu
The Culinary Arts Chef-Instructor at our Los Angeles campus shares his career path from Normandy to cooking with Dominique Crenn and Roy Choi.
Culinary Arts Chef-Instructor Cyril Kabaoglu entered the professional restaurant world at the age of 15, when he left Paris for the Normandy countryside. A city kid who had an affinity for street art, he stashed spray paint cans in his backpack and took an apprenticeship at a Michelin-starred restaurant. Initially, the purpose was to help his family make ends meet, but the artistic side drew Chef Cyril in and soon he fell in love with the craft of cookery.
Though money was his original motivation for the work, Normandy became a serene source of inspiration. "Moving to Normandy was a huge discovery for me. The green, the forest, the fields, the food, the ingredients — everything that I basically didn't have before, so it made me fall in love even more with the actual job." Normandy was also where his grandmother, the cook of the family, lived. Ultimately, he spent four-and-a-half years in the region, landing two apprenticeships, which earned him his diplomas.
After turning 20 years old, Chef Cyril traveled to work in London, followed by the south of France. He returned to Paris to cook at the Hotel Raphael, a Leading Hotel of the World, but he grew tired of Parisian life. In 2003, he vacationed in Los Angeles where he met a Swiss chef at the Four Oaks, a romantic restaurant with a menu focused on European cuisine in Beverly Glen. "He needed some young blood, and he got me a visa for six weeks," Chef Cyril recalls. "I came back home to France and then went to work at Four Oaks for a year and a half."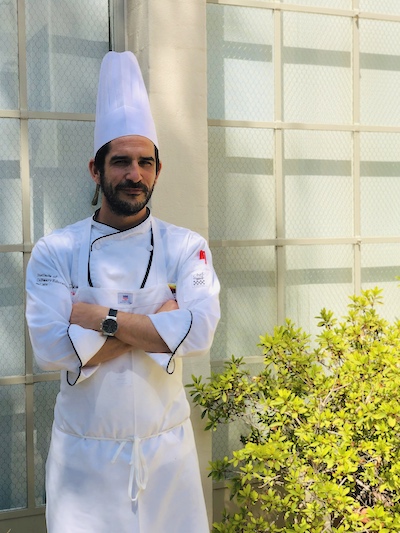 A foreigner in the City of Angels, Chef Cyril sought out comfort among his fellow chefs, often French expats. "I left my country that I loved, so I needed somehow to feel comfortable by at least hearing and speaking French," he says. After leaving Four Oaks, Chef Cyril was hired by Chef Ludo Lefebvre at Bastide. "He was happy to have one French cook in his kitchen and hired me as sous chef," Chef Cyril says.
He would join Ludo for an appearance on "Iron Chef America" competing against Iron Chef Mario Batali with big eye tuna as the secret ingredient. "We did a crazy sashimi of tuna with sushi rice ice cream," Chef Cyril says. "It was the beginning of gels, so we did a soy gel. I remember the dessert for sure, it was big eye tuna chips with watermelon soup." Though they lost, the television appearance stands out as a career highlight. "'Iron Chef' is literally what you see on TV," he says.
"We only had one hour to create five dishes, it was really insane, but one of my favorite culinary memories for sure."
After leaving Bastide and Chef Ludo, Chef Cyril went on to work under Dominique Crenn, another French-born executive chef, at a country club in Manhattan Beach. "We were very close from the beginning," he says. "She helped me out at a time when I really needed a job."
Chef Cyril and Crenn worked together for more than two years before collectively opening Abode Restaurant and Lounge in Santa Monica. In 2007, the restaurant made Jonathan Gold's 99 Essential Restaurants list, was runner up for best new restaurant in Angeleno's restaurant awards, and Esquire named Crenn a best new chef to watch. However, Crenn decided she was bound for San Francisco and invited Chef Cyril to join her. At the time, he had recently met his wife-to-be and decided to stay in LA. "We definitely had a lot of fun working together," he recalls. "I consider her a very good friend."
After a stint cooking at the Langham Hotel in Pasadena, he cooked with Chef Roy Choi. "He gave me a good view of Los Angeles and the LA community, it was a good thing to put in my luggage," Chef Cyril says.
Once he had his two daughters, however, he shifted focus to fatherhood and became a private chef. Eventually, the nonprofit RootDown LA, which aims to empower youth through food education, caught his eye.
"I just wanted to add something to a community where there is a food desert and the access to healthy food is not necessarily there." At RootDown, they grow and harvest their own vegetables and fruit and teach kids how to transform those ingredients into dishes. "Seeing kids enjoying that type of food was very rewarding," he says. Eventually, he became RootDown's chef-instructor, transitioning into culinary education. He joined ICE as a Culinary Arts chef-instructor last year.
"I have given enough to the restaurant world and now I want to make sure that my students are ready for the restaurant world because it is not the easiest world," he says. "Probably one of the most beautiful ones but definitely not an easy one."
In Chef Cyril's class, students frequently find themselves pausing to watch a plating demonstration. "In my class you're going to have the right of freedom to think the way you want," he says. "You try and if it doesn't work it's okay, you're in the perfect environment to mess up. They will repeat and repeat and repeat until they feel comfortable by letting go and plating in a way that they feel like it looks pretty."
For those students that aren't as confident with their artistic skills, he encourages patience and perseverance. "You build skills by repeating mistakes and correcting those mistakes," he says, explaining that eventually, "it comes fluently."
"When I was apprenticing, I was told what to do from A to Z," Chef Cyril says. "There was no room for personal freedom or touch." By the end of the Culinary Arts program, Chef Cyril hopes his students have their own point of view. "I want them to leave the class feeling that they aren't only learning by the book but that it's part of them," he says. "When you plate or when you cook, you need to put yourself out there. Otherwise you just become a regular cook."
That creative freedom hails back to when Chef Cyril was a young boy painting street art in Paris. Today, he continues to paint outside of the classroom, including murals downtown. Most recently, he was commissioned to create a garden graphic for a private home in Pasadena. Of course, he painted fruits and vegetables.
Each of his passions feed the other, as he says his inspiration for painting comes from food and cooking, while his inspiration for cooking comes from art. "Most of the things I like to create on the plate or wall, are usually inspired from one or the other. I might be plating something based on a mural that I did — they go well together," he says.
His favorite lessons to teach are the fast-paced restaurant fire day, which he says keeps him grounded in the industry, and food truck day. But, above all, he loves teaching plating in course eight. "Students end up being quite successful at it so I take it that I am teaching them well."
When asked what career advice he would like to offer students, he relays the importance of not getting too comfortable for any length of time. "Take a color palate, you can't do one nice drawing with only a couple colors, the more colors you have the more creative you'll become," he says. "It's a lifelong exercise, the more you get inspired from people and other places, the more open-minded you'll be as a person and in your craft on the plate."
Schedule a tour of ICE's LA campus or see a virtual tour at our next online Open House event.