Hospitality Training in 2021
An update on safety, service and industry outlook
Hoteliers and a Hospitality & Hotel Management instructor from the Institute of Culinary Education weigh in on the evolving hospitality industry.
At the Hilton Cartagena in Colombia, a plexiglass divider keeps the masked guests and employees from getting too close. To compensate for that and add a personal touch, the hotel has displayed a photo of the employee without a mask so that the guest can see what she or he looks like when smiling. At the Hilton Mexico City Santa Fe, employees communicate "welcome home" in sign language. And at the Hilton Orlando Bonnet Creek, a front desk manager wears a face mask displaying Princess Jasmine and asks kids checking in to name their favorite Disney character.
The pandemic has forced people to physically and socially distance from one another, making hotels rethink the way employees can still be hospitable and form a connection with their guests. Hospitality schools have also changed the way they prepare their students to go out into the pandemic world. In many cases, they are encouraging students to broaden their definition of what a hospitality job is from just hotels and restaurants to senior living facilities or sales and marketing roles.
"Over our long history, we have had to re-imagine how we deliver this hospitality to fit the needs of the time, and the COVID-19 pandemic was no exception," said Danny Hughes, executive vice president and president of the Americas, Hilton. "Our creative team members have thoughtfully developed new ways to express a warm welcome that are unique to their culture and at a safe distance."
The hospitality industry has been particularly hard hit due to travel coming to a virtual standstill in early 2020. According to research firm STR, nationwide occupancy was 49% for the week ending March 6. That was up 47.5% from the prior week, but down from 61.6% from the same time last year.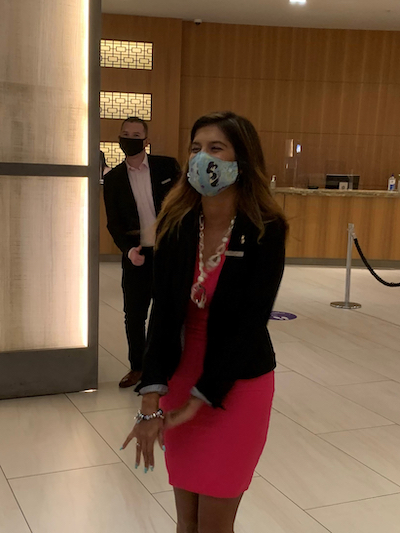 People are still traveling albeit it with some trepidation. Medallia Zingle, a travel messaging platform, reported that 40% of U.S. residents have stayed at a hotel in the last three months. The majority rated their stays as four stars or above, but 58% said they worried about contracting COVID-19 at some point during their stay, mostly during check-in and while using hotel amenities. The majority of the more than 1,000 people surveyed said they would feel more comfortable about using public amenities after the widespread adoption of a vaccine, and 55% said they would be more inclined to do so after hotels take precautions such as adjusting capacity for social distancing and clearly communicating protocols.
For now, hotels across the country are trying to figure out how best to cater to those travelers who are venturing out. The American Hotel & Lodging Association (AHLA) Foundation, the charitable arm of the association, is encouraging hotel employees to advance their education by offering professional development scholarships. The foundation granted full-ride scholarships to Valencia College in Orlando to four furloughed hotel employees who participated in its Empowering Youth Program. It also offers an apprenticeship program for lodging managers and hotel cooks.
"We know that with smaller staffs, employees are being asked to take on even more tasks, so we want to ensure they are properly trained," said Abbey Kang, director of impact at the AHLA Foundation.
Hospitality employees should expect a more demanding clientele, said Hospitality & Hotel Management Instructor Robert Warman.
When travel resumed after 9/11, travelers returned to hotels and restaurants expecting them to operate the same way. This time, the old norms are no longer going to be enough.
"The customer behavior didn't change in '08," Robert said. "When they came back, they came back to the same old thing. What's unique now is there's so much talk of 'Is the customer going to change what their expectations are?' People are going to be much more conscious of what they get and how they're treated."
Safety is now one of their top concerns, but hotel guests still want to feel pampered in a warm, friendly environment.
Joe Dembek, general manager of Sheraton New York Times Square, said he always assures guests that cleanliness protocols are in place through Marriott's Commitment to Clean. The hotel is sending more pre-arrival emails to guests to engage with them even before they travel. Hotel employees will even do personalized shopping for guests such as picking up essentials at local stores.
Gestures such as that and just being kind are much more welcome these days, he said. "How to smile when wearing a mask? Be welcoming in body language," he said. "Place your hand over your heart to indicate a smile."
Another challenge hotels are facing is figuring out how to balance their use of technology with providing a human touch.
Before the pandemic, hotels were already experimenting with and implementing new technologies such as keyless room entry and contactless payment. Marriott International, for instance, offers Mobile Requests on its Marriott Bonvoy app, enabling guests to communicate directly with front desk employees to make requests.
Robert warns that hotels should not go too far with technology.
"Can a QR code replace room service? Sure," he said. "But it can't replace a server giving warmth and communication along with your food."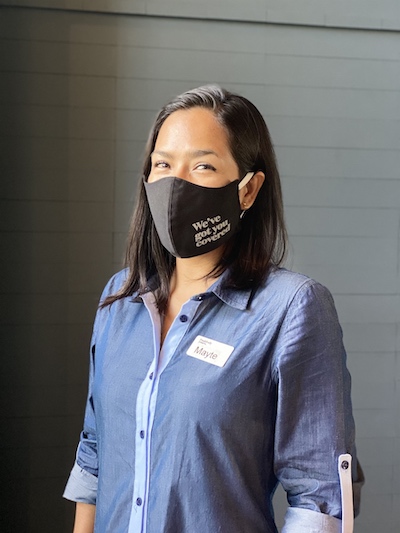 Hotels will continue to evolve as they figure out what travelers' new expectations will be.
"Understanding the customers' needs is going to become even more critical than it was before for a new employee," Robert said. "For many years, we knew what customers expected. We just perfected delivering it. We didn't change it much, and today we may have to change it."
His advice to students: Consider going to all areas in hospitality, not just what they may consider to be the glamorous front-of-the-house positions. He said he is focusing some of his lessons on human resources and marketing.
"HR is still going to exist, the principles are going to exist," Robert said. "It's about 'what do I do to adapt to the new environment?'"
Employers will be pickier in their hiring choices, Robert said. "The ones who are going to be hired are the ones who have made a big commitment to the industry."
Hospitality & Hotel Management student Petrena Andrews, who is on track to graduate from ICE in January, wants to work at either a restaurant or hotel, and she's not anxious about entering the job market.
"By the time I graduate, I'm going to be able to add value to the workforce," she said. "I'm getting to know what makes the hotel business a success, like the front office, the people who are the heart of the operation, how to sanitize a hotel and make sure everyone is safe. I'm looking forward to giving it a try. People always want to travel. Once things calm down, I think there will be a huge boom in people who want to go to places."
Train to help the heart of the operation in Hospitality & Hotel Management at ICE.