5 New Books by ICE Alumni
Just in time for the holiday season.
Institute of Culinary Education graduates go on to a wide variety of culinary careers, including becoming authors. The types of books from ICE alumni vary widely, including illustrative cookbooks by chefs and recipe developers, restaurant management guides and memoirs about culinary or restaurant life. Part of my own decision to go culinary school came from an avid consumption of written narratives by culinary students, chefs, restaurant entrepreneurs, servers and bartenders.
Culinary books make great gifts for anyone with similar food-centric sensibilities, even for those who love to eat but not necessarily to cook. Who doesn't love to admire alluring photographs of expertly prepared dishes? If you know someone in your life who seeks out cookbooks or other food narratives for recipe or even life inspiration, here are five recent titles by ICE alumni, perfect for gifting this season.
After a career spent encouraging cooks to spend more time in the kitchen by meal prepping, batch cooking and preparing homemade pantry staples, Jenna Helwig, Food Director at Real Simple Magazine, took a turn toward minimalism in her latest project. On her website, she remarks about "Bare Minimum Dinners" that she "realized that the secret to cooking more is to do less: to pare back, to embrace some store-bought shortcuts, to eliminate fuss and, in the process, extra dirty dishes."
The result of this mindset is a vibrant, practical cookbook suitable for cooking novices and professionals alike that reduces effort, but never flavor. Different sections of the book are organized by separate strategies, like minimizing hands-on cooking time (think slow cooker), and number of ingredients needed or dishes used (think sheet pan or one-pot meals). The cover art features a dish that perfectly demonstrates Helwig's philosophy to an appealing result: Fish Stick Tacos. Other standout recipes include Korean Sloppy Joes with Quick Pickles, Shortcut Salmon Burgers and Gnocchi Sheet Pan Supper.
Learn more about earning a Culinary Arts diploma at ICE.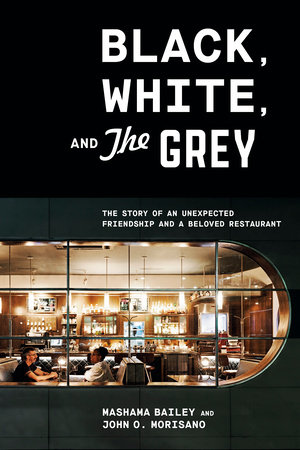 In 2019 ICE alum Mashama Bailey won the James Beard Award for Best Chef Southeast for her beloved Savannah restaurant, The Grey, the site of a formerly segregated Greyhound bus station. "Black, White, and The Grey" tells the story of the restaurant's unlikely beginning, with an auspicious partnership between two former New Yorkers: a white male entrepreneur from Staten Island, and a female African-American chef from Queens. Trading off narration duties, co-authors Mashama Bailey and John O. Morisano allude to the inherent matter of race in the book's title. Their story about bridging gaps and acknowledging biases to create a restaurant and build a friendship based on mutual respect is a vital one in the current American racial climate. 
In Indian cuisine, chaat are like snacks or hors d'oeuvres, and they include many regional dishes whose various components result in savory bites of abundant flavors and textures. In an article written for Bon Appétit, food reporter Priya Krishna notes that the category of chaat "hits practically every element that makes something craveable—sweet, sour, tangy, spicy and crunchy."
In "Chaat: Recipes from the Kitchens, Markets, and Railways of India," authors Maneet Chaugan and Jody Eddy offer an additional component that makes their book on exploring the chaat of India extra craveable: an element of escapism via railway travel. Recipes range from finger foods to forked dishes, and are seasoned with stories of time spent on trains and in railway stations, convenient locations for the amazing street vendors who create some of India's most memorable chaat. The book is an ideal gift for anyone in need of more flavor, color or even scenery in their life this year.
"Food Between Friends" is not only a cookbook, but also a metaphor for the "platonic marriage" between actor Jesse Tyler Ferguson and recipe developer Julie Tanous, whose mutual Southern roots formed a lifelong bond when the two met in California. Their very first exchange at a dinner party that caused them both social anxiety resulted in a laugh, and they've been laughing — and cooking — together ever since. You get a taste of the humor and warmth in their partnership beginning in the table of contents, whose cheeky sections include: "Brunch: Not Just a Sunday Thing," "Ain't Nobody Here But Us Chickens," "Taco Break" and "You Deserve Butter."
Through their friendship spent largely in the kitchen, Jesse Tyler Ferguson and Julie Tanous have created a cookbook of Southern-inspired dishes viewed through a vibrant California lens, such as a Garlicky Sorghum Chicken Stir Fry and Blue Cornmeal Pancakes with Blueberry Butter. Photos throughout the book depict colorful dishes and a pair of friends having a blast. "Food Between Friends" isn't just a cookbook — it's also relationship goals.
Explore Wine & Beverage Studies at ICE 
ICE Alum Adeena Sussman is especially skilled at creating recipe books with titles that strike an emotional chord. Following her previous cookbook, "Sababa: Fresh, Sunny Flavors from My Israeli Kitchen," she partners with Tel Aviv restaurateur Benny Briga for "Gazoz: The Art of Making Magical, Seasonal, Sparkling Drinks." For my taste, "sunny" and "magical" are two words bound to bring me to the table, or in the case of recipe books, the table of contents.
In Israeli culture, a "gazoz" is a carbonated, non-alcoholic drink. Creating magic out of such a simple concept is the work of two flavor and presentation masters. Herbs, veggies, fruit, flowers and spices are all used to create infusions and syrups, and toward the layering of simple drinks into things that sparkle in more than just the carbonated way. The book itself, and its resulting recipes, are tonics for a world definitely in need of one.
Images courtesy of Penguin Randomhouse and Workman Publishing.