The Art of Cake Decorating
Life As a Pastry Student
On our first day of class in Kitchen 501, Chef Gerri Sarnataro shared several indispensable truths about the food industry. One of them really struck me as odd: "There's always a back door." Meaning, there's always more than one way of doing things, especially in cooking. I thought this was ironic, given my initial perception of pastry: we follow recipes to the gram in an effort to deliver consistent results. But of course, Chef Gerri's words rang true throughout the program, and never more so than in cake decorating.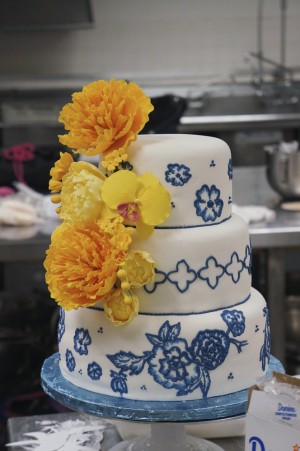 Professional cake decorating elevates the common, spongy dessert from ordinary to memorable. It's an opportunity for the pastry chef to tune directly into the desires and expectations of a client. A cake is a canvas to delight the sense of sight, as much as the sense of taste.
Not surprisingly, it's the details make or break a cake. If you want to create flowers, for example, you aim to make all the petals, leaves and buds look like nature intended. Subtle color gradients and textures bring to life what was once plain, pliable fondant.
But before you can begin to decorate your cake, you need a plan. A simple scheme for the tiers, colors and the placement or distribution of ornaments is essential. This plan is not only a powerful tool to help keep the decorator on point, but will also provide a preview of sorts, for the client. In the classroom, we presented our cake diagrams and planned the preparation of the decorating elements accordingly.
With a plan in mind, we proceeded to design our cakes. This was when Chef Gerri's words echoed through the classroom. Yes, there is the way that we were taught to create a rose, but if you looked around the room, everyone was doing their petals just a bit differently. The diverse results would prove that there's more than one way to translate an idea into a consistently beautiful product. In truth, cake decorating has been most challenging part of our program for me. I can't sit still for very long, even if I'm working on a beautiful sugar flower.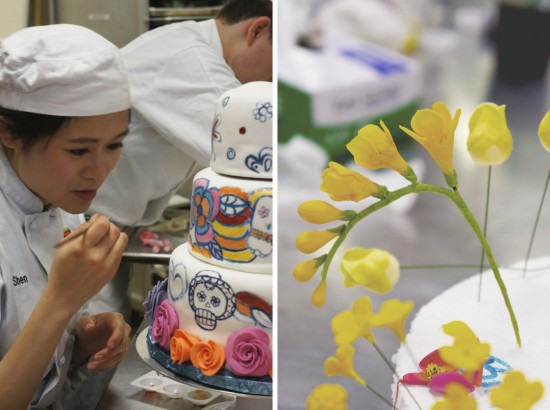 However, the words of Chef Chad stick with me: "I understand, Orlando, but a true Pastry Chef must be able to tackle any project." As if he were predicting the future, one of my family members was so excited about the cake I was making, she and her fiancé signed me up to make their wedding cake a year from now (no pressure!).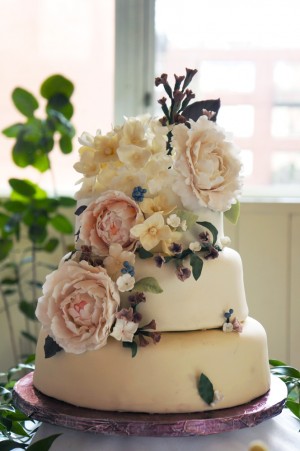 Several days later, we arrived at the end of our classes. We decorated our cakes and showed them in our final ceremony. As my class heads out to our externships with many skills at hand and lessons in mind, I can see that we have, individually, begun to find our culinary voice. Of course, bearing in thought that "there's always a back door."
Click here to read more stories about Life as a Pastry Student.