Healthy-ish Valentine's Day Treats
ICE's registered dietitian shares three sweet and guilt-free recipes for the occasion.
Chef Abbie Gellman, RD shares her take on dark chocolate peanut butter cups, honey-whipped ricotta with espresso and vegan rice pudding made with alternative sweeteners and nutrient-dense ingredients.
We're already into February, which means Valentine's Day is coming! For many of us, this brings sweet treats and sugary snacks. Chocolate has long been associated with love, so we shouldn't completely reject it, right?
I love chocolate and other indulgences but overloading on too many processed foods and sugar can have a significant impact on our health. Added sugar has been shown to cause our blood sugar to spike and lead to feeling sluggish, being hungry again fairly quickly, breakouts and moodiness, among other things.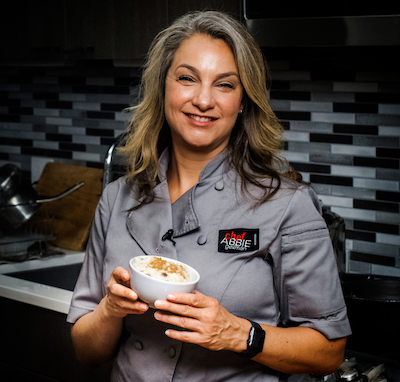 So how do we have our cake and eat it too? Craving a sweet snack or something special can be hard to ignore. Luckily, there are ways to cut down on total sugar and still enjoy dessert and other sweets. Vanilla extract, sweet spices such as cinnamon, ginger and clove, or fresh, frozen, canned and dried fruit are a great way to add some sweetness to a dish. Pairing sugary or sweet ingredients with nutrient-dense items, like the nut butter and ricotta cheese in the recipes below, is a great way to add additional vitamins and minerals to your dessert. Portion size can be extremely helpful here as well since a little can go a long way. No need to eat six peanut butter cups when one will suffice; you can even stash them in your freezer where they'll stay fresh for up to three months.
Here are some recipes to satisfy your sweet tooth this Valentine's Day.
Recipe
Dark Chocolate Peanut Butter Cups
Yields 16 cups
These delightful two-ingredient peanut butter cups will be your new go-to for easy, quick sweet treats. Here I'm using peanut butter, but any nut or seed butter you like will work. Dark chocolate provides health benefits from phytochemicals called flavanols, which have been shown to help reduce blood pressure and increase insulin sensitivity in adults. These benefits come from the cacao, so the higher the percentage the better; I recommend using at least 70% cacao dark chocolate. Along with flavanols, cacao also contains copper, zinc, magnesium and iron.
Ingredients
1 1/2 cups 70%+ dark chocolate chips
1/2 cup nut butter
Directions
Place chocolate in a microwave-safe bowl. Microwave for 30 seconds, stir and continue for 10-second intervals until melted.
Place 16 mini muffin liners on a baking sheet or in a large container that will fit in the freezer. Spoon a teaspoon of chocolate into each and place in the freezer for 5 minutes until set.
Remove from freezer and add 1-2 teaspoons of nut butter to each then add another 1-2 teaspoons of chocolate on top of the nut butter layer.
Place back in freezer and allow to set, approximately 15 minutes. Store in freezer until ready to eat.
Note: You can also melt the chocolate over indirect heat using a double boiler if preferred.
Honey Whipped Ricotta with Espresso
Yields 2 servings
Sweetened with honey and topped with chocolate chips, this dessert is sure to be a crowd-pleaser. Adding a shot of espresso (or coffee) gives this dessert a pop of flavor. Paired with some chocolate chips makes this taste luxurious and creamy. You can also add fresh fruit like raspberries and strawberries in addition to or in place of the chocolate.
Ingredients
8 ounces ricotta cheese
2 tablespoons honey
2 tablespoons espresso
1 teaspoon 70%+ dark chocolate chips or chocolate shavings
Directions
In a bowl, whip together the ricotta and honey until light and smooth. This may take ~4-5 minutes.
Spoon into two dessert bowls. Drizzle 1 tablespoon espresso into each dish and sprinkle with chocolate chips or shavings.
Vegan Rice Pudding
Yields 4-6 servings
This one-pot dessert is delicious served warm or cold. Serve with fresh berries, cinnamon and a dollop of whipped cream or, to keep it vegan, whipped coconut cream. For this recipe, look for coconut milk found in a carton versus the can. The carton coconut milk has a higher water content and lower fat content than its cousin in the can. I also often use maple sugar instead of granulated sugar or brown sugar. Sugar is sugar, but maple sugar provides a subtle maple flavor as well as some nutrients such as iron and magnesium.
Ingredients
2/3 cup arborio rice rinsed and drained
1 quart coconut milk carton or almond milk (or a mixture of the two)
1 cinnamon stick
1/2 teaspoon kosher salt
1/4 cup maple sugar
1/3 cup raisins, optional
1/2 teaspoon ground cinnamon, for garnish
Directions
In a large saucepan over medium-high heat, add rice, coconut milk, cinnamon stick, salt and sugar. Mix together well and allow to just boil then decrease heat to low, cover, and cook for 25-30 minutes. Check occasionally and stir.
Add raisins (optional) and cook for an additional 15 minutes, stirring frequently until creamy and the liquid is mostly evaporated. If liquid evaporates too quickly, add some to the rice mixture.
Serve warm or cold, garnished with ground cinnamon.
Note: If you do not have cinnamon sticks you can follow the ratio of: one, 3-inch cinnamon stick equals a 1/2 teaspoon of ground cinnamon. So, add about a 1/2 teaspoon of ground cinnamon while the vegan rice pudding cooks.
Don't miss our Valentine's Day cooking classes available online.