How to Plan a Restaurant Wine Program
ICE Instructor Nancy Selzer shares a process for developing your wine list.
Restaurant & Culinary Management Instructor Nancy Selzer studied wine through the Sommelier Society of America and Spain Wine Academy. She was the service director at Babbo early in her career and her wine lists at Tarry Lodge restaurants have earned more than 10 Wine Spectator Awards of Excellence. Nancy has built two private-label wine brands and won Best Medium Sherry Pairing at an international wine competition in Spain.
Opening a profitable restaurant requires millions of decisions, each of which has direct consequences on the bottom line. What is the theme, where will it be, who is my customer? When considering a wine program for your restaurant, think about why you want to open a restaurant in the first place. Most likely, you're driven by a love of hospitality, the desire to make people happy and the need to make a living. Whether that happiness is born of your kick-ass barbecue recipe or your Alinea fever dreams, the inspiration should be reflected in your beverage program.
Why should your restaurant have a wine program?
Wine is both an emotional and practical part of what makes a great restaurant. Wine is food; it is an ingredient in your meal the same way olive oil or bread is. It is pleasure: there's a reason that Bacchus was the Roman god of wine and fertility. Wine is hospitality; running your restaurant should be like hosting an amazing party every day, and what is more welcoming and hospitable that a well-selected wine? The rituals of keeping and serving wine reflect the care you have for your guests, and puts them at ease and looking forward to the experience you will provide. Wine is also revenue. Your restaurant, above all else, is a business. As a savvy business person, your two most important jobs are reaching new customers and keeping the customers happy so they will continue to be your customers. By offering wine, no matter how formal or casual your place, you are speaking to a particular type of guest: one who appreciates fine food, who places a premium on a dining experience and who is willing to pay for the privilege. Including wine as a revenue stream in your business is just one more element you can use to maintain a healthy bottom line.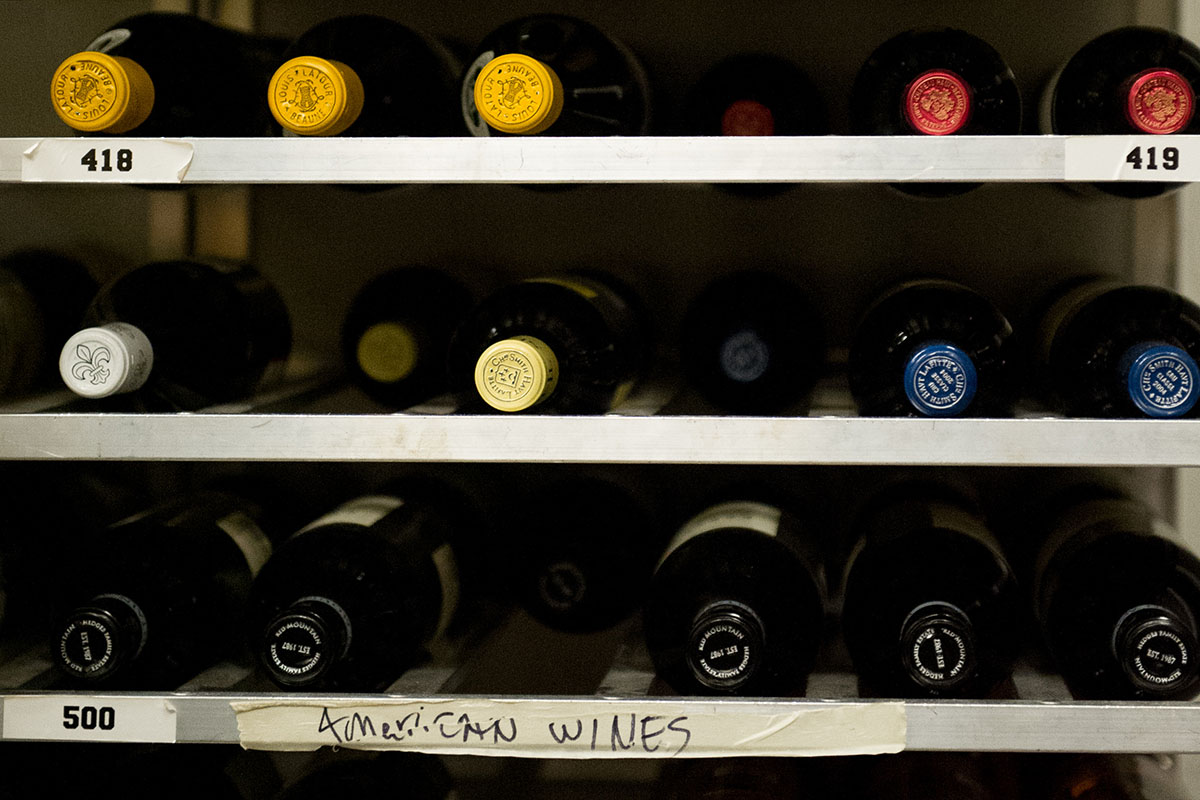 Point of View
A wine list needs a point of view. Just like every single thing that makes up the personality of your restaurant, your wine list needs a sense of purpose. Consider these factors.
First, consider your food; what will taste good with it? Let's take your barbecue restaurant: you'll want to consider what type of barbecue you're serving — sweet North Carolina style or savory Kansas City? Grilled or smoked? All of these factors can help you decide what would be appropriate for your wine list. With this in mind restaurants will often rely on the "if it grows together, it goes together," approach and create a regionally focused list (truffles and Barolo anyone?).
When we opened Casa Mono, we knew that our menu was going to be chef-driven and include lots of offal and other exotic delights. We were aiming at a very food-savvy clientele who would take risks and therefore created a wine list that would speak to those guests. But we also knew that we wanted to be able to satisfy some less experienced diners and made sure to have more mainstream selections available to them. We invested in a crack team of sommeliers to help our guests navigate the all-Spanish list. On the other hand, when creating the wine program for the suburban Tarry Lodge restaurants, we knew we would have some of those same wine-centric folks and a much larger population of people who just wanted something nice to drink with their pasta. So we built a "greatest hits" list of Italian wines to suit them.
What level of service are you offering?
The scope of your list will be congruous with the level of service you provide. If you are planning a white tablecloth, fine-dining establishment, your clients will expect a much larger selection that has both breadth (many types of wine represented) and depth (many vintages of the same wine offered). You will also need a team of professionals to manage such a list. If you're opening a neighborhood joint, a small to medium list of quality value priced (to clarify: not cheap) wines can be managed by a well-trained bar manager or senior staff member. And you won't need to spend an arm and a leg on crystal glassware (though the glassware you select in any type of restaurant is important). For a restaurant that serves large groups, it's great to have plenty of large-format options available. You can offer these to your guests for a bit less than what they would pay for two regular sized bottles. Your customer gets a little deal and you increase your overall sales; win-win! Even fast-casual and quick-service restaurants are recognizing the benefit of offering wine. Shake Shack, Made Nice and many others are offering either wines on tap or in individual portions. No matter the style of your restaurant, the importance of comprehensive and ongoing training for your staff and getting their buy-in on your beverage program cannot be understated.
Some restaurants focus on a particular style, like sparkling wines or an extensive sherry list (yum!). Some stick to a specific price point, like Becco's $31 list that has been a draw for decades, or Amelie's popular $12 wine flights. Maybe feature local producers, natural/organic wines, esoterica (wines aged under water, orange wines, risen-from-the-dead varietals). There are even varietal-specific wine lists: Freek's Mill in Brooklyn only serves wines made from Chenin Blanc and Gamay, and it works! Don't forget that whatever theme you choose for your program must speak to your guest. If it doesn't sell, you're playing the wrong tune.
Perception of Value
Whatever point of view you choose for your wine program, your guest must feel like they are getting what they paid for. It's very easy to offer wines at a huge mark-up in order to increase revenue, but ultimately that approach does not work. Restaurateurs are at a disadvantage in the age of technology. There are many consumer apps available to guests with information about wines at the touch of a smartphone. Customers generally don't understand the economics of restaurants and don't take into account all of the additional expenses a restaurant incurs (glassware, staff, insurance, equipment, utilities, rent, etc.) when they compare retail and restaurant pricing through these apps and often feel ripped off. It is possible though, and in my opinion, essential, to be fair and profitable at the same time. The best way to do so, is to be a strategic purchaser and be transparent with your guest. Work with your vendors to buy in bulk when you can, be on the lookout for great deals on closeouts (e.g. when a new vintage is being released) and ask for exclusive opportunities. Train your staff to clearly explain your pricing when asked ("We mark up our bottles between 2.5 and 3 times to take into account expenses."), and offer a wide array of pricing so that every customer feels served.
Where to Start
If you need to delegate, hire someone, either a consultant to help you to create the list and hand it off to your team or a dedicated fulltimer who can make your vision a reality. Or take a class! ICE has a terrific Wine Essentials course, a certificate program and a service-oriented professional program.
Explore ICE's wine studies to find the classes for you.