ICE Alum Opens Fast-Casual, Fire-Grilled Chicken Restaurant in NYC
Restaurant & Culinary Management graduate Dan Mezzalingua opened his first food concept, Brine, in New York City this week.
Dan Mezzalingua (Management, '15) might have been the most enthusiastic 41-year-old intern to enter New York City's competitive restaurant scene after completing ICE's Restaurant & Culinary Management program. After 14 years in the tech industry and five years in private equity, the political science grad couldn't shake his love of cooking and desire to open a chicken concept.
In 2015, he enrolled at ICE to, like so many students here, "get a taste of it to see if this was what [he] wanted to do." The verdict?
"I ended up loving it; it was incredible," says Dan, who wrote his business plan as part of the program then independently interned at Otto's Tacos for eight months. "I wanted the exposure to the industry. I did everything and anything, and I still loved it and continued to evolve the business plan."
Self proclaimed as 100% Italian, Dan learned to make pasta from scratch with his grandmother and loved cooking so much that he pretended to cook at a diner as a kid, taking his five siblings' orders at night and waking up early in the morning to prepare their breakfasts. While he always loved food, he perceived chicken to consistently be dry and tasteless until he traveled as an adult.
"I was in the Caribbean and had the best chicken of my life," Dan says. "I didn't know it could taste like this."
The street vendor serving flavorful chicken told Dan about brining and he started experimenting with the technique at home. He brined chicken for years, but continued to come up short when seeking chicken with as much flavor at restaurants, especially with any affordability. Dan set out to build "an amazing chicken place" that would be fast-casual with simple, good, clean food and beautiful plates for table service – no "scoop to serve."
He and Executive Chef Joe LoNigro tested hundreds of gallons of brine recipes with hundreds of pounds of chicken variations. They ate chicken from all over the East Coast and as far as California, and developed original – secret – recipes that they guarantee to be flavorful and never dry.
"We found this beautiful brine that enhances the flavor of the chicken and doesn't overwhelm it," Dan says. "The brine makes the chicken better without making it something else."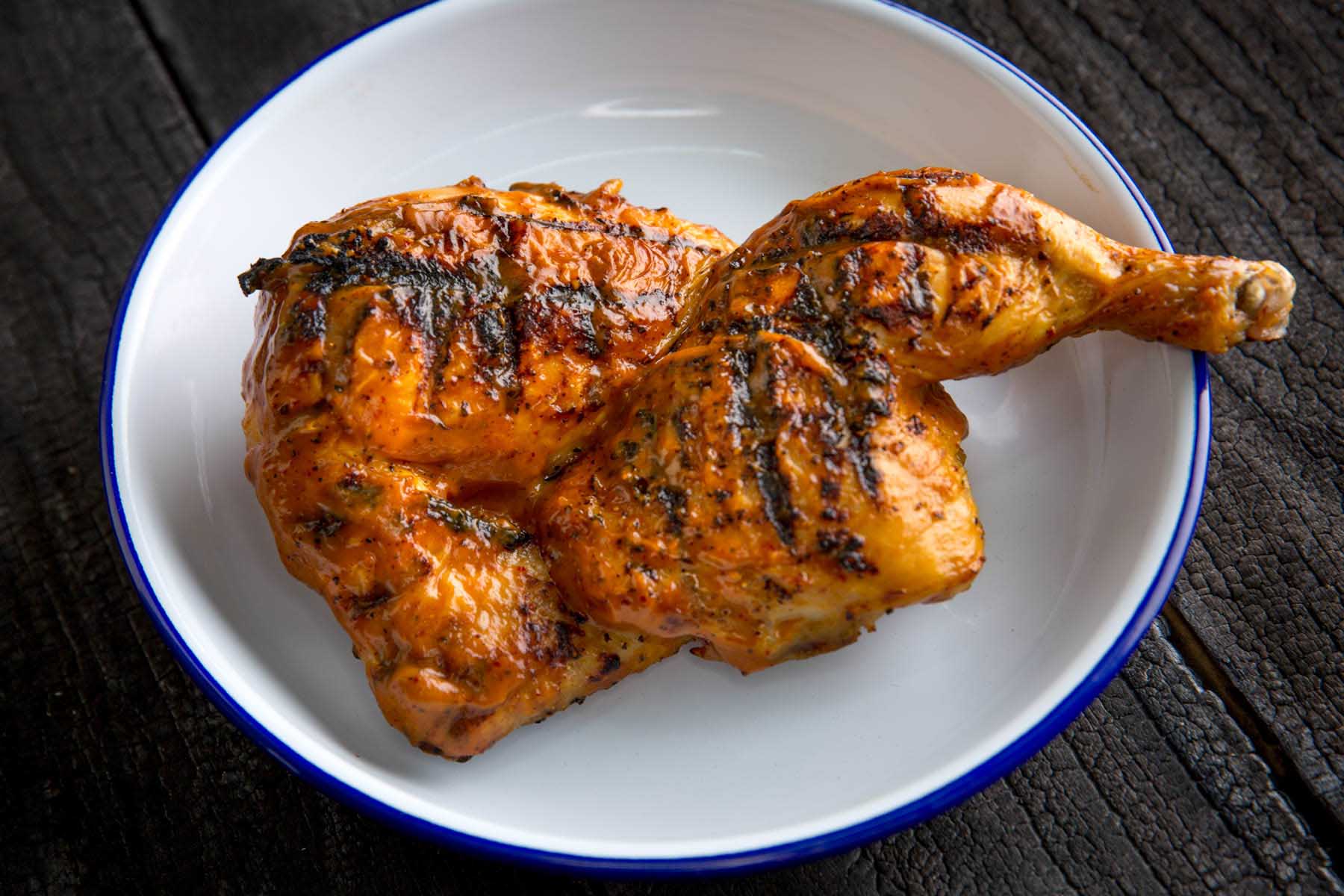 Opened on Aug. 15, Brine sources antibiotic-free, never-frozen chicken from Beyond Organic in Virginia, which goes into the signature brine for 24 hours then rests in the fridge for eight hours to remove excess moisture. It's par-cooked in the oven with humidity then finished on the grill and served one of three ways: thigh quarter, half chicken or sandwich. The menu includes eight high-quality sides (such as charred broccoli and Yukon Gold crinkle-cut fries), three salads and five homemade sauces, plus soda, beer and wine. The entrepreneur didn't think about serving beer or wine until his ICE course covered the topic and inspired him to taste test pairing options.
"Everything I learned at ICE, I apply here everyday," Dan says. "I knew I wanted chicken, but I was all over the place. After the program, I was much more focused on exactly what I wanted to do and how I wanted to do it."
He adds that the most exhausting part of opening a restaurant has been the thousands of decisions, from aesthetics to location, technology and staffing. Dan's most integral decision was finding an experienced chef that shared his vision for the concept, then he and Chef Joe interviewed 300 people to hire a staff that's dedicated to business and personal growth.
The cashless restaurant implements intuitive kiosk ordering for efficiency and is located across the street from Google on 8th Avenue (between 15th and 16th Streets). "I have no history in the industry, so nobody's going to look for us," Dan admits. "It's high traffic and you get business people, young professionals, hipsters, everything in between."
The plan is to make this location work then expand in New York and potentially in California, where Brine's chef and general manager are both from. 
"I thought chicken was one way my whole life and now I see it so differently," Dan says. "We're not trying to reinvent it, just perfect it."
Develop your business idea in ICE's Restaurant & Culinary Management program.