Food for Boosting Immunity and Calming Nerves
Cooking is something you can control in times of crises.
Director of Nutrition Celine Beitchman, M.S., advises on whole foods, nutrients and antioxidants to help boost your immune system amid the stress of the COVID-19 pandemic.
Our Health-Supportive Culinary Arts program covers principles of food and healing during the final two modules, including boosting immunity as part of lesson 88. The curriculum explores what role essential nutrients (vitamins, minerals) play in keeping us in our best health; what to eat more and less of; and the importance of an integrative approach to wellness – from hydration to exercise to sleep.
In the midst of a worldwide health crisis, we asked Chef Celine to share a recipe from this lesson and advice for supporting our immune system without adding stress to meal times.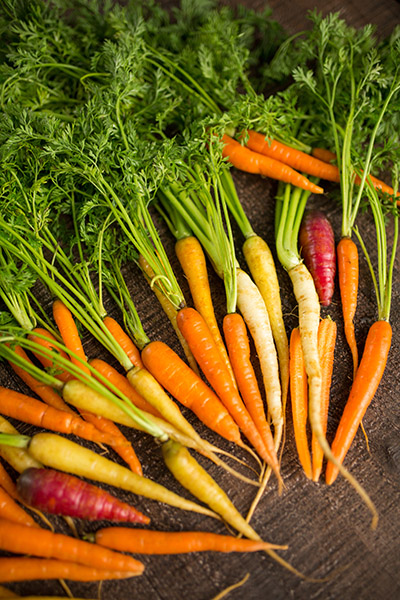 "In general keep to nutrient-dense whole foods that include fiber and naturally occurring substances that keep you calm and full. With lots of color on the plate and sweet notes from natural sugars you're less apt to snack on junk food," she says.
Beyond opting for whole foods, Chef Celine recommends reducing added sugar, eliminating pro-inflammatory fats and eating a rainbow of colorful vegetables every day. A simple way to start: Source yellow and orange vegetables like carrots, sweet potatoes and squash that are rich in beta-carotenes – phytochemicals that convert to Vitamin A in the body.
"Beta-carotene found in yellow and orange fruits and vegetables is a powerful antioxidant that helps keep healthy cells intact. Some of your immune system chemistry works by oxidizing cells as a way of destroying them. Keeping surrounding tissue out of harm's way is where these antioxidants come in," she explains. "Because beta-carotenes are stable compounds, they're present raw or cooked. You can buy pre-cut, frozen or pre-cooked varieties and still get the benefits. It holds up really well."
Here, she shares a versatile recipe from the career program that supports eye, skin and cellular membranes and contains fiber, beta-carotene and healthy fats from extra virgin olive oil and toasted hazelnuts. Try it hot, cold or room temperature, as a hearty side dish or a base for legume or whole grain bowls, or add a handful of leafy greens and a splash of citrus for a delicious salad.
Study Health-Supportive Culinary Arts.
Recipe
Roasted Root Vegetables with Hazelnuts, Cilantro and Garlic
Yields 4 servings
Ingredients
1/4 cup hazelnuts
1/2 pound carrots, roll cut
1/2 pound sweet potatoes, large dice
1/2 pound parsnips, roll cut
1/2 pound shallots, quartered
2 tablespoons olive oil
1/2 teaspoon salt
2 tablespoons parsley, chopped
2 tablespoons cilantro, chopped
1 clove garlic, minced
Directions
Preheat oven to 375 F. Toast hazelnuts until fragrant, approximately 6-7 minutes. Set hazelnuts aside to cool.
Toss carrots, sweet potatoes, parsnips and shallots in large bowl with olive oil and salt.
Transfer vegetables to sheet tray lined with parchment. Roast vegetables in oven until evenly caramelized, approximately 20-25 minutes, stirring occasionally.
Skin hazelnuts by wrapping in towel and vigorously rubbing them. Roughly chop hazelnuts and transfer them to large bowl.
Add vegetables to bowl and toss with parsley, cilantro and garlic just before serving.
Study food and healing with Chef Celine in Health-Supportive Culinary Arts.