The Techniques Behind Chocolate Showpieces
Where confection and construction meet
Valentine's Day is the busiest day of year for pastry chefs. Among the requests for heart-shaped chocolates and piped rosettes, many people want a prominent centerpiece for their table or event. Enter the chocolate showpiece.
To successfully create a chocolate showpiece, a pastry chef must master several fundamental techniques. This elaborate and eye-catching confection is assigned to students at the end of the Chocolate Confections course within the Pastry & Baking Arts program. Last week, Pastry & Baking Arts students, led by Chef Jürgen David, ICE's Director of Pastry Research and Development, made their own chocolate centerpieces, with a very fitting theme: Valentine's Day.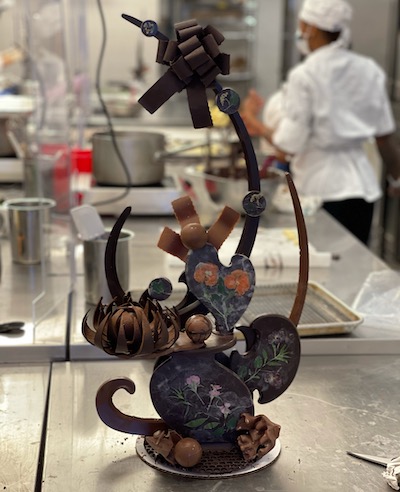 The final product looks extravagant, though the skills required to make it are very practical. Working in pairs, students come up with a design for their sculpture, then sketch and cut out templates. In addition to the templates, students learn how to use silicon mats to cast their designs. Arguably the most important ingredient in a chocolate sculpture is the chocolate, which must be properly tempered before it can used for construction. Learning how to temper requires a lot of practice, but it's the one of the most important skills for a pastry chef to master. Tempering requires careful melting and mixing of the chocolate, until it's shiny, smooth, and workable. About four to six pounds of chocolate go into one sculpture and all of it must be tempered correctly.
"Learning how to temper is like learning how to walk for a pastry chef." – Chef Jürgen David
Once the tempering is done, construction may begin. Students learn how to turn two-dimensional tempered chocolate shapes into three-dimensional, freestanding works of art. From building the base structure to adding colorful details, students discover what goes into successful, decorative construction. When it comes to confectionery structures, chocolate showpieces are an important staple to learn.
Unlike sugar sculptures, chocolate showpieces are made to eat, not just to look at. By closing out the Chocolate Confections course with the start-to-finish construction of chocolate showpieces, ICE ensures its Pastry & Baking Arts students have conquered the fundamentals of chocolate.