Restaurant Revenue Strategies
There are tricks of the trade for selling more menu items for a higher profit.
Our New York campus dean of Restaurant & Hospitality Management shares four business strategies for aspiring managers, restaurateurs and entrepreneurs.
Average Check
To understand the grand plan, you first must understand some general terms. Most (all) restaurants calculate their average check by adding the average price of a starter, entrée and drink (depending on venue style – small plate, big plate, drink). This is a very important figure for a restaurant and what they base their projections on. If an average starter salad is $10, a salmon entrée is $28 and a glass of white wine is $12, the average check would be $50. For everyone that comes in and has tea and splits a salad among four people, you need others to purchase that grand tower of seafood. The "goal" is not to meet your average check but to surpass it. Managers get bonuses and/or raises for doing so and servers get bigger gratuities, among other things (promotions, better shifts, etc.).
Check Builders
That's where these come in: Check builders are menu items that help raise check averages. So when the table adds a dozen oysters to start (which a good waiter will offer with that first round of drinks), they already have a great chance to get a bigger check average on this table. If the oysters are $3 each, that's $36 divided by 4 people, so you just added $9 per person to the check. Examples of check builders are charcuterie, pickles, cheese plates, olive bowls, raw bar, a bread basket and much more (like dessert!).
Upselling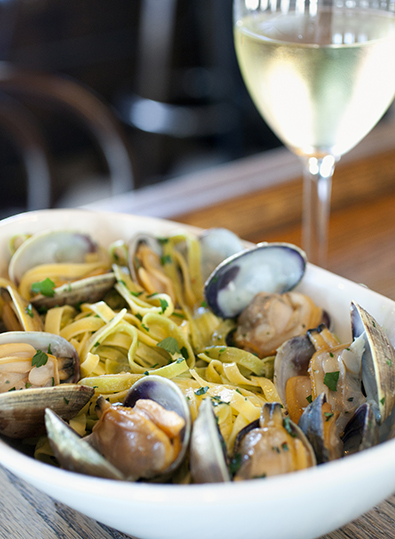 Here's where star servers shine. A good server raises check average imperceptibly and uses a well-written menu to get them there. For example, when a table orders two glasses of wine, the server can suggest a bottle and specifically site one they recently tried that's preferable to your selection and slightly more expensive. The server doesn't recommend a bottle that's $25 more, only $10, which can be imperceptible. And, who would buy the one for $28 that the server is clearly not recommending. This server might also recommend a dozen clams (at $2 each), which would go great with your wine choice. The server has the opportunity to add $42 (wine) plus $24 (raw bar) to the check with these suggestions.
Menu Engineering
Menus sell your concept and should be directly tied to the above strategies. The menu should be your best (and least expensive) marketing piece. It should say who you are without having to walk into your venue.
Here are some menu aspects to be mindful of.
Dollar signs: Studies show we shouldn't display dollar signs on a menu. It makes the customer think about money. For the same reason, never put menu items or a wine list in order by price or format pricing in a straight column down. Simply include it at the end of each item description to discourage price comparison.
Photos: Well-placed, professional photos will help sell your product. A picture of a beautiful tower of raw seafood or a cheese and charcuterie plate adds to the appeal.
Colors: Use a color scheme throughout your concept and in your menu to help tell your story. Leave bright red and blue to fast food and QSR chains. Subtle, earthy tones sell better in full-service venues.
Descriptions: Studies have shown that better descriptions correlate with better sales — as much as 27% more. What do you think you'd sell more of: "hamburger with lettuce, tomato, cheese, mayo and pickle on a toasted bun" or "hamburger: house-ground beef, brisket and short rib, with butter lettuce, heirloom tomato, aged cheddar, aioli and homemade pickles on a toasted brioche bun"? One restaurateur I know changes his menu descriptions monthly and doesn't stick to one until the item is selling enough.
Specials: Smart restaurants use this as a way to move product. Yes, it may be something great they saw at the greenmarket today. Just as easily, it could be the halibut that didn't sell well last evening that's in the salad you're eating today.
"Siberia:" The lower-left corner of the menu is where items go to die. Use it to add to your value proposition but know it's the last place people look.
Learn more about restaurant sales and marketing strategies in Restaurant & Culinary Management.