Sweet Potato Tart
Chef Michael Laiskonis' alternative to pumpkin pie promises consistency, complexity and natural sweetness.
We are now well into autumn, the season for the deep flavors and comforting textures associated with holiday baking traditions. Inspired by richly spiced pumpkin pie, I wanted to create a more refined version, swapping out the familiar pumpkin with the natural sweetness and complexity of sweet potato.
Working with fresh pumpkin can be a frustrating exercise due to its inconsistency, and I always feel a bit guilty resorting to the canned variety. The choice of sweet potato as an alternative is an easy call as its water content is far more predictable and controlled. When roasted, its flavor opens up as natural sweetness develops.
I simply choose evenly sized sweet potatoes and after a good washing, I roast in a hot oven at roughly 200 C/400 F. One might roast just to the point of softness, but I urge taking it further, until the sugars literally begin to seep out and caramelize on the roasting pan. Once cooled and peeled, I like to pass the roasted sweet potatoes through a food mill or ricer, just in case there are any bits of fiber; this will ensure the smoothest possible puree.
The sweet potato filling can be baked into a shell of any conventional size or shape. I love working in the single-serving medium of a plated dessert, and I further enjoy the challenge of presenting surprising forms. The cylindrical shape shown here required a bit of math and measurement using a typical tart ring plus a ring cutter of a smaller diameter. The almond pâte sucrée is rolled into sheets; the round base for the tart and the interior/exterior "walls" are then cut to precise measurement before lining. In order to hold its shape, the tart is blind-baked with cushions of granulated sugar wrapped in heavy-duty plastic film. Baking a second time at a lower temperature then sets the filling.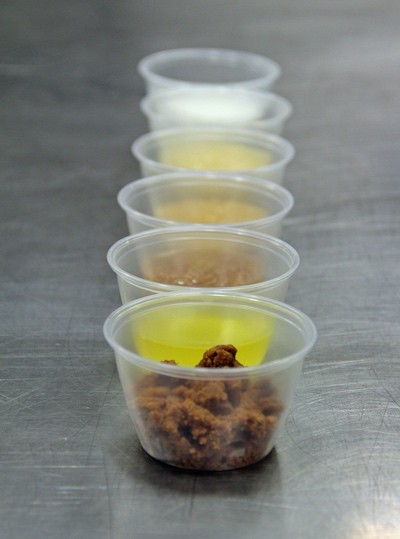 The brown butter flavor for the ice cream I paired with the tart can be achieved in a few ways, and my preference is to make my own browned milk solids. Heavy cream and some added milk powder are slowly heated and reduced to the point when the moisture is cooked away, resulting in clumps of deeply browned solids separated from the milk fat, which can then be strained away. This method allows me to better control the fat content of the ice cream while maximizing the flavor; the clarified milk fat is a bonus byproduct that can be used elsewhere.
The remaining components of the tart offer counterpoints of flavor and texture. A few bits of confit lemon peel add a contrast of brightness, while the crispy meringue brings an airy crunch and evokes the homey combination of sweet potato and marshmallow. The red wine caramel is a component that creates an effect greater than the sum of its parts; lightly caramelized sugar is deglazed with red wine and reduced to syrupy complexity. The cream puree is a lighter interpretation of pastry cream, the result of blending milk and cream cooked with agar and employing the technique of a fluid gel and shear-thinning properties. The caramel notes provided by few thin discs of tempered blonde chocolate add a little snap and echo the brown butter notes of the ice cream.
Recipe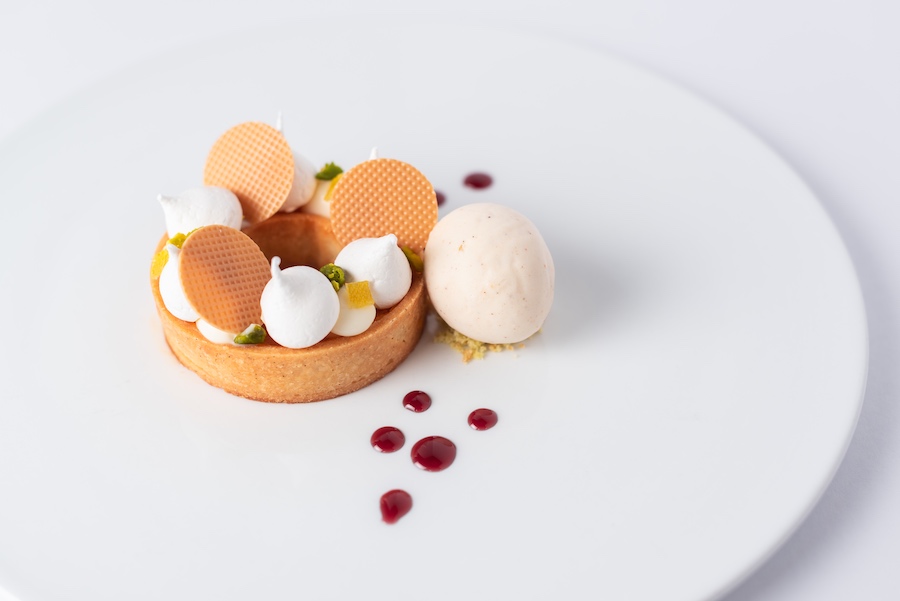 Harvest
Sweet Potato Tart, Red Wine Caramel, Brown Butter Ice Cream
Yields 2 large-format tarts or up to 12 individual tarts, depending on size and format.
Sweet Potato Tart Filling
Ingredients
50 grams whole egg
35 grams sucrose
20 grams light brown sugar
0.5 gram salt
0.5 gram cinnamon, ground
0.5 gram ginger, ground
1/2 piece vanilla bean, split and scraped (pod discarded)
125 grams roasted sweet potato purée
90 grams heavy cream (36% fat)
90 grams whole milk
Directions
Combine all ingredients into a blender and process until smooth. Strain through a fine mesh sieve and chill for at least one hour, or up to 24 hours (this allows for any tiny air bubbles to diffuse).
Almond Pâte Sucrée
Ingredients
120 grams unsalted butter
180 grams confectioner's sugar
50 grams whole eggs
35 grams almond flour
0.5 gram salt
90 grams all-purpose flour
180 grams cake flour
Directions
In a stand mixer, cream the butter and confectioner's sugar until smooth.
Add the egg and scrape down the sides of the bowl. Slowly add the remaining dry ingredients, mixing just until incorporated.
Form the dough into a flat square and wrap in plastic film. Chill and allow resting period of two hours before rolling.
Roll and shape the dough as desired and blind bake the shells at 150 C/300 F, until lightly and evenly browned.
Carefully pour the filling into the par-baked tart shells (setting the shells inside the tart ring will prevent the shell from expanding in the oven).
Place the tarts in at oven at 135 C/275 F and bake for approximately 20-25 minutes, or until filling has just set in the center of the tart.
Remove from oven and allow to cool.
Cream Purée
Ingredients
125 grams whole milk
2 grams agar
125 grams heavy cream (36% fat)
40 grams sucrose
0.5 gram salt
Directions
Combine the milk and agar in a small saucepan. Gently bring to a boil; reduce heat while maintaining a light simmer for two minutes.
Remove from heat and whisk in the cream, sucrose, and salt. Allow to cool and set.
Process in blender until smooth. Transfer to a squeeze bottle and chill.
Red Wine Caramel
Ingredients
100 grams sucrose
Water, as needed
150 grams red wine
Directions
Combine the sucrose and water to moisten in a saucepan. Cook to a light amber caramel color.
Remove from heat, and slowly add wine. Return to heat and cook to dissolve any hardened bits of sugar. Continue to cook to 105 C/221 F. Allow to cool and transfer to a squeeze bottle.
Brown Butter Ice Cream
Ingredients
140 grams sucrose
2 grams ice cream stabilizer
550 grams whole milk
230 grams heavy cream (36% fat)
25 grams dry nonfat milk powder
20 grams dextrose
20 grams invert sugar
1 gram salt
30 grams browned milk solids (recipe below)
Directions
Combine the sucrose and ice cream stabilizer and reserve.
Combine the milk, cream and milk powder in a saucepan. Begin heating. Whisk in the sucrose and stabilizer, dextrose, invert sugar, salt and browned milk solids. Heat the base, while stirring, to 85 C/185 F.
Remove from heat and quickly cool the base to 4 C/40 F. At approx. 65 C/150 F homogenize the base with a handheld immersion blender for approximately 45 seconds. Chill and mature the base at 4 C/40 F for 12-16 hours.
Process in a batch freezer to a temperature of -5 C/23 F and extract. Transfer finished ice cream to blast chiller to harden at a minimum of -18 C/0 F. Alternatively, transfer to PacoJet canisters and freeze; process as needed.
Browned Milk Solids
Ingredients
350 grams heavy cream
20 grams dry nonfat milk powder
Directions
Combine the cream and milk powder in a heavy saucepan; slowly reduce, stirring as necessary, until solids have browned and separated out from the clarified milk fat.
Carefully strain through cheesecloth and squeeze to extract excess milk fat. Reserve.
Lemon Confit
Ingredients
2 pieces whole lemon, peeled into wide strips (white pith removed)
Water, as needed
100 grams sucrose
Directions
Blanch the lemon peel three times: cover in a saucepan with cold water, bring to a boil, and then strain.
Place the blanched peels in a saucepan with the juice of the two lemons plus enough water to measure 300 grams total. Add the sucrose and heat to a gentle simmer. Continue to cook until softened and translucent, roughly 60 minutes. Cool and chill in the reduced syrup.
Cut the strips of peel into small squares and reserve.
Meringue Buttons
Ingredients
60 grams egg whites
50 grams sucrose
50 grams confectioner's sugar
Directions
Begin whipping the egg whites in stand mixer on medium speed. Slowly add sucrose and confectioner's sugar in a few additions until firm peaks are achieved.
Pipe as desired onto acetate or non-stick dehydrator sheets and gently dry at 40˚C/105˚F for several hours until crisp.
Assembly
Ingredients
Sicilian Pistachio
Blonde Chocolate Decor
Directions
Place each cooled tart onto serving plates. Garnish the top with dollops of the cream purée, and arrange pieces of pistachio, lemon confit, meringue and discs of chocolate décor. Apply the red wine caramel around the tart and finish with a scoop of the brown butter ice cream.
Pursue a profession with plated desserts with a Pastry & Baking Arts diploma.