The World's First Vegan Hotel Suite is Here
No animals were involved in the making of this stay.
We're always following food and hospitality trends, and the latest hotel first reinforces the impact of a growing movement on both industries.
Veganism is more than a plant-based diet; it's become well known and accepted as an entire lifestyle free of animal ingredients, products, byproducts or testing. According to GlobalData.com, the number of U.S. consumers who identify as vegan has grown to six percent. It may not seem like a huge amount, but that equates to a 600 percent increase from 2014 to 2017 — and the hotel industry is taking notice.
It makes sense that businesses are following the trend. We can buy vegan handbags, shoes and jackets. And on Feb. 6, the very first vegan hotel suite debuted at The Hilton London Bankside.
Hospitality & Hotel Management Instructor Kathleen Chamberlain says that today, people care more about sustainability, from the products they use daily to what they're putting in their bodies — and that it's not just about abstaining from the use or consumption of animal products. She says that a vegan hotel suite is a revolutionary idea.
"Professionals in the hospitality industry can benefit from working with trends to stay relevant and competitive," Katie advises. "Trends attract people, and when industry professionals deliver, they gain rapid business, which means money and notoriety."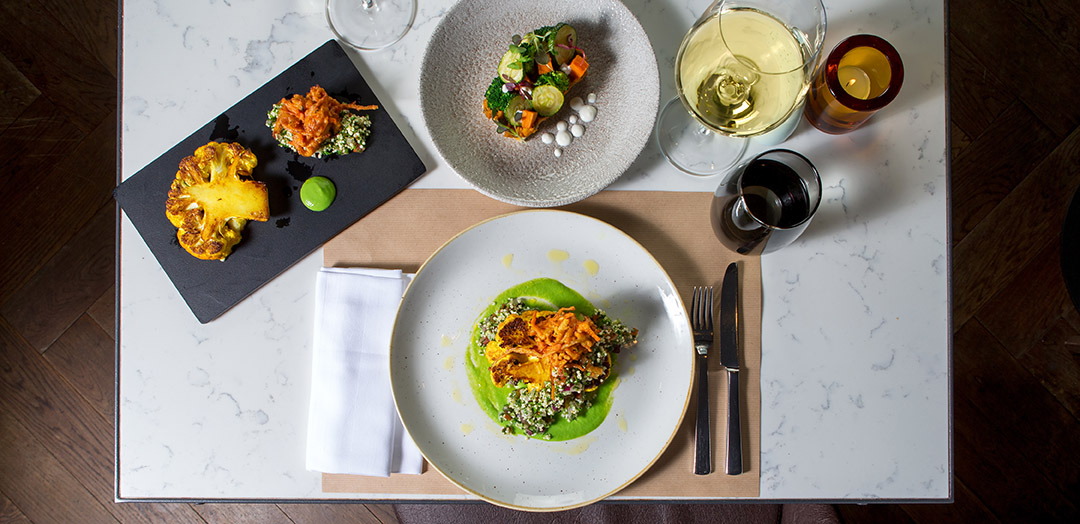 How is the suite vegan?
The suite looks a lot like any modern, smartly designed hotel room. There's a sleek bedroom, bathroom and spacious living space, all created in partnership with design experts Bompas & Parr. The company relied heavily on Piñatex, a plant-based natural leather that uses pineapple fibers and is featured throughout various elements of the suite like the headboard, armchairs and sofa. The distressed stone-grey flooring is made with renewable and sustainable Moso Bamboo, and there are responsibly sourced (and super soft) organic cotton carpets. Locally sourced vegan treats are stocked in the complimentary mini bar, and toiletries come from Dr. Botanicals skincare and Seneeta Cosmetics — all vegan lines, naturally. From the in-room stationary (printed with vegan ink) to vegan cleaning products and a check-in desk, it's ideal for the vegan traveler.
"Having a business that believes in preserving natural resources today that will not harm and only benefit the hospitality industry for years to come is well worth recognizing," Katie says. "Many lodging properties today rely on synthetic materials to outfit their business for ease of care and upkeep, but this is not environmentally friendly. By utilizing vegan plant-based components in lodging establishments, businesses can promote a healthy, sustainable and non-damaging component in excess of reducing, reusing and recycling."
Who is the customer?
After all, that's where the idea came from. The inspiration for the suite was sparked by a vegan customer who was dissatisfied with the lack of vegan options when traveling for work. Now there's a zero-stress lodging option for those with a vegan lifestyle. Since the suite launched, a representative for the hotel says the guests have been mostly couples, ages 22-36.
"As guests and lodging properties are making strides to be more aware and conscious of resources, both parties are seeing the effects of impact to the triple bottom line," Katie says. "As society begins to see the benefits of consciously using resources, the trend will catch on!" And with a room this gorgeous, it's easy to understand why.
Learn more about the importance of trends for tourism professionals in ICE's Hospitality & Hotel Management program.