From Army Vet to Aspiring Chef
Meet the retired Army major adding a Culinary Arts diploma after the law degree and MBA on his resume.
You may know Anthony Maggert as the veteran and amputee who helped Colin Powell change his tire, then asked for a selfie. We know him as a passionate chef who takes a bus from D.C. to New York every weekend to pursue Culinary Arts career training — after 23 years of military service and two master's degrees.
Tony joined the Army after high school at age 17, completing two tours in Afghanistan and three in Iraq, among other stations. "After 63 countries, you get a better appreciation for the world," he says. "In Iraq, we linked up with a bunch of locals. They took great care of us, and we were having things like barbecued camel. I got to experience different cultures and their perspectives. Even being in New York, it's nothing compared to when you go into somebody else's country and they invite you to their table and you eat their cuisine. That's just such an awesome experience."
Tony contracted flesh-eating bacteria in Afghanistan in 2011 and lost his left leg in 2014 as a result. "The folks at Walter Reed [National Military Medical Center] do a phenomenal job," he says. "You can figure out being an amputee, today. If you have a burning desire to continue to do things, you won't let it stop you."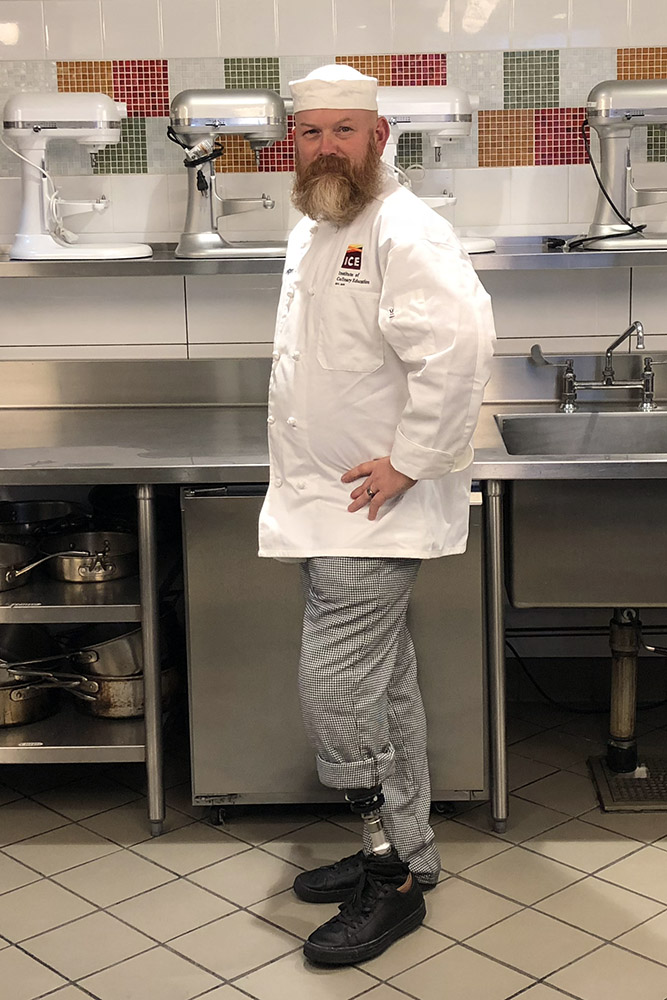 And Tony doesn't. He continued his service until June 2018 when he retired in a Virginia suburb of D.C. to stay near Walter Reed and enrolled at the Institute of Culinary Education in New York. "The only thing I knew was I had this burning desire to go to culinary school. I told my wife, if there's anything that I have to do in life, before I kick the bucket, I have to do that," Tony says. "I always felt like there was some sort of black magic when it comes to cooking. I think a lot of people think that and I've got to understand what this thing is that's such a mystery."
In his final module of the curriculum, Tony says he was a rock star at Thanksgiving and has washed more dishes than when he was in the military. "Chefs will tell you that any monkey can read a recipe and figure out how to cook, but once you really understand the techniques, you have this sort of eureka moment," he says. "All of this makes sense, and I know how to put this together, and I understand the flavors. That's so worth the tuition right there."
Tony says learning how to fabricate a chicken properly was one of the most rewarding lessons, and smoked fried chicken is his latest signature dish. He shares experiments like lacto-fermentation and sous vide preparations on his Instagram account (@chef_maddog_maggert) and posts instructional videos (like "How to make a homemade smoker for less than $20") on YouTube.
"When you're going through the process of physical therapy, the doctor's know how to talk to you about trivial things, but nobody ever tells you how to cook well for yourself," Tony says. "You have a lot of people out there that have a lot of health issues, so I want to help to educate people on how to cook better for themselves, how to eat right and how to operate the kitchen."
He doesn't think of himself as handicapped and says working with one leg requires planning and figuring things out like everything else in life. Fortunately, fellow veterans and the nature of working in professional kitchens have eased the transition.
"Chefs like Carmine Arroyo, who was in the Army, are great teachers and they get it," Tony says. "They understand that you come from this background where things are very structured and you have a certain degree of rigor, and when you go to culinary school, you fall back into the life that you were in previously. You just trade one uniform for another."
As for his enthusiasm for culinary school after six months of taking a Vamos bus and staying in a hostel every weekend, Tony says, "I don't think anything really excites me as much as cooking, being in the kitchen, being part of food, being part of that entire experience." He most enjoys applying the techniques he's learned to make beautiful meals for friends, though he has loftier goals following graduation.
"I want to write a cookbook called 'Deconstructed Kitchen,' reaching out to my peers that are amputees and getting them involved in cooking," he says. Then of course, "be famous. I've got to get some good air time."
And this week, he did.
Interested in trading one uniform for another? Inquire about military and veteran benefits.