Autumn's Apples Abound
And A Pastry Chef's Tips on How to Use Them
As a young girl, my family took many long car rides north from Chicago to visit my aunt's apple and horse farm in Wisconsin. As we pulled up the dirt driveway, the horses ran to the gate to greet us. We spent each day of our trip working and visiting. Every morning, the sound of beer cans tied to the trees tinkling in the breeze like wind chimes woke us. (My uncle was convinced that the odor would send away the hungry deer.) We went into the orchard first thing, the better part of the morning consumed by gathering bushel after bushel of apples, my brother and I chasing after the best fruit that had already fallen to the ground.
Afterwards, we would treat ourselves to an afternoon ride, with a small sack of apples we had saved for the horses. This was followed by evenings of baking and canning, reserving the apple peels and scraps to press for cider and throw to the dogs. The scent of a McIntosh apple and the loud crunch of biting into a freshly picked fruit, juices running down my chin, immediately takes me back to childhood memories of thick wool sweaters, mud-covered shoes and rustling around in piles of hay in the barn.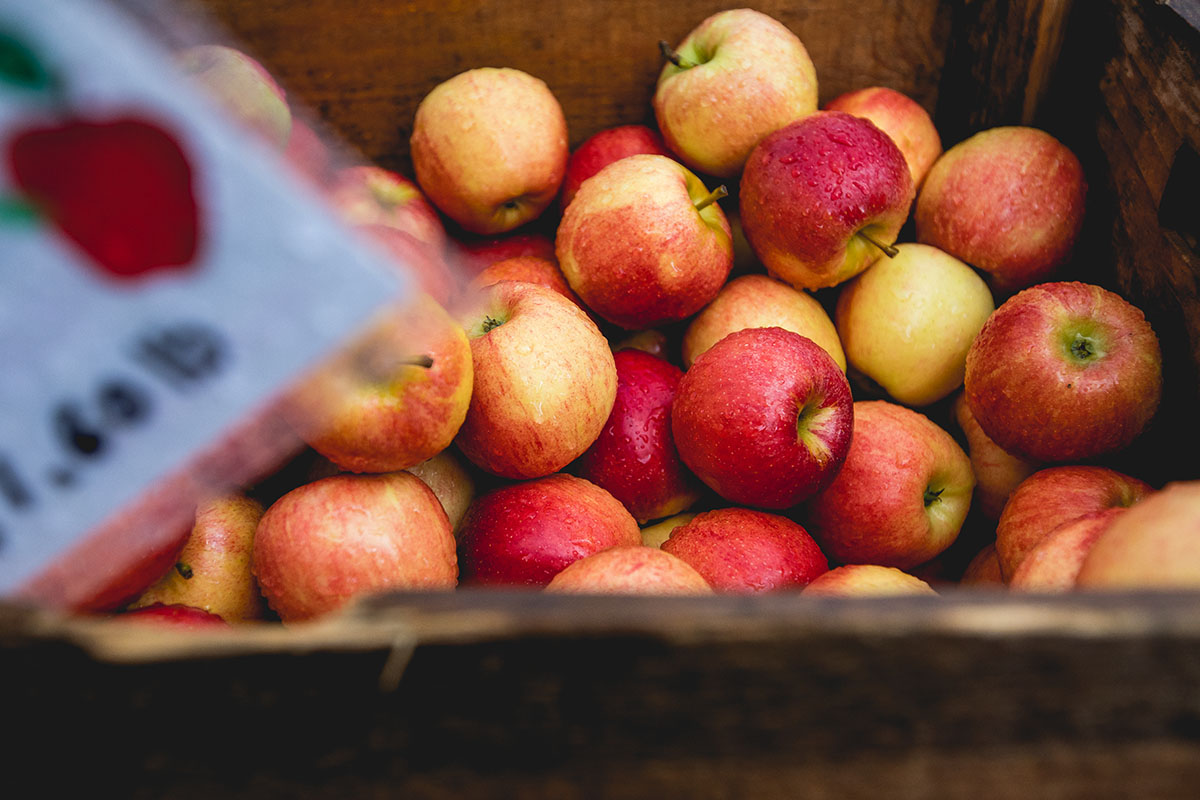 Later, after my family chose to let go of the apple farm, my grandfather retired and decided to plant a few trees of his own on a small parcel of land next to his home in LaCrosse, Wisconsin. The few trees grew into a dozen or so varieties of apples, which often met their fate on the damp leaf-covered ground, before finding their way into a baking dish.
All the same, those apples were just fine and introduced me to what would now be considered heirloom varieties, like Cortland, Keepsake and Paula Red. Every August, as summer seeps into autumn, I impatiently wait for the branches to hang heavy with apples. I say my annual goodbyes to berries and stone fruit and dream up new recipes for the fall bounty.
The picking season for apples can last several months, though in most cold weather regions it's just a few. By March, before the sweets of spring make their way to farmers' market stands, I think I'd be the happiest baker if I never ate another apple.
But for now, in October, I couldn't be more content to find myself in the middle of apple season. So what's a baker to do with the autumn apples that abound? Bake pies, crisps and cobblers, of course. Press cider and can sauce. Eat them fresh or roasted, with a sprinkle of sea salt and a splash of olive oil. Dip them in caramel and fry them in a fritter. Or bob around the farmers' market and try heirloom varieties that are new to you.
No matter how you choose to celebrate America's most beloved fruit, be sure to enjoy apple season to its fullest. And don't forget to share your apple stories and favorite recipes with #ICEculinary and #culinaryvoice!
Here's a list of different apples I've been fortunate to eat and cook with as a pastry chef, plus some notes on how to use them:
McIntosh, Cortland, Gravenstein and Empire apples are my go-to choices for baking. They have a softer texture and aren't as juicy as other varieties, which makes them perfect for baking in a pie without rendering the bottom crust soggy.
Pink Lady, Honeycrisp and Cameo apples are among my favorite apples to sauté and roast. They are crisp enough to withstand high heat and especially sweet, so they caramelize beautifully.
Gala, Fuji and Braeburn are excellent all-purpose apples. They are great for eating fresh, but also bake nicely, too. They have a lovely balance of sweet and tart flavor with a crisp texture.
Granny Smith is a very popular variety. I don't, however, love them in sweets. Instead, I find them best suited to savory applications. I enjoy pairing them with rich and creamy cheeses, or slicing them for salads and sandwiches, and my absolute favorite: combining them with gorgonzola and pancetta on my pizza!
Want to study with Chef Jenny? Click here to get more info about ICE's Pastry & Baking Arts program.