How to Make Balsamic Pearls
Culinary Arts Lead Chef-Instructor Barb Rich experiments with Balsamic Vinegar of Modena hydrocolloids.
Institute of Culinary Education chefs are innovating with Italy's Balsamic Vinegar of Modena in sweet and savory dishes and drinks. Here, Culinary Arts Lead Chef-Instructor Barbara Rich combines Balsamic Vinegar of Modena pearls with white bean puree and yellow beets on charcoal crackers.
Balsamic Vinegar of Modena has a very fruity note to it, and I find it to be very light. It has a nice sharpness that really goes beautifully with food. Here, I used the ingredient to create a bright hors d'oeuvre that combines a crunchy, dark black cracker, a silky white bean puree, a dash of color from the yellow beets, and a flavor and color pop from our black balsamic pearls.
My favorite element of this recipe is the balsamic pearls. Balsamic adds a nice hit of acidity that pairs really well with the beets and bean puree. When the balsamic-agar mixture drops into the oil, it sinks into the thicker, cold medium, and the agar forms a skin around the droplet of balsamic, which creates these pearls.
Visually, the balsamic pearls provide a more elevated presentation than you would get by simply drizzling balsamic to finish the dish. The pearls make the balsamic hold its flavor. If I drizzled it over the top, it would spread, and the flavor would get diluted. These provide a concentrated hit of that beautiful balsamic flavor.
Beyond the visual, eating an hors d'oeuvre is about the fun. You want different textures to contrast with one another for that one bite. With this recipe, we have the crunch of the cracker, the creaminess of the bean puree, firmness from the square beets and a great flavor pop from the balsamic pearls. Here's how to make the well-balanced bite.
Recipe
Charcoal Crackers
Yields approximately 25 pieces
Ingredients
1/2 cup rolled oats
1/4 cup sunflower seeds
2 tablespoons whole wheat pastry flour
1 tablespoon charcoal powder
1 pinch sea salt
3 1/2 teaspoons melted coconut oil
3 1/2 teaspoons brown rice syrup
Up to 2 teaspoons water
Directions
Heat conventional oven to 350 F.
In the food processor, combine the oats, sunflower seeds, flour, charcoal and salt. Process until smooth.
In a separate bowl, combine the oil and syrup.
Add the liquid to the food processor, pouring water 1 teaspoon at a time until the dough comes together. Can add a bit more if needed.
Divide the dough into two equal portions by weight.
Roll out between sheets of parchment paper, until 1/8-inch thick.
Remove the top sheet and score the crackers into 12-14 per batch.
Bake until lightly browned, approximately 15-20 minutes.
Cool completely, then break into individual crackers.
White Bean Puree
Yields 2-3 cups
Ingredients
1 cup dry cannellini beans, soaked overnight
1/2 carrot, peeled and cut in half
1 stalk celery
1/2 yellow onion
1 bay leaf
2 teaspoons toasted cumin seeds
2 teaspoons toasted fennel seeds
Salt
Directions
Drain the beans and rinse.
Place into a small pot with carrot, celery, onion, bay, cumin, fennel and a pinch of salt.
Cover the beans with cold water by 2 inches.
Bring to a boil, turn down to a simmer, cooking until very tender.
Pour the beans with their cooking liquid into a pan to cool.
Remove the vegetables and bay. Drain the beans once cooled, reserving the cooking liquid.
Puree the beans in the food processor until completely smooth. Use some of the cooking liquid as needed. Puree should be the consistency of peanut butter.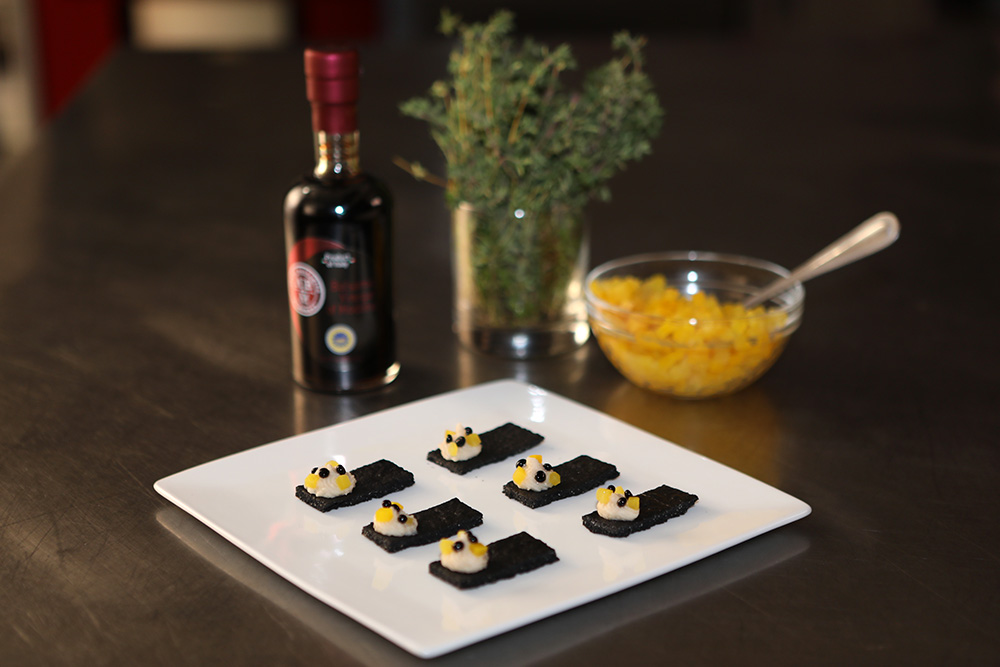 Yellow Beets
Yields 1 cup
Ingredients
Directions
Heat convection oven to 375 F.
Wash the beets and remove the ends.
Place into a hotel pan with 2 inches of water.
Cover pan tightly with foil and roast beets until tender.
Remove from oven, cool slightly and peel.
Cut beets into brunoise.
Balsamic Pearls
Yields 3/4 cup
Ingredients
2 cups canola oil
3/4 cup balsamic vinegar
2 tablespoons agar flakes
Directions
Place the oil in a small bowl and set in the refrigerator for at least 30 minutes.
Place the balsamic in a small pot and sprinkle the flakes in. Let sit 10 minutes.
Heat the balsamic and agar to a boil, stirring constantly to dissolve the flakes.
Once dissolved, let cool just slightly.
Using a dropper, form drops of the balsamic by squeezing them into the cold oil.
Remove from oil with a strainer, and set on paper towels to absorb excess oil.
Learn more about our partnership with Balsamic Vinegar of Modena and browse our chefs' recipes.