Chocolate Mousse and Cherry Gelee Spheres
Culinary Arts student Ana Tejada won last week's cherry and pastry-themed challenge.
For this week's voluntary virtual market basket challenge, Culinary Arts student Ana Tejada ventured out of her comfort zone to create a cherry-focused dessert course, continuing to develop her culinary voice while our campuses are closed.
This week's #icehomework made me challenge myself more than any other. Pastry is not my forte but I wanted to make something that would take me out of my comfort zone. Given that I've been to ICE for literally one class before the school was temporarily closed due to COVID-19, I knew this technique would challenge me.
I love cherries and how they can be paired with different ingredients to make powerful flavors but by far, cherries and chocolate is my favorite flavor profile.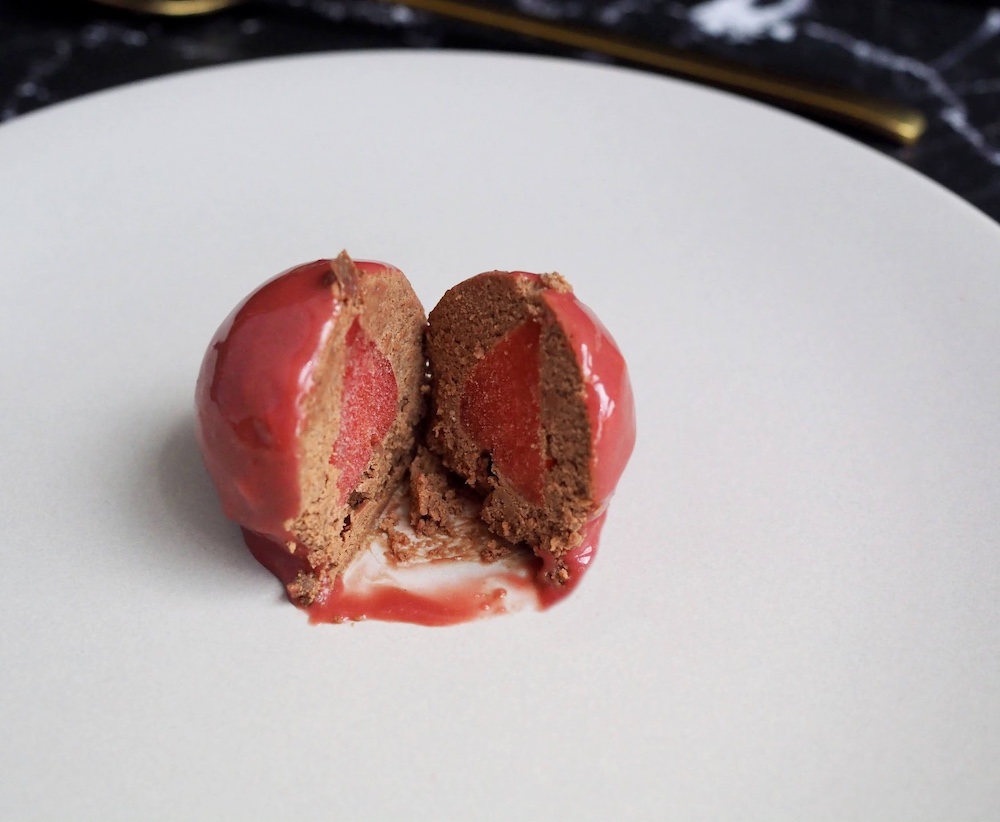 Recipe
Chocolate Mousse and Cherry Gelee Spheres
By Ana Tejada
Cherry Gelee
Ingredients
8 ounces dark cherries, pitted
1/4 cup granulated sugar, divided
3 teaspoons lemon juice, divided
1 1/2 teaspoons powdered gelatin
2 tablespoons water
Directions
Combine cherries, sugar and lemon juice in a small saucepan. Bring to a simmer over medium heat, until cherries are softened and bursting.
Transfer to a blender and puree until completely smooth. Sprinkle gelatin over cool water, add to puree and whisk until completely dissolved.
Heat until it just barely begins to bubble. Pour blueberry mixture into 1-inch silicone sphere molds and refrigerate until set.
Chocolate Mousse
Ingredients
4 ounces semi-sweet chocolate
1 cup whipping cream
3 tablespoons sugar
8 ounces mascarpone cheese
1 tablespoon of Cointreau
Directions
Melt chocolate and beat with softened mascarpone cheese. Add whipping cream and sugar and beat until soft peaks form. Stir in the Cointreau.
To assemble your spheres, pipe the mousse into silicone molds, not quite all the way full. Gently press a gelée sphere into the top of each mousse-filled mold.
Add the rest of the mousse to fill up the mold. Freeze for at least 3 hours.
Mirror Glaze
Ingredients
1/3 cup water
1/4 cups sugar
4 ounces sweetened condensed milk
1 tablespoon powdered gelatin
8 ounces white chocolate, chopped
Red food coloring
Directions
Boil the water, sugar and condensed milk in a pot for 1 minute, then remove from heat. Add the gelatin.
Pour the liquid over the chocolate, letting it sit for 2-3 minutes to allow the chocolate to soften.
Using an immersion blender, carefully blend the chocolate and the liquid with as little bubbles as possible. Blend in the food coloring.
When you are ready to use the glaze, make sure its around 90-96 F for best results. Dip the frozen mousse spheres into the glaze and allow the excess glaze to drip off for 5-10 minutes.
See more students' winning recipes and explore Culinary Arts or Pastry & Baking Arts.