Heart, Head, Hand—The Pastry Philosophy of Chef Anil Rohira
World-renowned pastry chef Anil Rohira has earned some of the industry's most prestigious titles, from Pastry Chef of the Year to the winner of "Best Sugar Showpiece" at the Coupe de Monde in Lyon. Today, his grounded perspective and dedication to the craft has earned him a position as the Corporate Chef at Felchlin Switzerland, a world leader in premium chocolate production.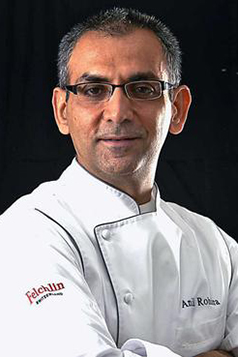 This spring, we're thrilled to be hosting a three-day seminar featuring Chef Rohira's finest techniques. In anticipation of his course, we sat down with him to hear more about his career and what we can expect to learn during his three days at ICE.
What inspired you to become a pastry chef? Did your time at culinary school alter your initial feelings on this career path at all?
I always felt inclined to join the hospitality industry. I was doing my hotel management program back in India (during which we were sent to work in hotels for real world experience) when I first felt an interest in pastry. On my first day at this hotel job, I remember that the Chef asked me if I could work in the pastry shop as they were busy with Christmas preparation.
I agreed and the minute I pushed open the kitchen door, that was the defining moment. Time kind of stood still. I saw chefs finishing cakes and eclairs, people working with chocolate. I knew instantly: this is my world; this is where I belong. Since then there was no looking back.
You've competed in and even judged several showpiece competitions. Why did you decide to take your career down the path of such stressful contests?
Quite simply, competitions played an important role in my career. It would not have been the same had I not competed. Professionally, the growth opportunity is amazing. You strive hard to put out your best work. In the process, you develop or enhance technical skills, work on your timing and learn to be cleaner and more organized.
My first competition was a local American Culinary Federation (ACF) event. I was nervous, of course, but ultimately I was happy with what I had pushed myself to achieve. I immediately knew I could do better and started working on getting ready for the next competition. Before I knew it, I was a proud member of the American national team for the Coupe du Monde.
Competitions have also helped me grow on a personal level. Under these challenging conditions, you realize your limits: physically, emotionally and in terms of temperament as well. The more you compete, the more these personal limitations will be in check. You learn to cope with pressure better. You also realize the contributions others make during this process, whether it's the support of your family, your team and staff at work or the company you work for. It's a beautiful journey, and I would recommend you take it.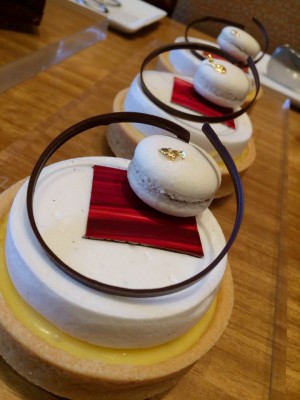 Was there ever a situation where you were making a showpiece, and your work was altered drastically or ultimately ruined? If so, what happened and how did you deal with it?
Fortunately, I have not had a showpiece entirely ruined. However, there were times when things did not go as planned or when I've had to make adjustments. One time I remember quite clearly was in 2001, when I was trying out for the selection for the US Coupe du Monde team.
It was an intense competition: each person had to prepare entremets, plated desserts, entremets glacés and a showpiece (involving sugar, chocolate and pastillage). I had my structural piece standing to the side while I worked on other components when suddenly, it crashed and came down. There was sugar everywhere on the floor.
I will never forget that sound. Luckily, I had enough time to recast the structure and get back on track. I managed to finish the program on time and won the competition. Those are the moments where you realize why it's so important to practice your routine time and time again. You cannot overdo it.
You've remarked that you believe in the "heart, head and hand"—would you mind elaborating on what this means to you as a pastry chef?
Well, that is my philosophy about our craft, trade and a career in baking and pastry. The first thing that you must have is "heart," meaning a strong interest, passion and love for the craft. If you do not, you won't go very far. The industry is too demanding for you not to be committed to it.
Second is that this is as much an intellectual and creative process as it is physical. Just going through the motions of making pastry is not enough. You must be open in your way of thinking about what and why you do things. Making desserts is just the last step in the process.
The intellectual creation of a plan for your dessert—flavor, texture and appearance—is the most important part. This effort, in addition to constantly reading or taking classes to upgrade your knowledge, forms your "head," which comes before the "hand," meaning your technical skill.
In 2009 you were awarded Pastry Chef of the Year at the World Pastry Team Championship, an incredibly impressive feat. Would you consider that your most prized professional accomplishment or have there been others that meant more to you?
I have been very fortunate to have some amazing experiences. Pastry Chef of the Year among them, however, carrying the US flag at the 2003 Coupe de Monde was certainly right up there.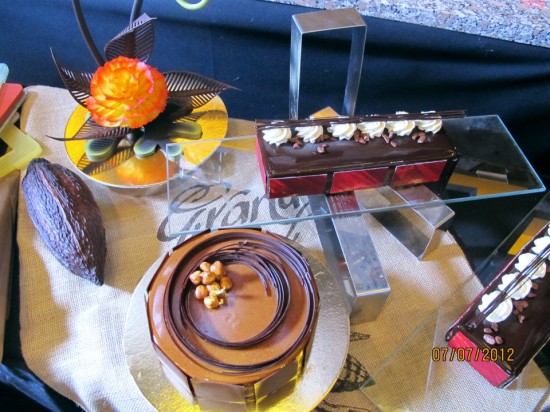 Currently you are the Corporate Pastry Chef at Felchlin Switzerland, which means participating in many seminars and demonstrations. Out of all your knowledge, what skills do like sharing the most?
I have a great job with Felchlin, which gives me the opportunity to travel around the world and interact with chefs, cooks, trainees, students, instructors, enthusiasts, media and others. The process of these various interactions gives me a chance to continue learning and to share the knowledge I have gathered over the years. It is the best feeling. Right now I'm specifically enjoying teaching the intricacies of couverture and its applications. In general, I believe in "knowledge parted is knowledge gained." If you can teach it, you know it.
On April 21-23 you will be teaching a three-session CAPS class at ICE. What will you teach and who do you think it will appeal to most?
I look forward to coming to NYC and teaching at ICE. This is a class for professionals, and it will focus on the science of ganaches and pralines, as well as processes for petits gateaux and entremets—the students and I will discuss, create and analyze each step in the process.
The material will cover the selection of ingredients, how to combine flavors and the presentation of various textures, as well as developing a plan for the plating and appearance of each dessert. Finally, we will create an amenity showpiece, in an effort to cover the principles and logic of creating showpieces for competition.
Click here to register for Chef Rohira's class and to see the full CAPS line-up for 2015.