Anthony Caporale's Super Bowl Cocktails
Toast to San Francisco or Missouri with team-themed drinks.
Celebrate Super Bowl LIV with a Missouri Bourbon Barbecue Old Fashioned or San Francisco Seafood Michelada from our director of spirits education.
The combination of smoke and sweet is at the heart of all good barbecue, and no place knows that better than Kansas City. For San Francisco, the flavors of Fisherman's Wharf are a perfect complement to a versatile beer classic. Raise a glass for the Chiefs or 49ers with MVP-worthy mixology.
Recipe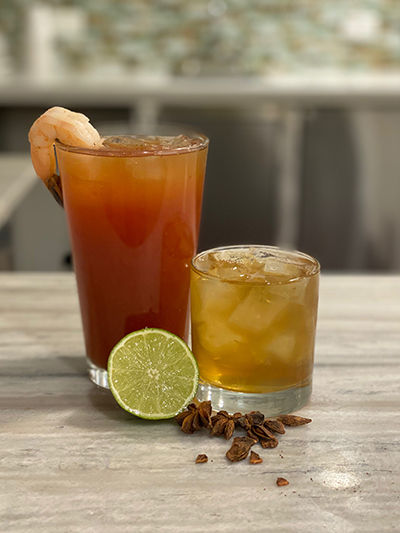 Missouri Bourbon Barbecue Old Fashioned
Ingredients
1 star anise
2 ounces bourbon whiskey (preferably Missouri bourbon)
1/2 ounces honey simple syrup (equal parts honey and water)
2 dashes cocktail bitters
Directions
On a fireproof surface, ignite a whole dried star anise fruit.
Carefully cover with an inverted rocks glass to extinguish and let smoke.
In a mixing glass half-filled with ice, add the bourbon and simple syrup.
Stir thoroughly to chill and dilute.
Remove rocks glass from star anise and fill with fresh ice.
Strain drink into smoked rocks glass, top with bitters.
San Francisco Seafood Michelada
Ingredients
12 ounces beer (preferably Anchor Steam)
2 ounces tomato juice
1/2 ounce clam juice
1/2 ounce fresh lime juice
2 dashes Tabasco
1 dash Worcestershire sauce
1 teaspoon Old Bay seasoning
1 shrimp, poached
Directions
In a pint glass, add beer, tomato juice, clam juice, lime juice, Tabasco, sauce and seasoning.
Stir gently to mix, add ice to top.
Garnish with a poached shrimp.
Take a mixology class with Anthony at the Institute of Culinary Education.