Introducing ICE's Chocolate Lab
Preparations are well underway as ICE staff and students anticipate the move from our 23rd Street facility to Brookfield Place in Lower Manhattan. As construction hums away, the lines set down on paper blueprints are turning into reality, revealing an immersive, state-of-the-art atmosphere for cooking and study. In addition to dedicated rooms for culinary technology, charcuterie, mixology and wine studies, I'm excited to announce that the new facility will contain a chocolate lab, complete with a full range of "bean to bar" equipment.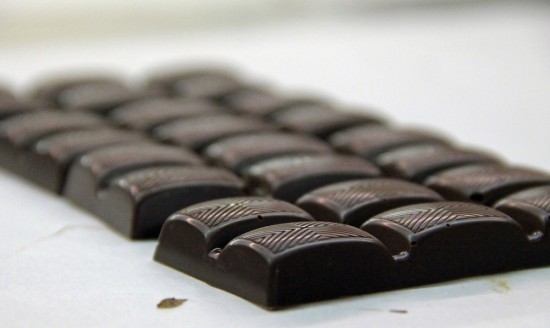 The vision for the 550 square ft. lab is to approach chocolate from a holistic perspective. Truly unique in the realm of culinary education, the lab will provide knowledge and inspiration across a broad spectrum of hands-on applications—for our career students and recreational cooks, as well as for established pastry chefs and professionals seeking to learn the finer points of artisanal chocolate production. An underlying spirit of research and development into the technical science and the mystical art of chocolate will drive the wide array of program offerings.
This past summer, I had the privilege of visiting Cacao Cucina, the facility producing our bean-to-bar equipment. During my visit I had a chance to test drive these machines over the course of two days. In a field dominated by equipment that serves either small micro-production or large commercial factories, Cacao Cucina provides tools for the "just right" middle ground required at ICE. Preparing batches of roughly 20 to 30 pounds of chocolate will allow us to provide educational opportunities both broad and highly nuanced during each stage of the bean's transformation. Our processing line will include a roaster, winnower, hammer mill, cocoa butter press and a ball mill refiner.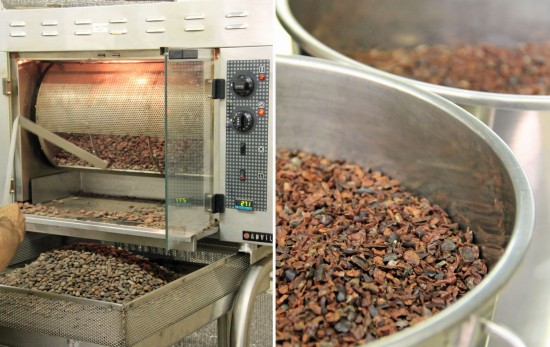 The process begins with raw, fermented cocoa beans in the roaster, which is a finely-tuned convection oven with a rotating drum that provides an even roast. This important stage of flavor development depends as much on science as it does on experience and taste, as there exists no industry standard for optimal roasting time and temperature across all bean types.
Quickly cooled, the roasted beans are then fed into the winnower, which first cracks the bean and then separates and sorts the "nibs" from the papery skin by means of screens, vibration and a vacuum. The nibs then undergo an initial grinding phase in the hammer mill, which pulverizes them into a thick paste, passed through three progressively smaller screens. At this point, though bitter and coarsely textured, we have what is referred to as chocolate "liquor."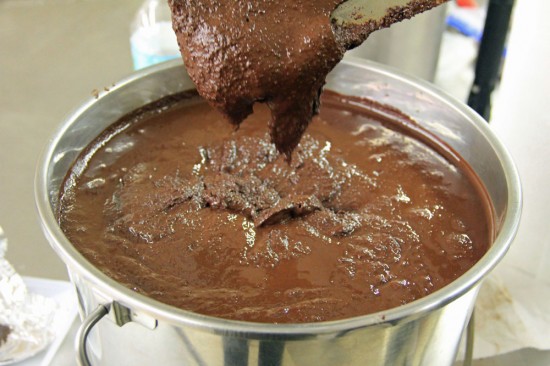 Perhaps the most exciting piece of equipment we will install is the cocoa butter press. When submitted to 75 tons of pressure, the chocolate liquor produces cocoa butter and the resulting "presscake" is further refined into cocoa powder. This additional capability will allow us to make true single origin chocolate, with cocoa butter prepared from the same batch of beans.
The final stage of the process takes place in the ball mill—a temperature controlled agitator containing hardened steel balls that acts as a "universal," which means that reduction in particle size and final flavor development occur simultaneously in the same machine. As the gently heated liquor passes through the ball mill, forced air helps remove undesirable volatile aromas. It is during this refining stage that other ingredients are added: sugar, vanilla, milk powder, cocoa butter, etc.
Moreover, two additional quality and safety measures are built into the system: upon extraction of the finished chocolate by vacuum pump, the product passes through both a magnetic trap and a fine sieve before tempering.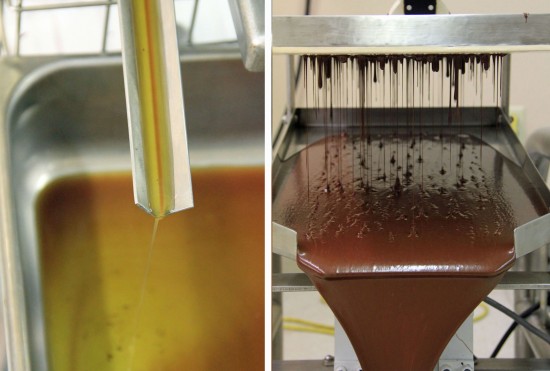 Extracted cocoa butter and filtration of chocolate liquor[/caption] Our lab will be outfitted with a tempering unit and enrobing line from Selmi, as well as molds and other confectionery equipment from Tomric. These tools will help us process our finished chocolate into bars, bonbons and other candies. As the day that we run our very first batch of chocolate quickly approaches, I can't wait to share the outcome with our students, visitors and other industry professionals.
Stay tuned for announcements of the many chocolate-related programs we will offer in the space. Once we are up and running, I encourage everyone to stop by ICE for a glimpse of the process and, of course, to taste our efforts!
Interested in studying with Chef Michael? Click here for his upcoming Advanced Pastry Studies classes at ICE.