A New Twist on a Thanksgiving Classic
 Early on in my career, while working in New Orleans for Emeril Lagasse, I was tasked with creating inventive variations on the ever-popular bread pudding. My menu at Delmonico in New Orleans featured a seasonal bread pudding, which I changed monthly. In the weeks leading up to Thanksgiving, this sweet potato bread pudding with cashews proved to be a favorite. Served with a dollop of marshmallow meringue, what was once a classic side dish is easily transformed into dessert.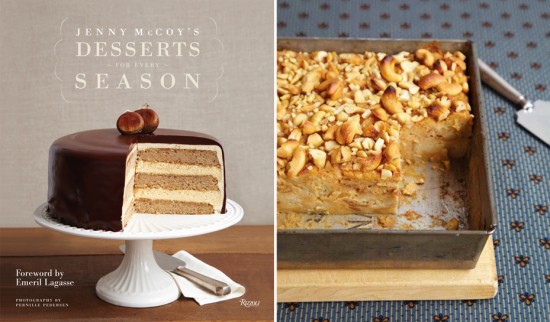 Sweet Potato Bread Pudding with Crunchy Cashews (from Desserts for Every Season)
Makes 8 to 10 servingsIngredients:
Non-stick cooking spray
2 pounds sweet potatoes
1 cup whole milk, divided
4 large eggs
¼ cup granulated sugar
½ cup lightly packed dark brown sugar
¾ teaspoon fine sea salt
¾ teaspoon vanilla extract
1 tablespoon plus 2 teaspoons whiskey
Finely grated zest of ¼ orange
½ teaspoon ground cinnamon
½ teaspoon ground nutmeg
¼ teaspoon ground ginger
¼ teaspoon ground allspice
1 cup heavy cream
6 cups (about 8 ounces) soft white bread, cut into ¾ inch cubes
½ cup (about 2 ½ ounces) whole cashews, roughly chopped
1 tablespoon turbinado sugar
1 recipe Marshmallow Meringue (optional)
Instructions:
Position a rack in the center of the oven and preheat to 375°F.
Wrap the sweet potatoes individually in aluminum foil. Place them on a baking sheet and bake until soft when pierced with a fork, 1 to 1 ½ hours. Remove them from the oven and let cool until just warm. Remove the foil, cut the potatoes in half, and scoop the flesh from the skins. Transfer the cooked sweet potato to a food processor, add ½ cup whole milk, and process until smooth.
In a large bowl, whisk the eggs, granulated sugar, brown sugar, salt, vanilla, whiskey, orange zest, cinnamon, nutmeg, ginger and allspice together until smooth. Meanwhile, bring the remaining ½ cup milk and the cream to a boil in a small saucepan. Slowly pour the hot cream over the egg mixture, whisking constantly. Add the sweet potato purée, and stir until evenly combined. Add the bread, and gently stir to combine. Refrigerate the bread pudding base for at least 2 hours or overnight.
Position a rack in the center of the oven, and preheat to 350°F. Lightly coat a 9 x 9-inch baking dish with non-stick cooking spray.
Stir the bread pudding base, then pour it into the prepared baking dish. Sprinkle the top with the cashews and turbinado sugar, and bake until golden brown, slightly puffed and set, about 35 to 40 minutes. Serve warm or at room temperature.
Marshmallow Meringue
3 large egg whites
Seeds scraped from ½ vanilla bean
1 cup plus 1 tablespoon granulated sugar, divided
½ cup water
1 tablespoon light corn syrup
Pinch of fine sea salt
In the bowl of a stand mixer fitted with the whisk attachment, beat the egg whites, vanilla and 1 tablespoon of sugar on low speed.
Meanwhile, combine the remaining 1 cup sugar, water, corn syrup and salt in a small saucepan, and set over medium heat. Cook the mixture until it reaches 238°F on a candy thermometer and remove from the heat.
Increase the speed of the mixer to medium-high, and very slowly pour the hot sugar mixture over the egg whites, taking care not to pour the mixture into the moving whisk. Increase the speed of the mixer to high, and whip until tripled in volume, thick, glossy and cooled to room temperature. Refrigerate until ready to use.
Want to study with Chef Jenny? Learn more about ICE's Pastry & Baking Arts program.