Pastry Chef Turned Chocolatier: Interview with Roger Rodriguez
A graduate of ICE's professional Pastry & Baking Arts program, Roger started his career in the kitchens of Jean-Georges and Gucio Chocolatieri. He then worked for several years as the pastry sous chef of Gramercy Tavern, followed by a stint under Brooks Headley as Del Posto's pastry sous chef and chocolatier. In 2014, Roger became the head chocolatier at Cacao Prieto in Brooklyn's Red Hook neighborhood.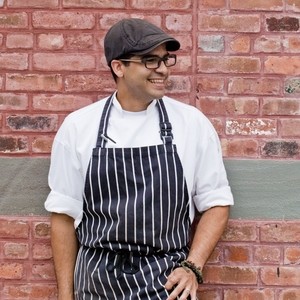 What sparked your move from pastry kitchens to focusing exclusively on chocolate?
I'm a pastry chef with a huge passion for chocolate. When I was working in restaurants, everyone was using the same chocolate companies, so I began an independent search for exclusive organic Dominican cacao, which no restaurants were using at the time. My search brought me to Cacao Prieto, a company that, for years, had been pioneering the "farm-to-bar" process, roasting single origin, organic cacao in their factory in Red Hook, Brooklyn.
What specifically attracted you to Cacao Prieto?
The quality of the cacao they were using was a revelation to me. The aromas and the consistency of the beans were simply superior to anything I had previously worked with. From there, I met Daniel Prieto, the CEO, and founder of the company, who had been looking for a head chocolatier to reimagine a line of chocolate reflecting the beans' Dominican origin. For me, becoming the head chocolatier at Cacao Prieto was a return to the flavors, aromas and traditions of my native Dominican Republic. Ultimately, the decision was not a question of switching from restaurant chef to chocolatier. In the world of chocolate, there is the farmer, the broker, the chocolate maker and the chocolatier. By joining the team at Cacao Prieto, I'm involved in every step of the process. As a pastry chef, it offered me a different view of the product and an opportunity to go back to the basics. 
What's next for Cacao Prieto?
There is a lot going on at present! We're working on releasing new products for our line of chocolates and couverture, as well as collaborations with other chefs. We're also in our second year of distribution in Japan, and we're predicting it to be a busy one—most notably, we have set up two new bean-to-bar factories overseas for clients of our sister company, Brooklyn Cacao.
What will students learn at your CAPS class in September?
Everything chocolate: agriculture, the bean-to-bar process, and techniques for bonbon making and decoration.
What advice would you give to current ICE students and professionals looking to further their careers?
Develop a relationship with a kitchen mentor early in your career, and learn the basics because trends come and go.
Click here to register for Roger's chocolate bonbons workshop on September 10-11.