The Perfect Appetizers for Your Holiday Soirée
Figs in a Blanket
Get the recipe for our most popular Special Events appetizer.
It's hard to believe that it's already time to start planning events for next year. If your New Year's resolution is to be a better cook, baker or cocktail maker, you and your guests will love learning new skills at ICE. ICE's Special Events department hosts more than 400 culinary events every year, and we turn each special event or celebration into a fun, gourmet experience.
To give you a taste of what's in store when you host an event at ICE, Philipp Hering, ICE's Special Events lead chef, is sharing one of our most popular, vegetarian-friendly appetizers: figs in a blanket with whipped goat cheese mousse — all of the tender, flaky, buttery goodness, with a feel-good substitution of juicy figs. Who says a healthy New Year can't be tasty, too?!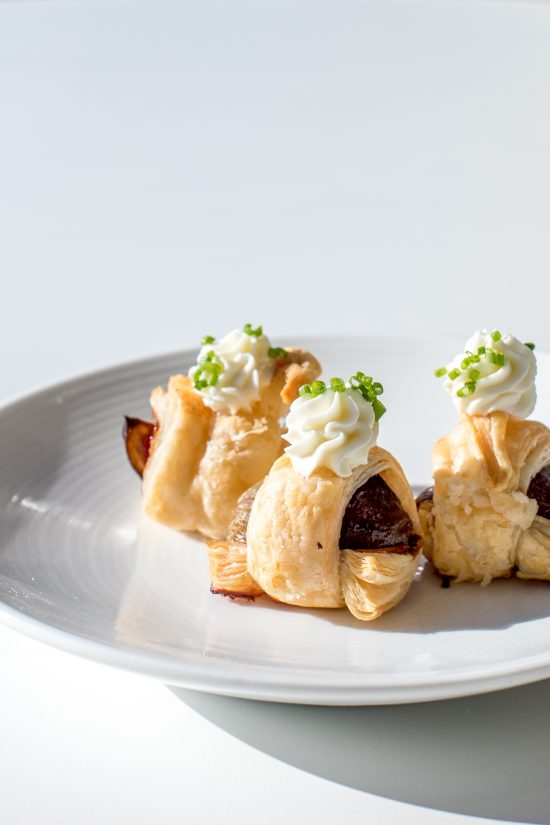 Recipe
Figs in a Blanket with Whipped Goat Cheese Mousse
Yields 25 pieces
Ingredients
For the Figs in a Blanket:
1 sheet puff pastry, cut into 3-inch triangles
7 large figs, cut into quarters
1 cup sugar
2 eggs, beaten with 2 tablespoons water (egg wash)
Goat cheese mousse, recipe below
Directions
Preheat oven to 400 F.
On a sheet pan, lay the figs skin side down. Sprinkle liberally with the sugar and bake for 5 minutes, or until caramelized. Let cool. Lower the oven to 350°F.
Lay one piece of puff pastry on a clean surface and place a cooled fig onto the wide end of the triangle. Roll pastry and seal the end with the egg wash.
Place the rolled figs on a sheet tray and bake until golden brown, about 10 minutes. Let cool.
For the Goat Cheese Mousse:
Ingredients
1/2 cup heavy cream
4 ounces goat cheese, brought to room temperature
1 bunch chives, finely sliced
Directions
In the bowl of a stand mixer fitted with a paddle attachment, whip the heavy cream until very stiff. Set aside.
In a separate mixing bowl, use a wooden spoon and beat the goat cheese until very soft and smooth.
Slowly fold in the whipped cream, a third at a time until well incorporated.
Fold in the chives, and season to taste with salt and pepper.
Pour mixture into a pastry bag (or alternatively put in a bowl) until ready for use. Either pipe or spoon the mixture on top of the figs in a blanket.
Learn more about hosting your next event at ICE.