The Prince of Darkness: Famous Words of Chef Sim
It's hard to believe it has been almost five months since we rolled out our new bread curriculum and I have to say it has been a huge success.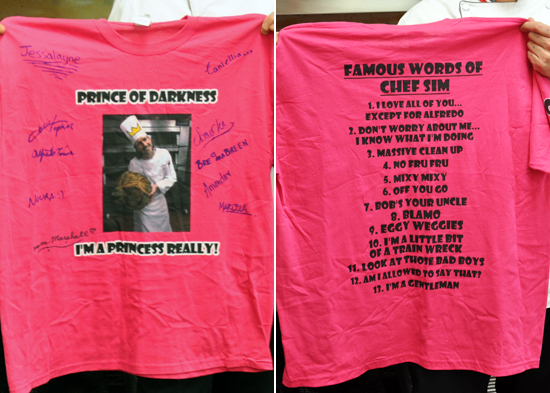 Most of our faculty has been trained, and many have already run through classes of their own. Students love the curriculum and the wonderful bread they are producing.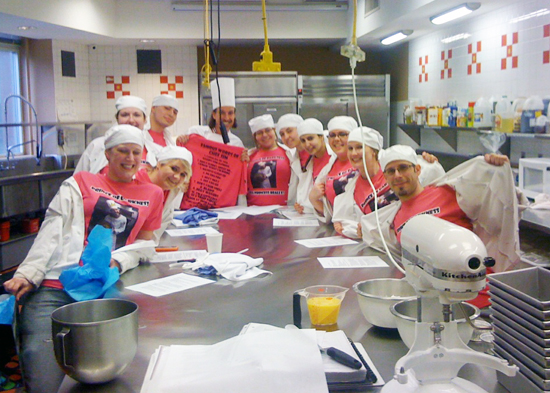 The students learning from the master himself, Chef Sim Cass (who was a founding baker at Balthazar Bakery), can't get enough of him. Interestingly, their esteem doesn't evolve from his talent and passion for bread baking — which is unquestionable by the way — but for Chef Sim himself. His one-of-a-kind teaching style, mannerisms and dry sense of humor award him tremendous accolades with his students. So much so, his recent class had a t-shirt made highlighting him and his humorous turns of phrase.
I did happen to notice that one of my favorites, "whisk-y, whisk-y," was missing from this tribute. It is not the first time a class has gone to this extreme to celebrate their chef. And I can say honestly that Chef Sim is not the only one who has been a recipient of these creative and thoughtful gifts. While Chef Sim's new shirt may evoke a bit of the green-eyed monster in some of his pastry colleagues, a little healthy competition is always good. At the end of the day we are all happy to be on the same team.