Often, chefs demand perfection in the kitchen, obsessing over every minute detail. But sometimes, an ingredient's imperfections are exactly what makes a dish stand out. Take broken rice: a bi-product of the milling process, the result is grain that, when cooked, has a softer and stickier texture than provided by perfect grains. Less expensive than intact varieties, broken rice—occasionally referred to as Mali rice—is the base of many rich, homey dishes commonly found throughout Southeast Asia and West Africa.
Fragrant, flavorful and thoroughly satisfying, Chef Instructor Michael Garrett's recipe is an example of how some things are perfect just the way they are. He recommends using West African dried fermented fish to impart a pungent, nutty aroma to the dish.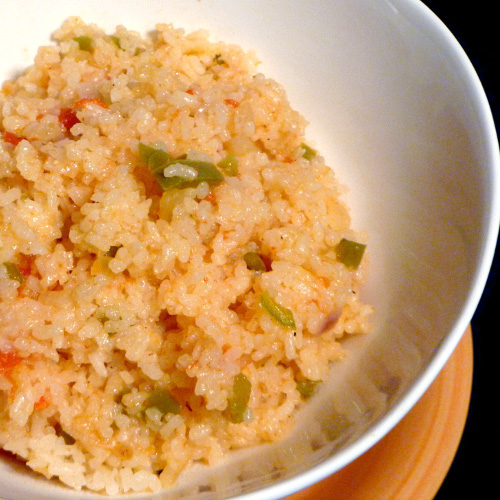 Broken Rice
Ingredients
3/4 fl. oz. extra virgin olive oil
1 1/4 quarts sweet onions, julienned
1/2 quart tomato paste
3 cloves garlic, minced
2-3 bay leaves
1/2 dried fermented fish
1/2 scotch bonnet, split
1 1/4 quart broken jasmine rice (find it in Asian and Afro-Caribbean markets—or Kalustyan's spice shop, in New York City) 
1 1/2 quarts water or fish fumet
Preparation:
Rinse rice thoroughly (about 5 times or until the water runs clear of starch). Drain.
Warm oil on low to medium heat in a large rondeau or another wide, heavy-bottomed pot—taking care not to burn it.
Break up the fermented fish and add to the warming oil. Add the onions and sweat until translucent. Add tomato paste and bay leaves.
Add garlic and gently caramelize tomato mixture. Add the rinsed, drained rice to the tomato base and toast until it becomes fragrant and nutty, again taking care not to burn. (It's very important to work the rice on a low to medium heat flame.)
Once rice is toasted, add the remaining ingredients. Cover with warm water.
Cover the rice with a pot lid or aluminum and bring to a boil. Allow to cook for 20 minutes.

Once rice mixture starts to boil place the rondo or pot on a riser to keep the bottom from burning. Alternatively, you can use an overturned sheet pan to similar effect.

Check the rice after 20 minutes so that it doesn't burn and remove from heat, keeping it covered to allow to steam for an additional 5–8 minutes off the heat.
Remove cover and fluff rice with a

spoon or fork.

Spread the cooked rice onto sheet trays and allow to cool undisturbed.
To safely store rice, keep in the refrigerator at 38°F or below.
Want to cook with Chef Mike? Join him for a three-session beer brewing workshop this fall, or click here to learn more about ICE's career program in the culinary arts.