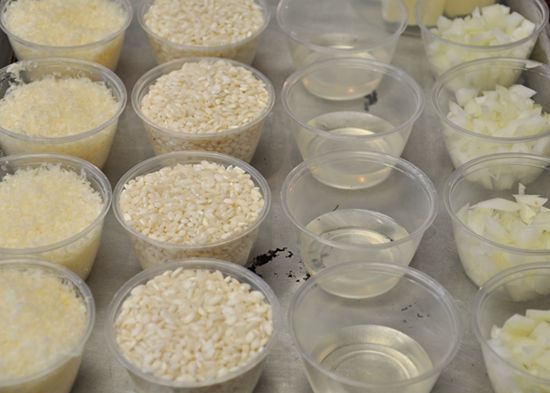 The very first thing culinary students in ICE's career-training programs learn is the definition of mise en place — having everything, both ingredients and equipment, in the right place at the right time. It's one of the fundamental skills essential to success in a professional kitchen. This classic risotto recipe is a great example of why mise en place is so important. When making a risotto, you need to constantly stir the rice and cannot leave the pot to run all over the kitchen looking for more ingredients. By having everything ready, you make sure that this risotto turns out perfectly every time.
Ingredients
24 fluid ounces hot chicken stock

1-ounce butter

1/2 ounce minced Spanish onion

4 ounces Arborio rice

1-ounce white wine Salt and pepper to taste

1 ounce grated Parmesan cheese
Instructions
Makes 1 serving
Heat the chicken stock to a simmer and keep warm. Heat the butter in a medium saucepan. Add the onion and cook over low hear until softened. Do not allow the onion to brown. Add the rice and stir to coat well with the butter. Be sure to heat the rice, but do not allow the rice to brown. Add the white wine and cook until it has been absorbed into the rice. Add the chicken stock 4 fluid ounces at a time, stirring constantly. Wait until the stock has been absorbed before adding additional stock in 4 fluid ounce increments.
Continue this process until all the chicken stock has been incorporated. The rice should be tender but still firm. Risotto should be very moist and creamy, but not runny. Season to taste with salt and pepper and stir in the Parmesan cheese.