The Showpiece Sorcerers — Karen Portaleo and Susan Notter at ICE
Cake designer Karen Portaleo and pastry chef Susan Notter first met in 2011 for the television series Halloween Wars on Food Network. Their inspired cake and sugar work earned them an incredible $50,000 prize, building on both chefs' already impressive resumes. On October 18-20, we're thrilled to invite them to reimagine the art of Halloween centerpieces in a Carved Cake and Sugar Showpiece workshop at ICE. We caught up with Chef Notter in advance of the class to learn what inspires her custom sugar work.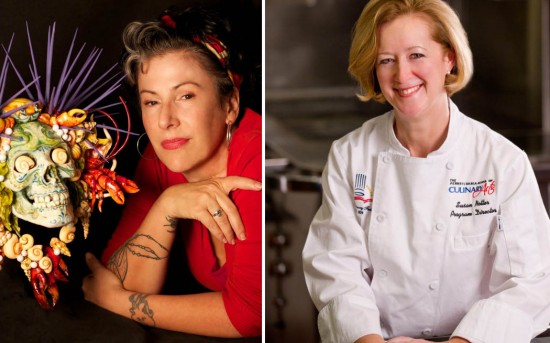 What's your favorite part of designing a sugar showpiece?
I would say designing the actual piece is the most challenging part, and I enjoy seeing how the sculpture develops from the basic sketch into a 3-D creation. Overall, the greatest challenge is to balance structural stability with the artistic interpretation of a theme.
How did you learn to thrive in competition environments?
Years of experience! After being in many difficult situations in competitions, you learn to think fast. The most important thing is to stay calm and not give up—there is always a way to succeed.
What's more important: practice or artistic ability?
One can have artistic talent, but without practice, that talent goes nowhere. It's repetition that solidifies skills and provides chefs with a comfort level in the medium. I believe the same applies to any talent—in sports, music, arts, etc.  
How do you recommend students start pursuing sugar work?
Don't try to build a three-foot sculpture without knowing the basics. The foundational skills are the most important. Once students master pulling and blowing, they can then take those skills and continue to learn. Unfortunately, the trend in sugar education today is simply to get a piece done—to capture the moment for Facebook or Instagram. As a result, ensuring that students have retained core skills becomes secondary. I am against this style of teaching and prioritize students' skill development over the fleeting accomplishment of completing a full sculpture in class.
What will students be learning in your October CAPS class at ICE?
Students will learn how to prepare, pull, blow and cast sugar. They'll also practice enhancing cake art with sugar to make exquisite pieces.
Click here to register for Portaleo and Notter's upcoming workshop at ICE. 
Watch the Halloween Wars finale to see Susan and Karen in action: