Sweet Spotting in Montreal with Chef Victoria Burghi
Blame it on Joe Beef: ever since Chefs Frédéric Morin and David McMillan opened this popular temple of elegant excess in 2005, American magazines and food blogs can't get enough of the indulgent dishes from the capital of poutine. But while Montreal's savory dishes get most of the hype, the city has no lack of impressive outposts for sweets. ICE Chef Instructor Victoria Burghi reports back from her recent trip to the "city of saints."
 As a pastry chef, I've always enjoyed exploring the food scene of a new city—in particular, learning about new styles of sweets. So I was thrilled to visit Montreal this summer and to learn about the city's wide range of traditional, modern, unique and audacious sweets.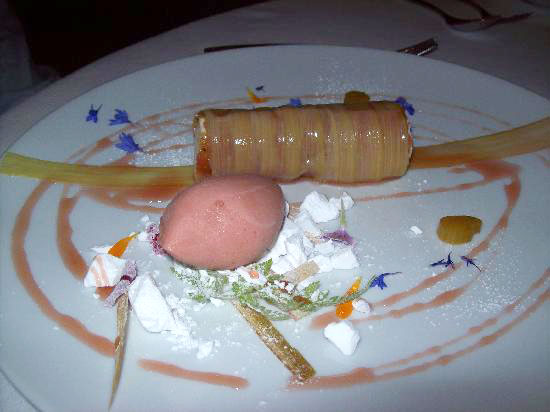 My culinary tour of Montreal began on a Saturday night, at Toqué, one of the city's most distinguished restaurants. After touring the impressive, highly organized kitchens, our gracious server introduced us to its chef and co-owner Normand Laprise, who greeted us from within an immaculate walk-in refrigerator with a handshake and a big smile. After an exceptionally interesting dinner in the hands of Chef Laprise, I only had room for one dessert; but it was a spectacular way to end the meal. Toqué's rhubarb cannolo consisted of a very thin and crispy tube-shaped tuile filled with cassis chantilly cream and brunoise of strawberries. The filled shell was wrapped in gently poached rhubarb strips, so tender that they fell apart the minute you cracked the shell. This already stunning plate was garnished with mildly sweetened rhubarb purée and a blackcurrant leaf syrup. A creamy, perfectly quenelled juniper ice cream accompanied the dessert. Needless to say, my first restaurant encounter in Montreal left me hungry for more.
So, for the second day of my trip, I embarked on a rambling walk along Rue St. Denis and Rue Mont-Royal. The first stop of my Sunday tour was Pomarosa, an artisanal gelateria where I sampled avocado gelato, along with the distinctive, tropical fruit flavors of guanabana and lulo. Guanabana fruit has white flesh with hints of banana, pineapple and strawberry. It is a highly acidic fruit, perfect for smoothies or any other frozen dessert, and it's absolutely divine. The lulo ("little orange") ice cream was also enjoyable, since it wasn't too sweet and offered a unique opportunity to enjoy the rhubarb and lime-like flavor of the fruit. The next stop was D Liche,a quaint cupcake boutique that offers not only sweets, but also a number of baking and decorating tools for aspiring cupcake bakers. Playing off the popularity of miniature desserts, the shop offers two different sizes, which allowed me to indulge in both their key lime and blueberry flavors.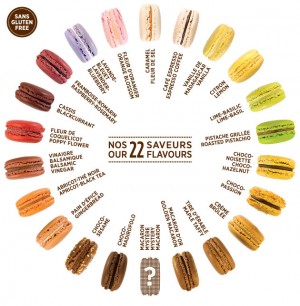 As I wandered toward Rue Mont-Royal, the range of pastry opportunities continued to grow. One of the spots that would have fit right in with New York's portable pastry craze was Boutique Point G, a macaron boutique that offers unusual flavors like lime-basil, chocolate-sesame, crème brulée and maple taffy. A note about local flavor: one word that you quickly learn in Montreal is "érable," which means maple. Canada is the number one producer of maple syrup in the world, most of it coming from the province of Quebec. Thus, it's no surprise that it has become a very popular ingredient, seen in maple candies, fudge, butter, cookies and an infinite amount of other confections. This ubiquitous maple syrup was particularly celebrated at the most memorable of all my stops: À la Folie patisserie. This super sleek, ultramodern pastry shop has infused maple into three classic French pastries—choux, macarons and tarts—and would attract any passerby like honey to a bee.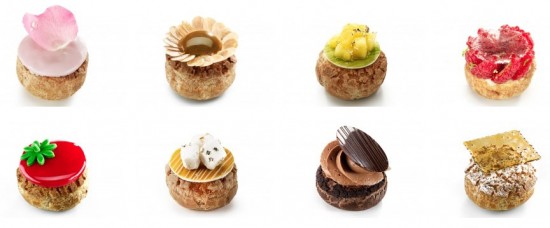 The miniature maple-flavored choux pastries come adorned with small maple-flavored marshmallows, while another noteworthy flavor included a rose water with candied rose petal and pink fondant. Next, to these beauties you will encounter happy rows of traditional French macarons, followed by an oversized invention called the YOLO—a large macaron sandwich filled with flavored mousse and cream, then dipped in chocolate. But the YOLO is only the first of the shop's creative inventions.
I also discovered the frenesie: a choux-macaron hybrid pastry that resembles a traditional French religieuse, a cream puff base topped with a macaron of the same flavor and color. Even more ambitious, À la Folie's delire is a work of art: the base is a round pâte sablée crust filled with either a fruit purée or cream. Sitting atop the tart is a glazed mousse dome surrounded by tiny macarons and decorated with large chocolate curls.
Even the tarts defy expectations. Instead of a traditional round tart sliced into wedges, the chef filled triangular pâte sablée tarts with frangipane or pastry cream and then, in most cases, topped the cream with a triangle of crèmeux or a light crème patisserie. The triangles are then glazed and decorated accordingly. My personal favorites were the maple and apricot tart, decorated with a half of a chocolate maple leaf, and the apple dulce de leche, whose paper-thin sheets of Granny Smith apple formed a perfectly glazed triangle on top of the crust. The entire shop was truly magical! If you visit Montreal, you must stop by these dessert destinations and taste the art behind their perfectly executed pastries.
Interested in culinary travel? Don't miss our Chef Instructors' guides to Rome, Paris, and Puglia.