A Foolproof Valentine's Day Appetizer
Figs & Ricotta Toasts
Because we all know the last place you want to be on Valentine's Day is waiting for a restaurant table. This year, try dinner at home instead.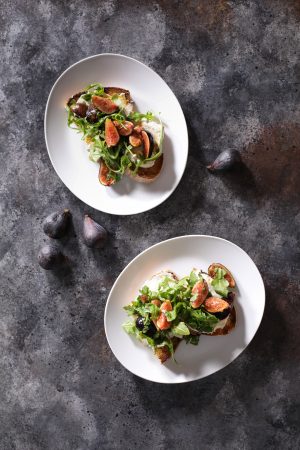 Figs and honey have long been considered aphrodisiacs by cultures the world over, so we'll use both in this sweet and savory combination. Figs were supposedly the favorite fruit of Cleopatra and honey was prescribed by Hippocrates to boost libido. In short, this is the perfect, foolproof Valentine's Day appetizer.
Click here for more information on ICE's culinary arts program.
Recipe
Fig and Ricotta Toast
Servings: Makes about two servings
Ingredients
1 pint fresh figs
1 small shallot
2 ounces wildflower honey
3 ounces extra virgin olive oil
1 cup fresh ricotta cheese
1 teaspoon sweet paprika
1 teaspoon freshly ground black pepper
1 large handful arugula
1 tablespoon champagne vinegar (or white wine vinegar)
Salt to taste
4 slices of crusty, country style bread
Directions
Start by slicing your figs in half. Then mince the shallot. Reserve in a mixing bowl together.
In a separate bowl, whisk together ricotta, half the olive oil, the black pepper and a pinch of salt. Whisk this mixture vigorously until smooth. Reserve.
Next, separately whisk together the honey, remaining olive oil, vinegar, paprika and another small pinch of salt to form the dressing.
Toast the sliced bread until lightly crisp.
Add the arugula to the bowl with the figs and shallots, and gently mix with the dressing. Be careful not to overdress, you may not need it all.
To assemble, spread a quarter of the ricotta mixture on each slice of toast. Pile the fig mixture on top. Drizzle with a little extra honey dressing if desired.