From ICE Scholarship to Italy and Beyond
Recent grad Aaron Beasley reflects on culinary school, his prize trip to Modena and his work in a Thomas Keller kitchen.
After earning a degree in economics at the University of Illinois at Urbana-Champaign, Aaron Beasley (Culinary, '20) cooked at a Caribbean restaurant for four years until he won the 2018 #CulinaryVoice Scholarship Contest to attend ICE. The Culinary Arts student became a chef de partie at Thomas Keller's TAK Room and shares his culinary career plans.
"My experience working at a startup was very mentally exhausting, and I realized there was nothing that could deter me from cooking," Aaron says of his career change. "How I handle everything — all my emotions — is through food."
When Aaron saw an Instagram ad for a contest hosted by ABC's "The Chew," and the prize was tuition to ICE, he filmed a heartfelt entry video, became a finalist and secured the scholarship in the summer of 2018. "All of this stuff could not have been written. I couldn't have imagined a better scenario," he says gratefully.
Between winning the contest and beginning classes, Aaron spent six months working at Roister, Chef Grant Achatz's modern American restaurant in Chicago. He thoroughly enjoyed his time as a prep cook, and the connections he made there proved even more valuable.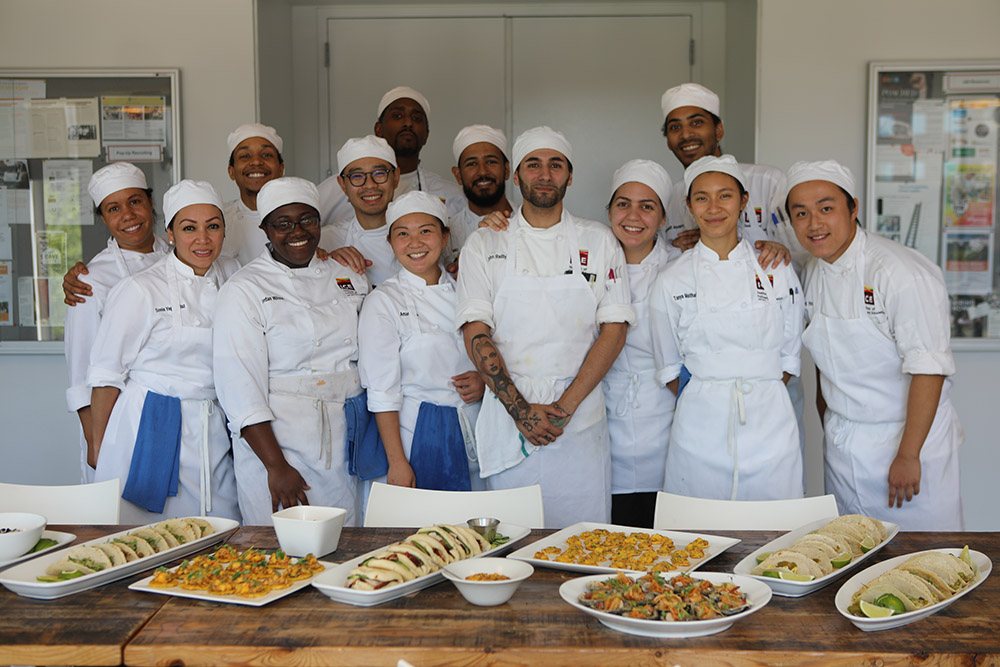 When Aaron arrived in New York in the spring of 2019, he moved into an apartment in Brooklyn's Bed-Stuy neighborhood, and his bosses from Roister recommended that Chef Thomas Keller hire him at TAK Room. Aaron started as a full-time chef de partie on the night shift the week after he began Culinary Arts classes.
"Everything I gathered here, I'm not exposed to at home at all," he says of his experience at ICE. "The modules built up in a way that they should, with the introduction you have a beginner's atmosphere. As you continue on, the ante gets amplified because you're improving on your skills. Module 3 is my favorite because that's when we started to become creative with things. You learn the history of food and regionality."
His favorite history lesson: "Chefs used to cook for royalty, and the ability for the chef to serve those types of people was a privilege," Aaron retells. "Being able to do that is still a privilege. Now we cook for people celebrating special occasions, someone that might save up their money to go to a special place. That perspective is what I gained."
After class ended each day, Aaron would head to Hudson Yards, take a quick coffee break and clock into work at 2 p.m. He'd prep for 250 covers at his station all night, clocking out around 11:30 p.m. Aaron was working diligently each day, constantly focused on learning and contributing to the community, including sharing his on-the-job learnings with fellow students.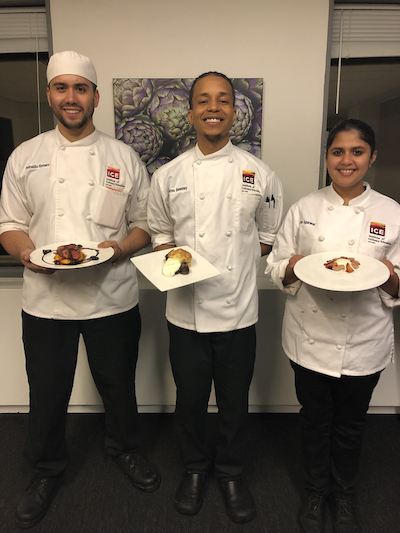 "I've gained a practical understanding of cooking food with pride, integrity and respect for the ingredients," he says of working raw bar and garde manger at TAK Room. "I've learned to appreciate simple preparation of quality fish. There are a lot of crudo specials that the raw bar features and that experience alone has amplified my understanding that you don't have to overcrowd an ingredient, you need to allow the main ingredient to speak for itself."
In addition to these responsibilities, Aaron was extremely active on campus. He took advantage of every extracurricular opportunity, including competitions. He won the Balsamic Vinegar of Modena's Culinary Competition with a standout biscuit. The prize was an "eye-opening" trip to Italy, where Aaron was amazed and influenced by the historical and thoughtful treatment of ingredients.
Once classes ended and externship started, Aaron was relieved. He was able to put all his effort into his restaurant work. Unfortunately, the current pandemic caused TAK Room to close temporarily in March, and Aaron took a respite in Pennsylvania.
"It's quieter here and I felt like that was necessary so I could have some tranquility," he says. "The stuff that's going on right now that is on the forefront because of my race and how I identify myself is compounded with the reality that my profession is in turmoil. I effectively have a double whammy. There are some days right now that I don't really do all that well, but I acknowledge it and try to talk to family and friends. I try to get some regular therapy sessions in order to make sure that, mentally, I'm cool."
While he's keeping his mental health in check, Aaron is wrestling with the fact that systemic racism is suddenly a trending topic. "Black people have always noticed it and always recognized it because we endure it," he says. "I think for the first time, it's great that people see it, and now they're being active, but it's also troublesome because we've been saying the same thing for years, for centuries. It's a very complicated thing. I'm still trying to wrap my head around it."
Aaron bears the weight of his race in the restaurant industry. "Since there are not a lot of black chefs, I feel like I'm charged with always having to lead in a lot of situations," Aaron explains. "It's the responsibility of having to constantly be impressive. I have to constantly be on my Ps and Qs because black folks don't get a lot of opportunities like this. I have to come correct. That is taxing."
Aaron wants to put out his best work without feeling this weight on his shoulders. He says even in a relatively diverse kitchen like TAK Room's, there are few black chefs. "There is a significantly lower number of black faces represented within spaces such as these," Aaron says. "Yes, there could be an ample amount of black people working within hospitality, but when we start walking into places like Per Se, Michelin Guide-referenced restaurants, it's not very likely that you're going to see that. You may see a couple. It's like a little sprinkle, like a finishing salt. That's how you see black people."
Despite this adversity, Aaron is intent on continuing to succeed in the restaurant industry. As soon as he can get back to work, he will be in the kitchen at TAK Room. "I came here on a mission, in my mind, so regardless of what COVID-19 is going to do, unless I'm dead, I'm not going to stop what I'm doing," he says, mentioning that the chefs and sous chefs he works for appreciate his enduring positivity and optimism.
"I'm looking for pathways to help me change lives and communities through my experience with food," Aaron says of his future. "It is difficult to say what that looks like, but I know that there aren't a lot of chefs that look like me, and it's important to show representation for the sake of inspiration and education."
He's started sharing his culinary skills and voice on social media, and his cooking videos were featured on ABC7 Chicago in April. Aaron says the crisis has made it clear to him how desperately society needs cooking for physical, financial and mental sustenance — and how little the general public knows about food, so he wants to teach. "On Instagram, I give helpful, at-home tips, like little tweaks so that people can make alterations to their preparation of food and find easier ways to approach or incorporate something into their meals," he says.
Aaron has also been providing his friends with recipes and coaching them on techniques, all the while gathering information on what people do and do not understand about cooking. Eventually, he'd like to use his findings to write a book on navigating the kitchen and address social issues, from mental health to racial identity, through food as a celebrity chef.
Pursue your own professional food path with ICE's career training programs.