From Tech Startup to Dirt Candy
Here's how ICE alum Kate Ray became a plant-based cook.
As a reprieve from the tech world, Kate Ray (Health-Supportive, '21) used to host weekly vegetarian dinner parties in her Brooklyn apartment. A decade later, she's pursuing her culinary passion full-time with a line cook position at Dirt Candy, Amanda Cohen's vegetarian restaurant in New York City.
When Kate Ray graduated from New York University with a degree in journalism and psychology in 2010, she launched her very own tech company. At the time, the tech world embraced imaginative ideas and celebrated innovative entrepreneurs. Yet even with an encouraging work environment, she needed a creative outlet outside of her career.
Kate already loved to cook, having taught herself as a teenager when she adopted a vegetarian lifestyle that differed from her family's meat-centric meals, so she decided to throw plant-based dinner parties. "I would make as much food as I could for as cheap as possible," she remembers. "It was about bringing people together, but it was the food that got them out there to Bushwick."
As Kate's interest in culinary endeavors grew, her disillusionment with the tech industry did, too. She sold her company to Wordpress and then floated, unfulfilled, between various tech gigs. Kate even tried working for a commissary kitchen startup as an attempt to combine her talents. "It really further cemented in me this idea that trying to find a space that overlapped between tech and food was not going to be my answer," she reflects.
Despite a successful stint at the ACLU, Kate knew she would only be happy if she could make food her profession. However, it wasn't until she discovered the Institute of Culinary Education's Health-Supportive Culinary Arts program that she decided to pursue a culinary education. "Learning that there was a program that was mostly plant-based was really why I went to culinary school," she explains. "Until then, I hadn't really considered that I could go to culinary school or really even be a professional chef without cooking a lot of meat."
When classes were delayed with the pandemic, she was thankful to avoid the transition to Zoom that so many remote workers experienced. "I had a lot of time to think about what I wanted to do," she says.
During quarantine, Kate started a newsletter about her career change called Soft Leaves, which she still writes. She also launched a Chinese-style vegetable bun business based on her childhood love of dim sum pork buns. Crafting 50-100 buns every weekend for deliveries around New York City allowed her to hone both cooking and baking skills.
In September, Kate's classes resumed at ICE, and she immediately began to learn from her instructors and clasmates. "I came in with a lot of certain types of knowledge, and the people I was there with came in with different knowledge, which made for a really interesting dynamic," she describes, noting that her classmates had expertise in everything from food justice to Ayurveda. "It was a really powerful cohesion of people who brought different things."
Kate also gained insight about nutrition and diverse cultural models of health through instruction on traditional Chinese medicine and macrobiotics. "It was really fascinating and made me think about my body and my relationship to food in a different way than I had before," she reveals.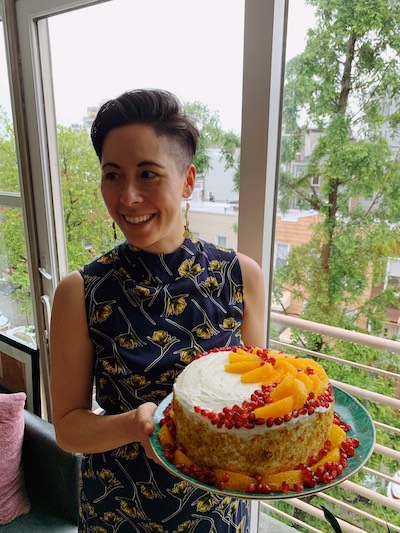 Kate worked at Dominique Ansel Bakery for three months after class before securing an externship at Dirt Candy. She was hired as a full-time line cook once she completed her requisite hours to graduate.
"It's a really good place to learn," Kate shares of the Lower East Side vegetable palace. "People are really open to sharing what they know. There is a lot of respect that seems to flow from management to employees and back. I've worked in a lot of different kinds of companies and honestly, this is one of the most functional that I've found in terms of trust and communication."
In the near future, Kate plans to continue creating playful, plant-based tasting menus at Dirt Candy. The evening service allows her to write in the morning, so she's working on a book of generative vegetable art with programmer Helena Sarin. Eventually, though, Kate would like to leave restaurants in favor of a more fluid culinary career that includes events and collaborations. "As I go, I will try to take on more things that are exciting to me," she says.
Most importantly, Kate has resumed her dinner parties. "I haven't found that I'm so tired from cooking during the week that I don't want to do it on the weekend," she admits. "It's been really nice to come back to having people over and watching them eat something that I've made. That's what has driven me through all of this."
Explore ICE's Health-Supportive Culinary Arts program.