Advanced Pastry at ICE: Gale Gand
Best known as the host of Food Network's Sweet Dreams, Gale Gand is the author of eight cookbooks, a partner in the Michelin-starred Tru in Chicago, an artisanal root beer maker and so much more. This spring, on May 16, we're thrilled to invite this multi-talented entrepreneur to teach a "signature desserts" class at ICE, focused on an ingredient we often take for granted: vanilla.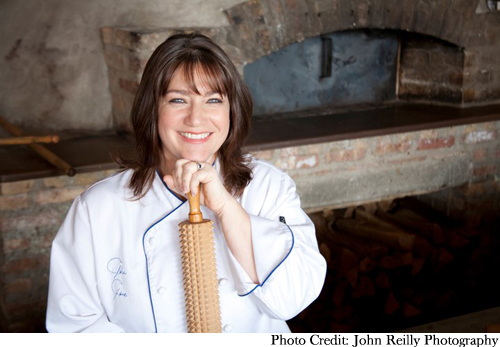 What will you be covering in the CAPS class at ICE?
This will be a class all about vanilla—its complexities and uses. We'll cover the four main varieties of vanilla beans, vanilla paste and vanilla extract, as well as how the plant is grown, dried, brought to market and made into extract—and, of course, how to use it in desserts.
Over the course of your career, you've worn so many hats successfully—from writing books to opening restaurants and making artisanal root beer. What's your favorite thing to do?  
That's like picking which of my kids is my favorite! I love how I managed to cobble together a living from all of those various things. Each day is different, so I have to know how to juggle. I also get to do a lot of philanthropic work through my cooking, raising funds through food for charities. It all inspires me and seems to be part of the bigger picture of being a chef in this century. Flexible, multiskilled—as long as it involves food, I'm there!
What do you think has been the key to your success?
I have a few theories about that, but I have no way to prove it. But I think it's a combination of the following:
Always answer emails and return all your phone calls.
Always say "thank you."
Be brave and honest enough with yourself to pick what you love for work.
My musician father always told me to pick a career for love, not for money. And he was right! Beyond that, I think a lot of it is luck and timing.
You previously opened a Michelin-starred restaurant in England. How did that experience differ from working in the U.S.?
It was a restaurant in a country house hotel in England, so it was breakfast, lunch, afternoon tea and dinner, plus room service and banquets. The 500-year-old estate was originally owned by Lord and Lady Gretton, who owned the Bass Ale Company, so it was kind of like working at Downton Abbey! Working in England is different from the U.S., including the language, which you would think would be the same.
I had to write an American to British dictionary while I was over there to help our team. For example, in the U.K. they still use French terms like mange tout for snow peas and aubergine for eggplant. And the flour and dairy are totally different but great. It was a wonderful and interesting experience, and I returned to the U.S. a much more polite person after three years there.
What words of advice do you have for culinary professionals who are just starting out?
I always give the same advice: always wear comfortable shoes.
Learn more about desserts course at ICE.