Chef Akhtar Nawab's Gluten-Free Roti
The chef shares a recipe from his recent healthful and hearty cookbook release.
Chef Akhtar Nawab developed his culinary career at such acclaimed restaurants as Gramercy Tavern, Craft and Craftbar where I first encountered his bowl of pan-roasted sweetbreads. They were hard to deny — delicious, tender and decadent — and a far cry from the food the Indian-American chef cooks today at his Mexican restaurants Alta Calidad in New York and Otra Vez in New Orleans.
Both chefs and diners have dramatically shifted the way they approach food over the last 15 years, and Chef Akhtar's desires happen to meet these demands. Since his days at Craftbar, he has married his Indian culture with Mexican influences and swapped meats for plant-forward ingredients.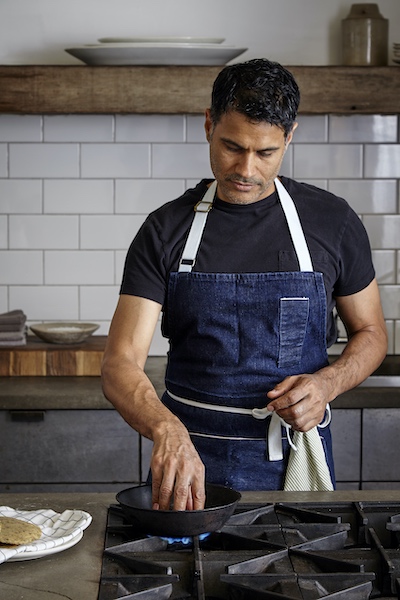 At a recent virtual event, Chef Akhtar shared his philosophy and less-is-more style of cooking with ICE students and alumni, featuring his recipe for gluten-free, dairy-free and vegan roti from his recently released cookbook, "Good For You: Bold Flavors with Benefits."
"It's a coconut flour and masa roti with vegan butter that is mostly made from coconut oil, flax seeds, chia seeds and tapioca starch," he explained, adding that if you don't like the texture of chia seeds in your roti, you can grind them before adding to the dough. "The seeds act like a thickener which helps bind the masa and reduce the amount of oil that might normally be needed."
The gluten-free dough is very pliable. "You can roll it really thin and make a really large roti – it's very impressive to see," Chef Akhtar said. "We actually created Indian burritos out of it, and you can create something different."
Recipe
Gluten-Free Roti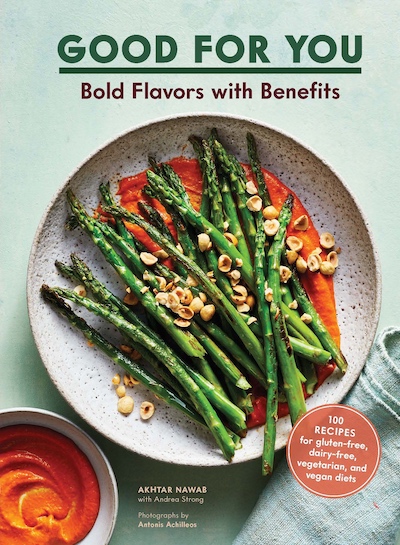 Yields 4 servings
From "Good for You" by Akhtar Nawab, Chronicle Books, 2020
Ingredients
1/2 cup (113 grams) packed raw masa or Maseca
1/4 cup plus 2 teaspoons (39 grams) tapioca starch
¼ cup (32 grams or 1 ounce) coconut flour
2 teaspoons vegan butter
1 3/4 teaspoons chia seeds
1 1/4 teaspoons flaxseed
1 tsp canola oil, plus more for cooking
1/2 teaspoon kosher salt
1/4 cup (60 milliliters) boiling water
Directions
TO MAKE THE DOUGH: First, add all the ingredients, except the boiling water, to the bowl of a stand mixer fitted with the paddle attachment. Mix on low speed to incorporate everything, for about 1 minute.
Next, slowly add the boiling water in a stream until a dough begins to form. Mix on medium speed for about 10 minutes until the dough is smooth to the touch.
On a clean surface or a dish towel, divide the dough into four equal balls and keep them covered with a damp cloth. The dough works much better when it's cold, so refrigerate it for about 15 minutes before you start to roll it out. Once the dough has had time to chill, put a dough ball between two pieces of parchment paper and roll it out until it is about 1⁄8 in [4 mm] thick or about 6 in [15 cm] in diameter. Repeat with the remaining dough balls.
Spray both sides of each dough disk with cooking spray and keep them in the refrigerator between the pieces of parchment paper until ready to use. Roti dough can be cooked immediately or tightly wrapped in plastic wrap and stored in the refrigerator for 1 to 2 days.
TO MAKE THE ROTI: Heat about 1 tsp of canola oil in a heavy-bottomed pan (cast iron works well here) over low to medium heat. Make sure the pan is large enough for one 6 in [15 cm] roti. Peel off one piece of parchment and place the roti on the pan, then peel off the parchment from the other side. Cook for 45 seconds to 1 minute on each side. You will know that the roti is done when it turns from translucent to a more opaque color. Think of this like you would cooking pancakes: The first batch takes a little longer and then, as the pan heats more, it goes faster, so you may want to lower the heat as you cook. Repeat with the remaining dough.
Keep the cooked roti wrapped in parchment paper with olive oil brushed on each side so they don't stick. Store leftovers in an airtight container in the refrigerator for 5 to 7 days.
Study cooking for specific diets in Health-Supportive Culinary Arts.