From NYC Film Composer to Culinary Entrepreneur
ICE alum Amy Baer Robinson seeks to continue her creative expression in her second career hosting culinary events.
Amy Baer Robinson (Culinary, '20) has deemed herself an artist from an early age. Whether creating musical compositions for award-winning films, like Hugo and The Hobbit Trilogy, or sharing her culinary knowledge with those around her, Amy feels most rewarded when expressing herself through creativity. After a life-changing move from New York to Los Angeles, Amy decided to pursue a lifelong dream of becoming a chef by enrolling at the Institute of Culinary Education.
Amy fondly recounts the eclectic food scene that lined the streets when she lived in NYC for many years. Whether it be the little noodle shops in the heart of Chinatown or fine-dining restaurants serving elegant French food on the Upper East Side, there was always something delicious to try in the city. Amy grew up cooking with her mother — a trained dietitian — who instilled the importance of food from an early age. In addition to her mom, the family's Italian culture played an important role in developing Amy's passion for the culinary arts. Though she considered food a significant source of inspiration, Amy initially enjoyed cooking simply as a hobby with friends and family.
Amy first worked in the entertainment industry as a musician for TV and film. "I would come home after a long day of working on film scores and with directors and relieve my stress by chopping vegetables and cooking something for my husband and me," she says.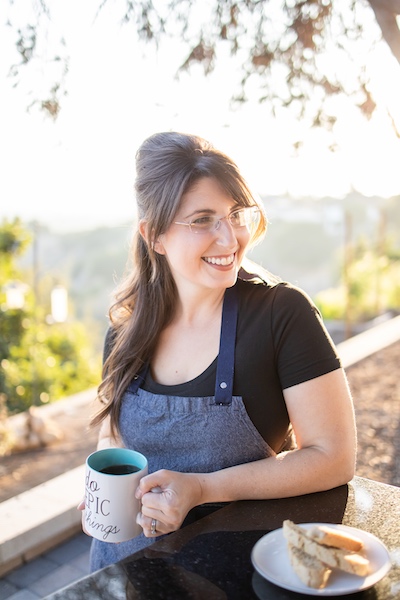 Though Amy thoroughly enjoyed her time in NYC, she recounts that life took her to Santa Barbara a few years back. Originally from California, she continued to pursue her music career in her old but new-again home. However, she admits that she struggled to find her footing as a musician and a sustainable work-life balance in LA due to her lengthy commute to-and-from Santa Barbara. To cope with the hardship, Amy found happiness by hosting small culinary events with her social group for fun.
During these gatherings, she would show her friends how to make Italian food and her husband, a wine enthusiast, would share wine pairings for the meal. As Amy grew more comfortable with hosting these events, she realized "this passion for teaching and cooking food for people became even stronger."
Suddenly, a light bulb went off. Amy realized that there was a dire need for creative and organized food events in the small town of Santa Barbara. Taking matters into her own hands, Amy began a club named Epicurean Santa Barbara that featured local talent from the Central Coast, from chefs to winemakers to musicians that were once her colleagues.
Epicurean club membership included exclusive access to private events and cooking classes in the area. As the club kept growing, the possibilities followed suit. All the while, Amy continued to pursue her music career in LA; however, she felt as though she was "one foot in and one foot out." After much soul-searching, she concluded that she was "really ready to start a new career with food." She wanted to commit to her newly founded club fully and decided the best next step was to attain a culinary education. "I needed to do this thing for real," she says.
Amy recalls that as she toured the ICE Los Angeles campus, she instantly fell in love with what was going on. "I walked into one of the kitchens, and it felt like a dream ... everyone was running around, cooking stuff on six skillets while the chefs were urging the students to work faster," she says. Upon reading the curriculum, Amy was drawn to various concepts covered in the Culinary Arts program that included everything from sous vide techniques to Japanese cuisine to 10 ways for cooking an egg.
To continue her club events in Santa Barbara, Amy enrolled in the evening program that meets three nights a week. "I worked my butt off because you get out of this program what you put into it," she says, adding that she asked her chef-instructors questions constantly and would "pry their brains for every bit of knowledge they could share."
When it came time to find an externship, Amy knew she wanted to work alongside a passionate team with extensive experience in fine-dining. She recalls that she was fortunate to land a spot at Porch and Swing in Irvine, California, amid the pandemic last year. At the restaurant, she worked alongside Chef Justin Werner. A seasoned chef whose resume includes an internship at Noma and experience at Tom Colicchio's Craft, Thomas Keller's Per Se and Paul Liebrandt's Corton, where he helped the restaurant maintain two Michelin stars as the sous chef.
Amy eagerly shared the incredibly positive experience she had during her externship. With a very diverse menu that changed almost every day, she had the opportunity to put to work many of the techniques she learned in school, such as braising, poaching, roasting and pasta-making — just to name a few. She exclaims that the kitchen was a place of camaraderie, with each chef and line cook supporting one another to serve exceptional cuisine that highlighted each of their passions and strengths.
Upon completing her externship, Amy returned to Santa Barbara to put all of her newly acquired skills into action and committed to stepping up the quality of the events provided at her club. Aside from private dinners and cooking classes hosted by Chef Amy, the club has expanded to offer monthly dinner packages to-go. On the horizon, Epicurean Santa Barbara has upcoming courses that include a private "Trust" Dinner with Chef Justin Werner; Fast, Easy Comfort Food At Home classes; and collaborations with local wineries, among other exciting events.
Amy is driven to make an impact on the culinary landscape in Santa Barbara, hopes to continue to inspire those around her with her creativity and encourages students (and future students) never to take for granted the time spent in culinary school. "Your teachers are your best resources; you will never have a wealth of knowledge like you have right at your fingertips," she says, emphasizing that they're like "walking encyclopedias" and that you should take advantage of this opportunity to learn as much as you can.
Get in the kitchen with ICE instructors' wealth of knowledge in Los Angeles.