The Art of Coffee Pairing
When do you normally drink a cup of coffee? First thing in the morning? After a meal? If you're like most coffee drinkers, a cup of joe - or espresso - is a pleasure enjoyed either solo or with a small bite of something sweet. Last Thursday, Adrianne Rende of Nespresso - one of ICE's Distinguished Culinary Partners - sought to challenge these habits, by introducing students and alumni to the myriad possibilities of coffee pairing.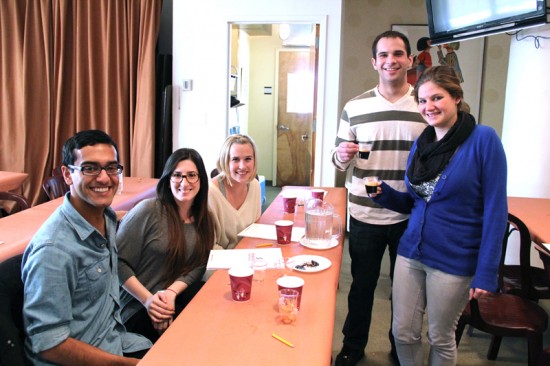 Nespresso specializes in what it calls "Grand Cru" coffees, a term adopted from the wine world. Given the choice of 25 million coffee farms (in over 60 countries), selecting growers and maintaining consistency is a complicated process for any coffee manufacturer. When you're looking to source and produce the highest quality espresso in the world, that process becomes even more complex.
The company relies on an elite tasting team in Switzerland to develop a range of flavors that vary in bitterness, acidity and even levels of caffeination. "Ristretto", a full-bodied, intense roast (best served in the very "short" espresso format bearing the same name) is among the company's best-selling flavors.
Adrianne's challenge was for students to sample Ristretto not only with a duo of sweets but also with a pair of savory dishes. I never imagined that the same little cup of espresso could taste so wildly different. Paired with spice-crusted ahi tuna and rich quiche lorraine, the Ristresso demonstrated elements of spice and bitterness.
Yet juxtaposed with a salted caramel brownie and raspberry cheesecake, the bitterness seemed to mellow, revealing more fruity notes. The idea of food pairings is already omnipresent in the case of wine, and increasingly in the case of beer or even tea. But if the students' response to this Nespresso demo is any indication, tasting menus featuring coffee pairings are not far off in the future.