Sara Tane Makes Breakfast, Salads and Sandwiches in Mod 2
The Feedfeed food editor and Culinary Arts student shares lessons from her second module at ICE.
I would like to start this blog by letting you know that I just completed my practical exam for Module 2, and my chef told me that my food was OUTSTANDING. If for whatever reason you decide to exit this web page before you reach the end of the post, at least you now know that I am a perfect human. JK, but I have to admit that receiving such positive feedback was a momentary boost to my ego, and for that I am very grateful. Feel free to send me any further congratulatory sentiments. Thanks so much.
Now that I have the good news out of the way, let's get to it. The practical exam for this second module was pretty straightforward. We had to prepare a medium rare New York strip steak with a red wine pan sauce, sautéed green beans and pommes persillade (which reigns as one of my favorite recipes at school thus far). When turned into a task that will be graded, cooking, which is usually a joyful activity that calms me down, becomes a highly stressful experience. I don't really consider myself a perfectionist, but there's something about knowing that I will be given a numbered grade on my food that makes me absolutely militant for perfection. When I handed my chef my plate of food to taste and examine, I probably had so much adrenaline pumping through me that if I lost a limb, I wouldn't have felt a thing. Cooking is a sport and I am clearly a world-class athlete. Somehow, my nerves didn't get in the way of cooking a lovely meal, which I'm pretty pumped about!
Since my last post, we've covered breakfast cookery, salads and sandwiches, all of which I have enjoyed very much. I am not proud to admit that my first absence (due to a work trip — sorry that I'm a young professional!) fell on the egg cookery class. As a certified egg enthusiast, the amount of FOMO I had while I missed this class was nearly unbearable. Luckily, my chef was kind enough to give me a personalized French omelet demo when I returned to class the following week. Trust me folks, it might look simple, but it took me a few tries before I got it.
After we covered eggs, it was time to move onto cereals, French toast, pancakes, waffles and crêpes. Despite the fact that this class sounds like a relaxing Sunday morning, I'm going to go ahead and admit that this might have been one of the more stressful lessons. The pancake, waffle and crêpe batters were slightly fussy because they needed to rest for an hour. Plus, you need to find a happy balance of mixing the batters enough so that the wet and dry ingredients are fully incorporated yet not too much because overmixing can result in less-than-fluffy, barely rising cakes. A real travesty, indeed. You better believe that I had to throw away several rounds of crêpes before I finally figured out how to peel them away without tearing or burning them.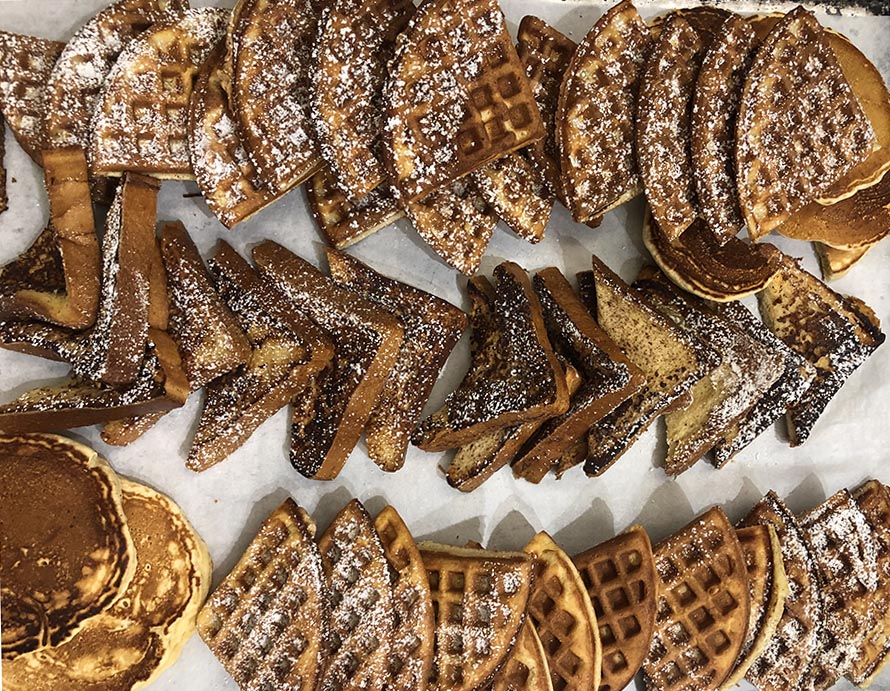 By the end of this class, I had successfully presented my chef with slightly too-browned waffles, pancakes that didn't rise enough and crepes that were folded incorrectly. Cool! I could've really used a mimosa that night. I did, however, manage to make a nice tray of French toast, a spicy, cheesy bowl of grits, and a pot of cream of wheat that was cooked to perfection. If you know anything about cream of wheat, you'll know that this means nothing because cream of wheat is an absolute garbage breakfast cereal. One of the other groups in my class made oatmeal and I demanded that they pour me a generous bowl. Repeat after me: Oatmeal is life and cream of wheat is disgusting.
Now that I've gotten my breakfast cereal rant out of my system, let's talk salads and sandwiches. Like the great Spongebob once said, these classes were F-U-N. The way these particular classes work is that since there are so many salads and sandwiches to cover, the recipes are divided up between groups, and then we all present our food as a class at the end like a family-style meal. This format is a nice break from our normal routine because you get to taste more recipes and you don't have to go through the nerve-wracking process of individually presenting dishes to your chef-instructor. Also, if your chef instructor says that something was prepared incorrectly, you can blame your group members. JK, I am a lovely team player, I promise.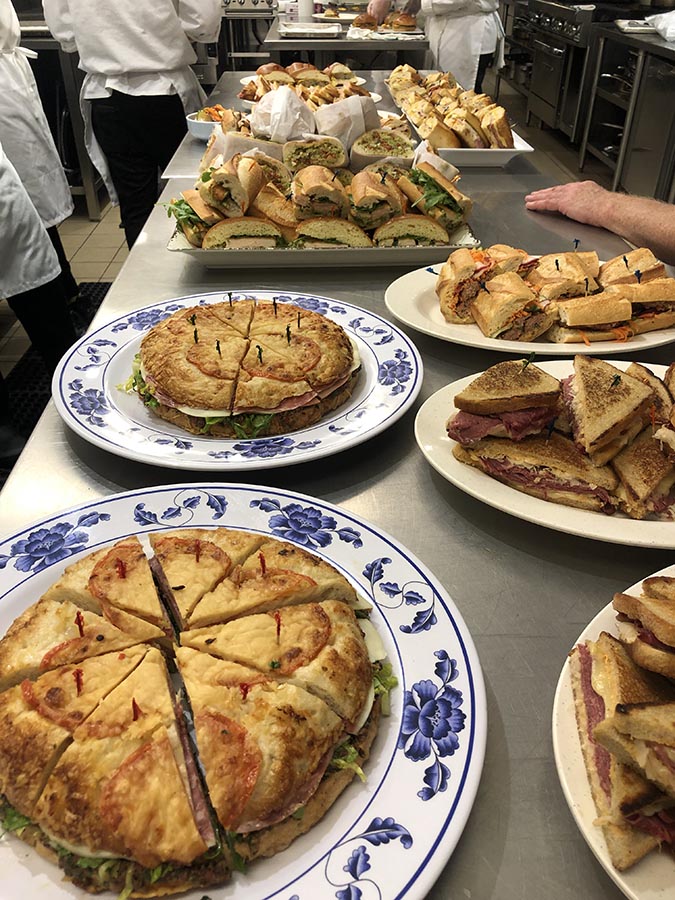 For the salad lesson, our class whipped up three types of potato salads, Cobb salad, Niçoise salad and a variety of whole grain salads. I. LOVE. SALAD. It should go without saying that I genuinely had a great time during this lesson. Just when I thought that the salad class was the absolute pinnacle of culinary school, it was time for sandwiches. This lesson more or less convinced me that I need to find the nearest rundown truck and convert it into a glossy, state-of-the-art food truck, thus fulfilling my true calling in this world.
We made every sando under the sun: pan bagnats, Cubanos, Reubens, veggie burgers, Croque Monsieurs, Mexican chicken tortas, Muffalettas and finally banh mi. I cannot stress enough how much I enjoyed this class and how glorious my to-go box was that night. The next day, my very lucky roommate had already consumed three sandwiches by 2 p.m. Impressive work, Gabi. But seriously, if you know of any junk yards that are looking to do away with an old utility truck, connect me with them, please and thank you.
Module 2 was a great one, and I'll admit that I'm a little sad to see it go. Now we're moving on to Module 3, which is French and Italian regional cooking, so I'm excited for lesson upon lesson of dishes that I cannot pronounce, as well as some cooking that is inevitably going to be less than OUTSTANDING. Bon voyage?!
Make your way to the breakfast, salad and sandwich module in ICE's Culinary Arts program.