Meet the Dean of Students
ICE alum Lorne Feldman (Pastry, '04) joins the Office of Student Affairs at our New York campus.
In 2003, Lorne left a 13-year career in psychology to pursue pastry. While cupcakes were having a moment in New York City's trendy food scene, he dreamed of a modern Jewish bakery based on his grandmother's recipes. Lorne enrolled in ICE's Pastry & Baking Arts program and began cultivating relationships that continue to support his career today.
With his master's in counseling psychology, Lorne worked with people in challenging situations, such as homelessness and substance abuse. He relied on baking for self-care and was encouraged to pursue the hobby professionally when he shared his desserts with people. When he started career training at ICE, Lorne recalls a class full of people with common interests.
"There was a range of life experiences in the class, a lot of career changers like me, and I made life-long friends on the first day of culinary school," he says. "At ICE, I oriented myself from the idea of wanting to be a pastry chef and learning how to get there."
While a successful day making doughnuts reinforced for Lorne that he was headed in the right direction, he says the experience was less about lessons and more about chef-instructors.
"How Chef Cara [Tannenbaum] taught me to think about cakes and how Chef Toba [Garrett] taught me to think about cake decorating is what really stands out for me," he says. "That first contact with the industry was pivotal in my professional development."
Lorne's new position proves his point: After 10 years in the culinary industry and five years in education, he's transitioned to dean of students as his former instructor, Chef Cara, retires from her 22-year career at ICE.
"Cara was one of my mentors," Lorne says. "I connected with her when she was my instructor and we always kept in touch. We would joke about me coming to work here as her assistant one day."
Of course, Lorne's experience exceeds the assistant qualifications. He worked at Ceci-Cela, a French bakery acclaimed for its croissants, and Capitale, a high-end catering hall, before becoming the pastry sous chef at Rockefeller Center with the Patina Group. The recession affected his plans, but relationships came to the rescue.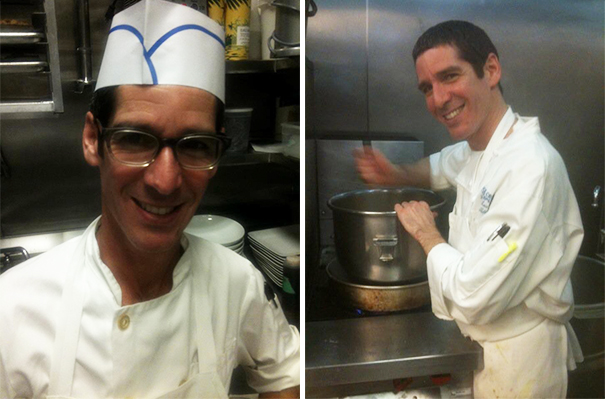 Lorne had a stint as the pastry chef at Soho House followed by restaurants in the Meatpacking District, like The Cleaver Company in Chelsea Market, where he was asked to supervise his first pastry student on externship, and that responsibility led to an adjunct teaching position and ultimately, the door to education.
"I had the opportunity to be a culinary instructor for The Fortune Society, which offers introductory culinary training and that got me into the nonprofit culinary teaching world, where there was more than I imagined," he said.
Lorne went on to teach pastry and baking for Queens Community House and Project Renewal, where he continued to work in the industry until rejoining the ICE community, combining his psychology, pastry and education experiences.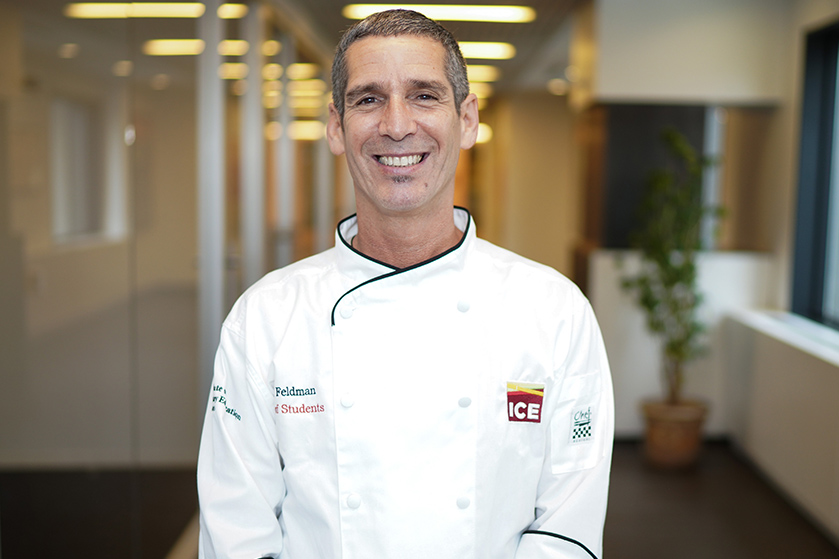 "My counseling background allows me to cultivate and develop relationships with students in a non-threatening way. People hear dean and think bad, punitive, and I'm trying to challenge those ideas," Lorne says. "My background as a student here provides me with empathy and the chance to effectively convey that. Any opportunity I get, I let students know that I am a graduate of this program."
Lorne aims to be supportive, welcoming and resourceful in his new role. "I'm very in tune with how outside factors affect academic progress and have an open-door policy for students to tell us what's going on in their lives."
He's developing student life activities, like pop-up tastings, and reinforcing the basics, which can be as simple as proper uniform and showing up on time, to optimize learning.
"ICE is a socializing agent for our students going into the industry. If we can train them well here and teach them to think critically about their work, they will be better positioned to advance in their career goals," he says. 
After all, Lorne still credits his ICE instructors with supporting his learning and teaching him to "think larger than what [he] was baking." Now he's making a difference in the future of the industry.
"Everyday I love coming to work. I love walking in here, saying good morning to classes and speaking to students who I've developed relationships with," he says. "It's been a great couple of weeks."
Meet the dean on a campus tour to learn more about attending culinary school.