How to Ferment Your Own Sauerkraut
Simple experimentation with fermentation while we stay home.
Here's Chef Barry's recipe from today's Instagram Live on quick ferments. Stay tuned for more educational broadcasts with ICE chefs @iceculinary.
Sauerkraut can be made with as little as two ingredients: cabbage and salt. Following the same procedure, you can add a wealth of flavors and colors to kraut. This makes it perfect for using up vegetables you've stored. The ferment will take anywhere from five days to 14 days and will last in the refrigerator for months.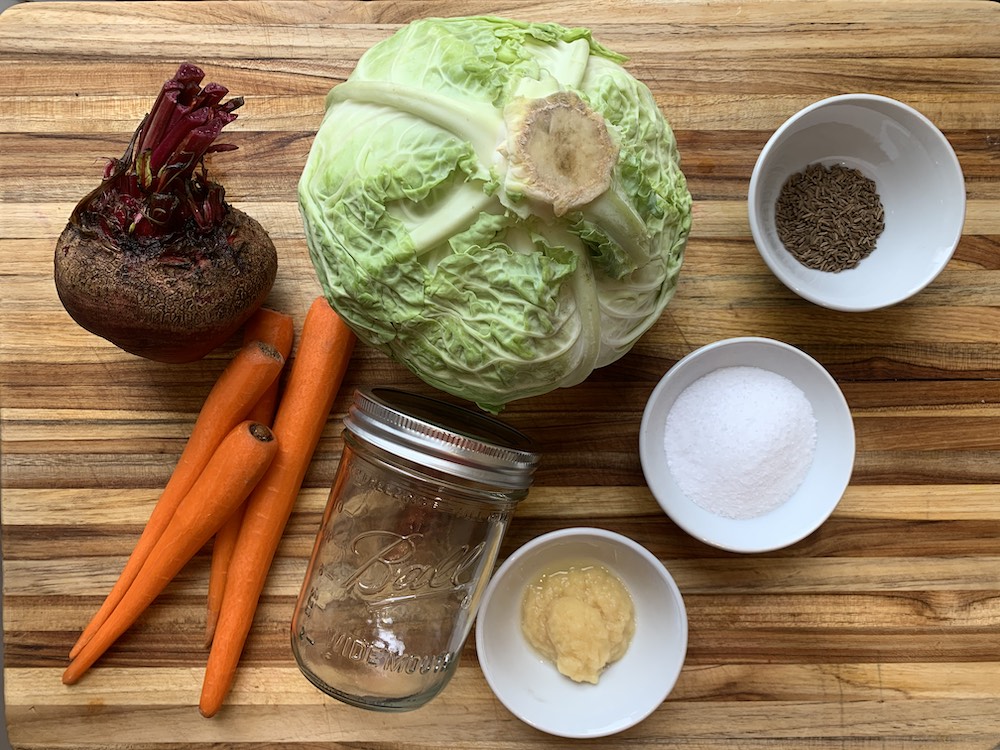 Recipe
Chef Barry's Funky Kraut
Ingredients
6 cups green cabbage, shredded, 1/4 inch (550 grams)
1 cup carrots, shredded (100 grams)
2 cups beets, shredded (200 grams)
2 tablespoons ginger, finely grated (34 grams)
1 tablespoon carraway seed, whole
2 tablespoons kosher salt 2% (17 grams)
Directions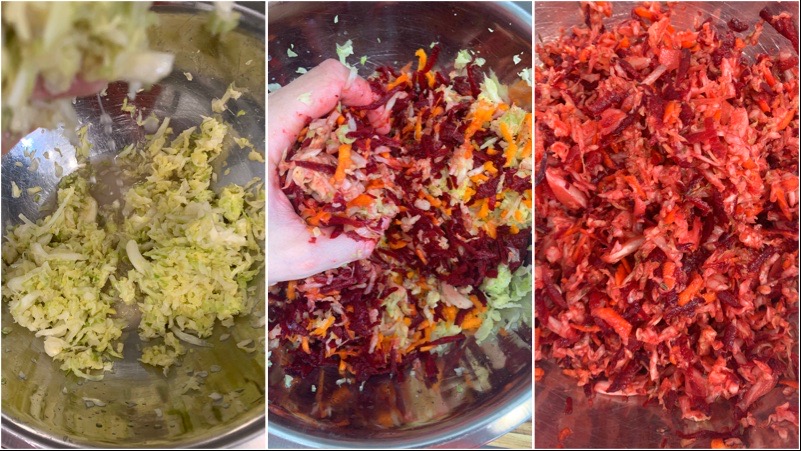 Remove outer leaves from cabbage. Cut into 1/4 and remove core. Shred with a knife 1/4-inch julienne. Weigh cabbage and set aside.
Peel and shred carrots on a grater. Weigh and set aside.
Peel and shred beet on a grater. Weigh and set aside.
Peel ginger and grate on a microplane. Weigh carraway seeds.
Calculate the amount of cabbage, beets and carrots in grams. Weigh salt for 2% of that amount.
Add cabbage and salt together in a mixing bowl and begin to squeeze the cabbage firmly to break down the cell walls. Continue with process until the cabbage and salt create a brine.
Once all the liquid has been removed from the cabbage, add carrots and beets and mix well.
Add grated ginger and carraway seeds.
Sterilize mason jars with boiling water and leave for 5 minutes. Pour water out and leave jars to return to room temperature.
Pack mason jars with kraut mix leaving a 1 1/2 inch gap at the top. Pour in brine from the bowl ensuring the cabbage is submerged below the brine level. If needed tamp down with the end of a wooden spoon or rolling pin.
Cover kraut with a ferment lid or cheesecloth and leave at room temperature (68-73 F is perfect for sauerkraut).
The lower the temperature of the room, the longer the ferment will take. Anywhere from 5 days to 3 weeks. Lower temperatures tend to produce better flavor. Be sure to be tasting the kraut every day or so until it is crisp, sour and tangy. Do not over ferment as the flavor will be compromised. When happy with the flavor, store in the refrigerator. Kraut will last a few months.
Do not double-dip with dirty fingers or spoons, the bacteria introduced will ruin the kraut.
Read more about fermentation at ICE.