Reinventing the Hotel Lobby
The hospitality industry adapts after a year of social distancing.
Hotels are reopening after a decade of lobbies designed for social interaction with reimagined formats and design.
Before the pandemic hit, hotel lobbies resembled social clubs — places where hotel guests and locals could work and play.
Designers transformed lobbies into multi-functional spaces. The traditional front and concierge desks remained, for the most part, but lobbies also became places to have business meetings, happy hours, art exhibits, concerts, poetry readings and more. In addition to being livelier and more aesthetically pleasing, turning lobbies into places to socialize generated more revenue.
As hotels reopen and people begin to travel again, the social hub model is being re-evaluated to keep guests safe and healthy. Social lobbies have been the norm for more than a decade now, with W Hotels being one of the early pioneers. The hotel chain didn't even use the word lobby, opting to call it the living room instead.
"Hospitality is all about social interactions and making people feel good," said Michael Suomi, president of the Manhattan design firm Suomi Design Works.
He suggested that a few of the changes forced on by the pandemic have actually led to improvements in the customer experience. In a strange twist, the check-in process has become more personal. Rather than have people stand in line, employees have greeted guests with tablets or mobile devices.
"They were finding ways to connect with guests," he said. "It was a more personalized check-in, where it was more of a one-on-one experience."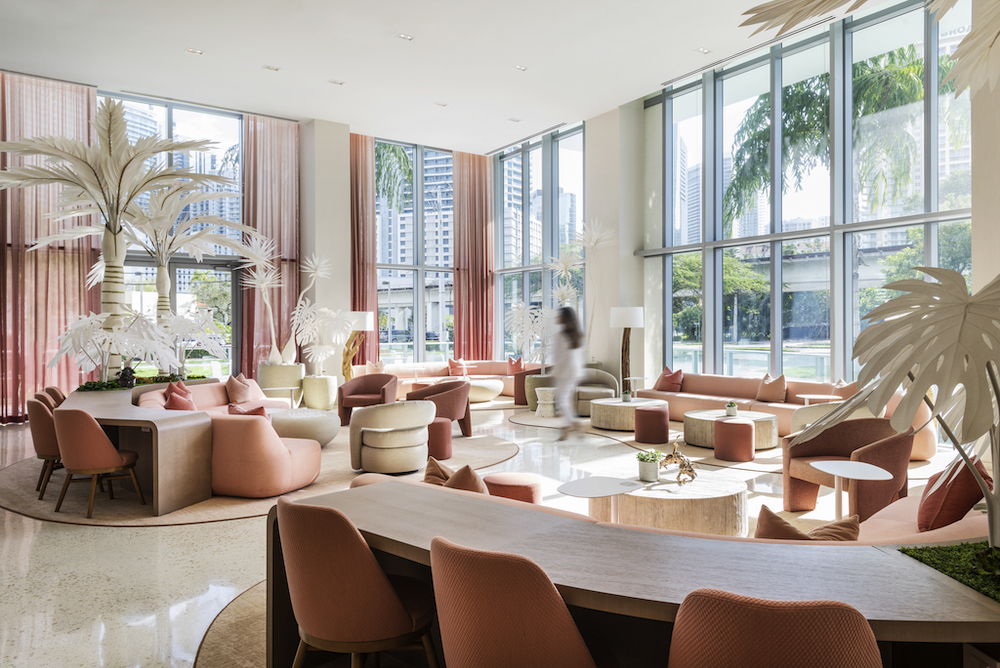 Accor Hotels tried that out at its ibis hotel brand. The company created a contactless check-in experience. The typical reception desk was removed, and the lobby was made to feel larger. A member of the Smile Team now greets guests with a tablet or smartphone and checks them in while they wait on a sofa or have a drink at the bar. The new model will be rolled out throughout the entire ibis brand network by next year.
Designers are also improving air exchange systems to increase the use of natural ventilation, said Sheldon Froc, manager of Interior Design LUXE for Accor North & Central America.
"One important lesson of the pandemic is the need for flexibility in the design of our hotels," Froc said. "Applying social distancing guidelines and maintaining hygienic and easy to clean environments requires spaces that can be reconfigured and reorganized quickly and temporarily with less fixed furniture in the lobby areas."
Hilton has been offering mobile check-in and keyless entry for years.
"Everyone traveling today has a heightened sense of awareness of their own personal space and the cleanliness of their environments, and they will require additional assurances of their safety while staying with us," Larry Traxler, senior vice president of global design for Hilton wrote in a blog post. "How do we deliver on these expectations while ensuring the welcome experience remains welcoming? That's the challenge."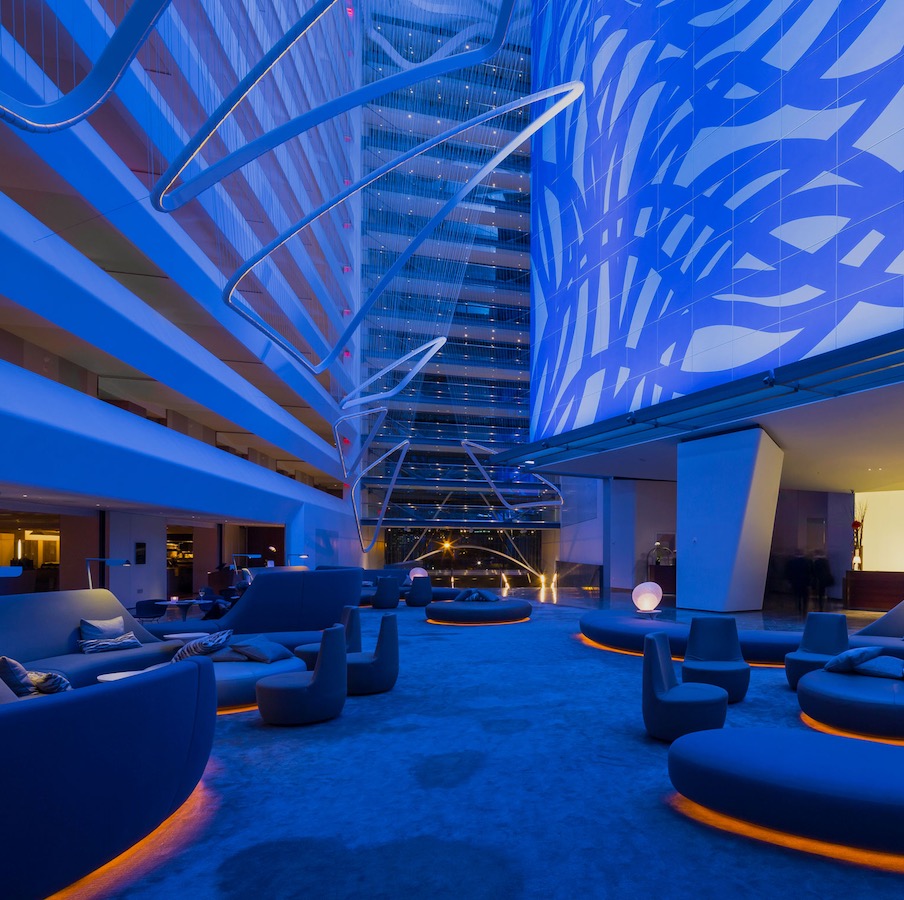 Hilton has introduced adaptable spaces in its lobby bars. Architectural screens with biophilia and art, dividers and creative seating designs have also been added, the company said. Hilton enlisted engineers and scientists to purify the air and find ways to efficiently and effectively clean surfaces.
Utilizing outdoor spaces has been one of the key tactics hotels have adopted. Designers can get creative by doing such things as taking fixed windows out of lobbies and installing rollup glass doors, Suomi said. Many cities have been relaxing rules to allow for such unique solutions.
He also predicts that hotels will add more restaurants, coffee shops or takeout options.
"You can break groups up into different food and beverage areas," he said. "I think you're going to see more robust offerings of food and beverage venues. We'll see a renewed focus on what the public areas are used for. Hotels will encourage guests to get out of their rooms and come to the public areas. They'll be a renewed focus on how hotels are connected to their communities."
Adaptable spaces will also become even more common in order to be able to spread people out more. A large lobby can be broken up into different parts by using dividers and moving furniture around.
Earn a Hospitality & Hotel Management diploma in 8-12 months.
"We've been on a journey to evolve lobbies. They are designed to be flexible," said Alison Newton, director of brand design global at InterContinental Hotel Group's Crowne Plaza brand. "We can go from a coffee to a cocktail. We can go from a meeting to an after meeting."
Meetings are restarting but they have been much smaller, she said. The properties have studios that can accommodate eight to 10 people. Nooks are available for more private meetings. Communal tables, which became centerpieces of lobby spaces have not disappeared, she said.
"As the needs of the guest change, we're poised to capture their needs," Newton said.
Jan Freitag, national director of hospitality market analytics at CoStar Group, said he believes that social lobbies will not go away especially now that more people are getting vaccinated. Guests can expect to see more cleaning during daylight hours. In the past, that was reserved for early mornings when few people were around. But he expects social distancing to ease up.
"After people are vaccinated, all of this will be a faint memory," he said.
Hyatt has already started holding events and expanding offerings at some of its properties as part of Hyatt Loves Local, a collaboration with local businesses, particularly minority and female-owned. The Hyatt Regency Villahermosa in Mexico has supported local food and beverage vendors since January through a monthly pop-up shop in the lobby for guests and locals.
Hyatt Place Madison Downtown in Wisconsin is offering free space in its lobby to two minority and female-owned businesses that were hit hard when retail stores closed last spring. This collaboration, which launched in February, will be available for guests and locals through 2021.
Accor's Froc is just as optimistic. "Our guests are more hungry for social interaction than ever and we are finding ways to safely provide these spaces as we start to turn a major corner in the pandemic," he said. "Our aim is to give our guests the confidence that they are in a safe environment — comfortable, secure and sanitary — but not change how they are welcomed and served."