Las Vegas Evolves Hospitality in 2020
One of America's hotel capitals sets the standard in reimagining the industry after the pandemic's impact on travel and tourism.
With more than 275 properties and 150,000 hotel rooms, Las Vegas is a major indicator of hospitality industry news and trends. The city's properties and trade shows often preview the technology and advancement ahead for the rest of the country, including its early road to recovery in 2020.
Las Vegas was one of the first U.S. cities to reopen hotels and casinos after the pandemic shutdown. After closing down in mid-March, casino resorts began welcoming back guests in early June with limited services and more hygienic precautions.
The Las Vegas Convention and Visitors Authority paints a promising picture. Lori Kraft, senior vice president of communications for the organization, said that occupancy has increased from 1.06 million visitors in June to 1.5 million in August, the latest figures available.
The latest Las Vegas Strip property to reopen, Caesars Entertainment's adults-only The Cromwell, resumed its hospitality and gaming operations on Oct. 29.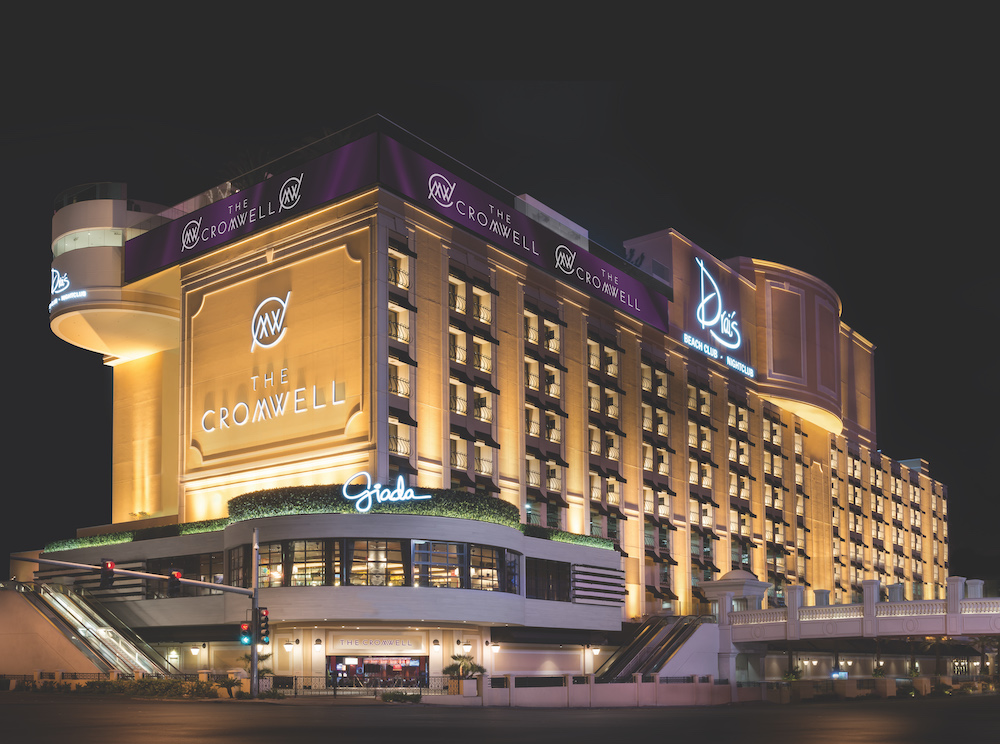 "Las Vegas is resilient and will remain one of the world's best destinations, but it's going to take a while to fully recover," Kraft said. "Right now, leisure travelers are enjoying Las Vegas with most of the visitation on weekends. Weekday visitation will remain lower until business travel returns. Our resorts know how best to operate their venues to meet customer demand and are adjusting in their own respective ways."
"Spurring industry recovery takes collaboration, partnership, and a unified approach with all stakeholders across the ecosystem," Expedia Group VP Rachel Bird wrote in an opinion piece on Hospitality Net. "This has been especially true for Las Vegas, which has leaned into partnerships, technology and data to help support recovery strategies."
New Technology and Safety Precautions
Hotels and resorts throughout Vegas and the United States have created new health and safety standards, including requiring employees and guests to wear face masks in public areas, placing hand sanitation stations in strategic spots, conducting temperature checks, getting rid of buffets and requiring social distancing.
At Caesars Entertainment properties — which include Caesars Palace Las Vegas, Paris Las Vegas, Planet Hollywood Resort & Casino, and Flamingo Las Vegas — guests and employees have received more than 2.7 million masks since reopening.
MGM Resorts International has a new Convene with Confidence program to help bring meetings and conventions back to its properties. Convene with Confidence includes the option of getting on-site rapid COVID-19 testing that can deliver results within 20 minutes.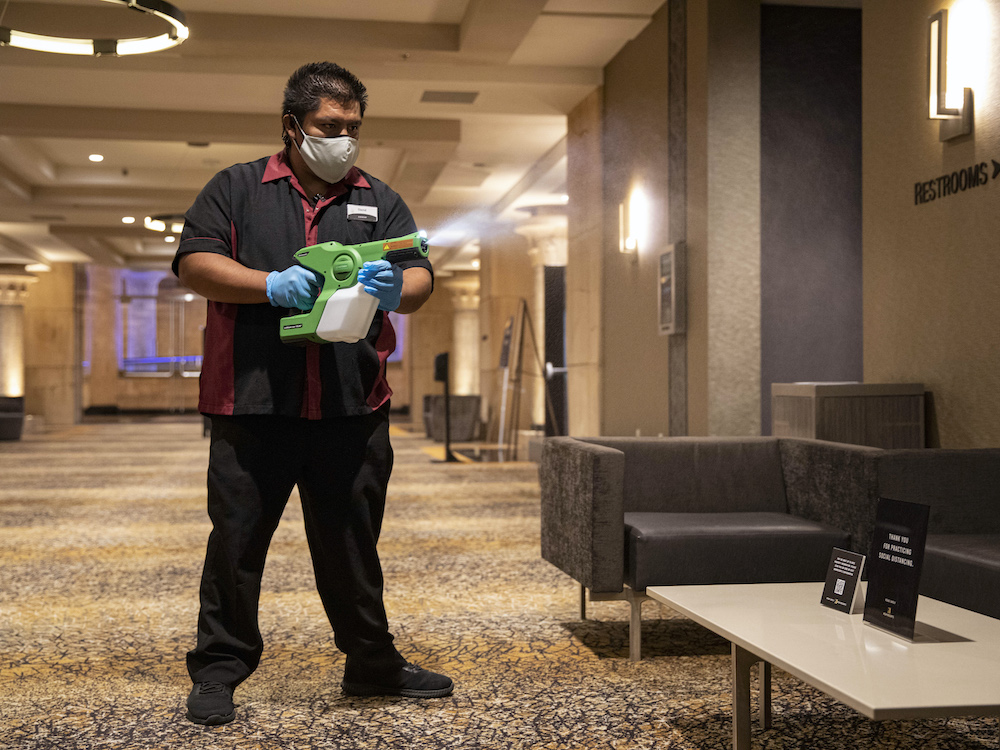 In an op-ed published in The Nevada Independent in early October, Wynn Resorts CEO Matt Maddox said the company is building an on-site lab at Wynn Las Vegas in conjunction with University Medical Center to develop thousands of accurate rapid tests daily. He predicted that the lab would be open before Thanksgiving.
The Venetian Resort Las Vegas, owned by Las Vegas Sands Corporation, has introduced new technology to create a Venetian Clean environment.
Thermal scanners are located at every entry point to allow security to conduct temperature checks of employees and guests. Those with a temperature above 100.4 F have to undergo further medical assessment.
Venetian employees are testing new digital smart rings that may be able to determine potential cases of COVID-19 before symptoms appear. The resort says that research has shown that when paired with a cell phone app, the rings may be able to predict symptoms up to three days early even when the user is not feeling sick.
The resort is also testing a new digital device for employees that will help with contact tracing in case an employee reports having COVID-19 symptoms. The device is equipped with a small disc that is attached to an ID badge holder. It has Bluetooth-enabled access points throughout the resort to detect when employees are less than six feet apart for more than five minutes.
Venetian is exploring the use of UV technology to disinfect and sanitize areas. A custom system is being installed that will send guest luggage though a tunnel with UV lights to disinfect surfaces.
Mobile check-in, mobile check-out and new digital key technology is being used to limit contact. In July, about one-third of guests used mobile check-in, the resort said.
But the technology is becoming the new norm. Waldorf Astoria Las Vegas is offering Hilton Honors members Digital Key, a contactless way to check-in and access the room.
Employees also use an electrostatic sprayer on a daily basis that customizes the pH level of the sanitizing liquid used to disinfect surfaces.
The Cosmopolitan of Las Vegas has a chat bot and 24/7 digital concierge, called Rose, that provides contactless service to guests and resort information through personal cell phones. With a text to Rose, guests can order room service, request housekeeping services, make restaurant reservations and contact the human concierge. Plus, various bars and restaurants on property are providing QR codes as a touchless option to look at menus.
Meeting Status
Las Vegas, with so many large properties, has been particularly successful at booking conferences. Experts said that is the one part of the industry that will lag in its recovery most.
"It definitely is a very challenged time especially with the business traveler mostly being non-existent. That really removes a core part of what Las Vegas had evolved to be," said David Schwartz, a gaming historian and professor at the University of Las Vegas, Nevada. "You're going to need to have the underlying health issue resolved, whether that's a vaccine. That's going to be a big part of it. The second is the economy, and people having more disposable income and confidence."
Some of the larger trade shows that were on the calendar for the first and second quarters of 2021 have rescheduled to the third or fourth quarter, Kraft said. Governor Steve Sisolak has worked with health experts to lift some restrictions and allow for smaller meetings and events of up to 1,000 attendees if broken into rooms of no more than 250 attendees.
"We are just starting to see some movement on shows of those sizes," Kraft said. In the meantime, Vegas hotels are getting creative to attract meetings.
The Venetian says it is reimagining the meetings and trade show experience in Nevada. A mock trade show was recently staged in the Sands Expo exhibit hall, incorporating expertise from the government, public health sector, the most prominent local resort companies, and industry vendors to simulate a socially distanced environment.
The 296,000-square-foot exhibit followed the journey of a trade show, including attendee arrival, registration, entrance into the exhibit hall, and staged exhibitor booths, educational sessions, food concepts and general sessions to demonstrate distancing and sanitization procedures.
This summer, the resort played host to the ABC television show "Shark Tank." The Venetian's meeting services team and Sands Expo created a "bubble" to have the television production on-site with frequent COVID-19 testing and new food and beverage guidelines. Wynn Resorts CEO Maddox said he is confident Vegas will eventually make a full comeback.
"Extensive research clearly indicates that what is keeping people away from Las Vegas is not so much the physical environment, which we work diligently to keep sterilized, but rather a fear of other people," he wrote in his Op-Ed. "We must alleviate that fear."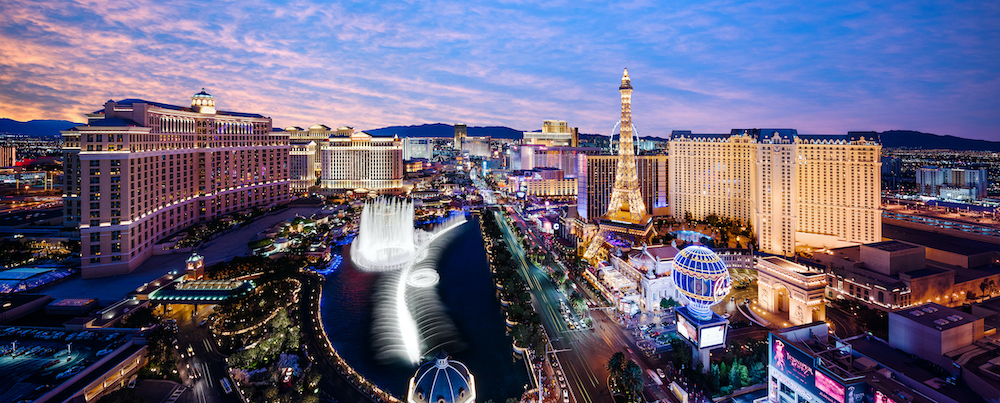 Hospitality Careers
Las Vegas is one of America's leading destinations for tourism and hospitality professionals with more than 220,000 metro area employees in leisure and hospitality, and 164,100 employees at Southern Nevada hotels and casinos.
While the industry was devastated nationally, the Associated Press reports "leisure and hospitality companies, which include hard-hit restaurants and hotels, added 271,000 jobs last month on top of 406,000 in September."
Circa Resort & Casino debuted downtown in October, employing 1,500 workers, with a 777-room hotel tower opening in December. And Virgin Hotels still plans to open its first Vegas property on Jan. 15 with 1,500 rooms and 12 dining concepts, featuring Todd English, Nobu Matsuhisa and the Hakkasan Group.
Fox5 Las Vegas shares the local ray of hope that "leading up to its summer 2021 debut, Resorts World is looking to fill jobs ranging from entry to management levels in departments including hotel operations, casino, and food and beverage," with 6,000 positions available.
The destination's major properties are highly regarded employers. In 2019, MGM Resorts was among Forbes' World's Best Employers, Diversity Inc's Top 50 Companies for Diversity, and a Military Times' Best for Vets Employer. In 2020, Caesars Entertainment has been named a Most Responsible Company by Newsweek, No. 17 on 3BL Media's 100 Best Corporate Citizens list, and among The Civic 50's Most Community-Minded Companies. And in April, Westgate Resorts and Wyndham Destinations were named among the Las Vegas Review Journal's 40 Top Workplaces Nevada.
Pursue your own path in the hospitality industry with career training at ICE.