ICE's Resident Hydroponic Farmer
Meet Rob Laing
Wearing a heather grey tee emblazoned with KALE, he's agreed to meet with me to discuss a subject he's passionate about—vertical farming. So passionate, in fact, that he left behind a successful Tokyo-startup career to dedicate himself to vertical farming full time.
With the help of his farm manager David Goldstein, Rob brings to hydroponic farming a level of care instilled in him by years of immersion in Japanese culture. Take a look at his Instagram and you'll see his attention to detail and the neatly composed minimalism that results from it.
Start-up minded and forward-thinking, Rob's not satisfied with growing the same old Genovese basil—he's after the herbs and greens that aren't readily available, the stuff that students, chef instructors and even visiting culinary masters like Thomas Keller haven't before tasted. In anticipation of forthcoming posts focusing on ICE's hydroponic farm, I sat down with the man behind the greens to chat about his path to ICE and the state of agriculture and vertical farming today.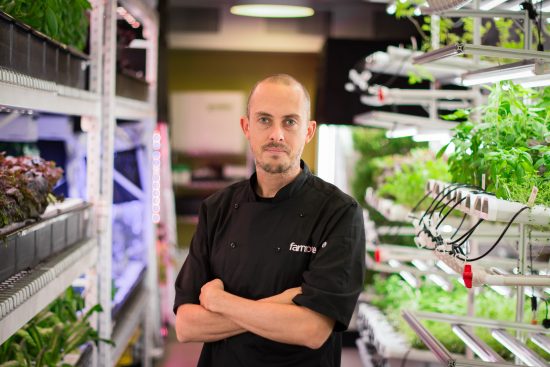 First things first: what is vertical farming?
Vertical farming is about moving food production to cities—rooftops, vacant lots or growing things inside buildings using artificial light. Vertical farming is the conceptual vision of this. Then there's another concept of vertical farming, which is layers of growing areas that use artificial lighting stacked above each other.
People started doing this type of vertical farming in Japan with 12 or so layers. With the advances in LED light technology, vertical farming has become way more efficient and less expensive. Ten years ago this stuff would be completely unfeasible.
What's special or advantageous about vertical farming?
One of the really exciting things about vertical farming is that if you look at our agriculture system, there are so many negative externalities that we don't even think about. Vertical farming can offer many ways to combat that. If you compare it with mono-culture farming, those are huge, efficient crops but they affect so many other systems with pesticide usage, shipping and so on.
With small scale, vertical farming, a lot of those externalities disappear—there are no pesticides, we don't have to ship anything, and we don't use manure so there's no need to even wash what you grow. Granted, vertical farming can be good in certain situations, but not all situations. People tend to think of agriculture as one monolithic thing, but it's extremely complex—you've got vine crops, root crops, large-scale grain, herbs and greens. I think urban agriculture can fit into that herbs and greens category really well.
We're growing things like toothache plant, purple ruffle basil, papalo, bronze fennel, red shiso (which is ten times better than normal shiso), and ordering new stuff all the time. We're really trailblazing.
You lived in Tokyo for several years before turning to vertical farming. Have Japanese cuisine or culture had an influence on your work?
Yes. Think about it: what do people love about Japanese cuisine? First, the respect for ingredients—whether you're a sushi fan or kaiseki fan, it's about finding the best ingredients, not messing around with them too much and presenting them for people to enjoy. The second thing people love is Japanese attention to detail in service. Sometimes people confuse minimalism for simplicity, but you can only achieve minimalism if you have high attention to detail and quality. I want to take that same level of respect that chefs have in the kitchen and bring that back to farming. If you look at the way chefs treat food on a plate, we want that same attention to detail in growing, which you can do on a small scale.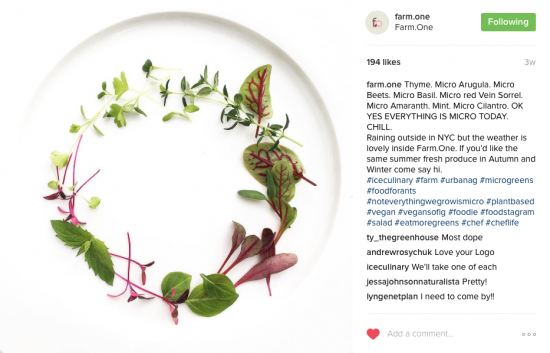 How does the location inside a culinary school affect the farm?
It's amazing to be located at ICE and around people who are enthusiastic about food. Plus, the exposure to random encounters is a truly valuable thing and when you're on your own, you don't get that. That's the beautiful thing about being in an educational institution.
Thinking long-term, I love that everyone here supports us growing new things. We want to bring seeds from all over the place and taste new things. It's a great opportunity for experimentation.
How do the chefs and students interact with the farm?
It's fun because you get to see people who fall along the whole spectrum of skill levels. Some students come in and have literally never seen something grown. They get excited and ask questions. Then there are chefs here who are much more experienced but deal with the frustrations of not having access to fresh things.
Maybe they've never tried a particular type of basil before and they try it here and that inspires them. Then at the super level we have visitors like Thomas Keller, Daniel Boulud and Michael Laiskonis, chefs who have such a refined palate that they can try an herb and know exactly how to use it.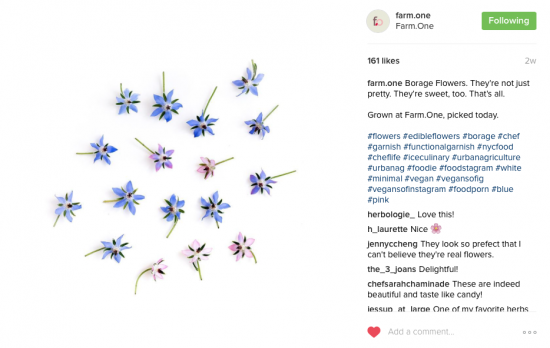 What are the challenges involved in vertical farming?
You can do a lot of theoretical planning, but achieving is another challenge. Even the installation of equipment took longer than planned. There's no standard equipment for hydroponic farming. Remember when people started planning bicycles?
There were different styles, starting with the Penny Farthing, then they kept tweaking the design. We're still at the Penny Farthing stage. We've tried out different systems and we've had to throw out unwieldy equipment and start again. Coming from my startup background, my approach is: if it's not working, fix it as rapidly as possible or chuck it out and start again.
Another challenge is that there is no guide. Most of what we're growing, no one has done it hydroponically before. Either that or they're not talking about it because there's no research out there. We're growing things like toothache plant, purple ruffle basil, papalo, bronze fennel, red shiso (which is ten times better than normal shiso), and ordering new stuff all the time. We're really trailblazing.
What is special about what Farm.One is doing at ICE?
We're trying to grow things that most people have never tasted before or have never had access to. We're growing those things in a controlled environment that allows them to be cared for. One example is papalo, an herb I came across in a farmers' market in Santa Monica.
It's a flat leaf that has elements of cilantro, citrus freshness and is used in Mexican dishes like cemitas. You can find papalo in LA, but in New York you can maybe find it in a Mexican grocery, and even then it's not really fresh. We can say, "We'll grow that here in New York," and no one else in New York is doing that.
Take a look inside ICE's groundbreaking hydroponic farm. Check out the Farm One blog.