How a Marine Corps Veteran Became a Pastry Chef
Recent ICE grad Kelly Bedford traded camouflage for croquembouche.
We're proud of the students, graduates, instructors and staff in the ICE community who served the United States in the military. This Memorial Day weekend, we honor many of these service members on social media @iceculinary, including Marine Corps veteran Kelly Bedford, who shared her pastry career launch story with us here.
After four years as an administrative clerk in the Marine Corps, Kelly Bedford (Pastry, '20) earned her bachelor's degree, became a mother and enrolled in culinary school. Even after all that life experience and education, she's ready to learn more.
"I started going to college, and I didn't really know what I wanted to do," Kelly says. "Instead of wasting my parents' money going to school for nothing, I joined the Marine Corps. I always had an interest in the military because my family has a military background and nobody in my generation had joined yet, so it was up to me."
Kelly spent four years on a base in North Carolina, serving as a personal administrative clerk. First in the legal office, and then she was transferred to log orders for special duty assignments.
In 2011, Kelly fulfilled her obligation and decided to study healthcare management at Colorado State University. She graduated with her bachelor's degree and gave birth to her daughter in 2013. Kelly stayed home in Texas to raise her daughter until 2019.
"When I was a stay-at-home mom, I baked for people randomly and everybody kept telling me what I was making was so good and that I should make a career out of it. I ended up running an at-home bakery for about a year. There's absolutely no money in it because you have to buy everything at the grocery store instead of buying it wholesale," Kelly explains.
Last year, Kelly had the opportunity for a major change. Her husband, who is on active duty in the Army, secured a military-sponsored public relations internship at the NFL in New York City. Once Kelly knew she'd be moving, her wheels began turning. "I started playing with the idea, but I was like, 'There's no way I'm going to go to culinary school in New York City, that's a dream that's never going to happen,'" she says. "But I applied and got accepted."
Kelly began the Pastry & Baking Arts program at ICE in 2019, eager to pour her energy into mastering techniques and expanding her knowledge. She was also excited to be surrounded by people again. "The transition was super easy for me," Kelly says. "I think it's easier when you're older because you take things a little bit more seriously. You also know when things aren't that big of a deal."
This perspective allowed Kelly to thrive in her classes. "I clicked with it pretty immediately," she says. "I wanted to go to culinary school because I knew how to do the cupcakes, cakes and cookies, but I wanted to refine my skills more and learn all of those other things. You can only learn so much by reading about it online. You need somebody to professionally show you how it should be done."
Kelly's biggest challenges in school were bread and chocolate, two media she hadn't tried before. Both require scientific precision — just a tiny element can throw off an entire recipe. "The cakes and cookies were second nature to me, but I love being pushed outside of my comfort zone, so I really enjoyed being stressed out from bread and chocolate," Kelly says.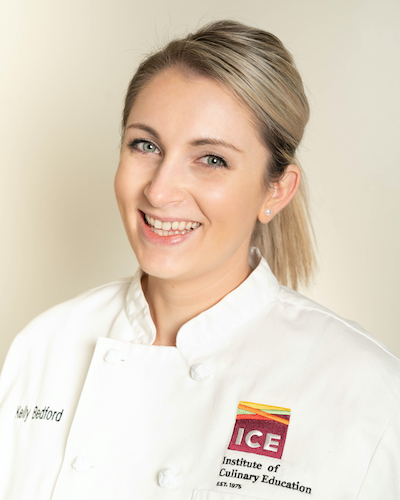 Looking back on her time in class, Kelly has an inkling about why she was instantly comfortable. "After being there, I think there's a really big similarity between the military and the culinary world," she says. "There is a lot of organization. There is a rank structure. And there is camaraderie. The culinary world is not that big, and neither is the military. They are both small, little communities and everybody watches out for each other as best they can. It's that sense of family and belonging and I hadn't had that since I was in the Marine Corps, so it's been kind of an eye-opener and really exciting."
Kelly's military service also made her culinary education possible. She used her GI Bill benefits to pay for tuition, so attending school didn't require a huge financial commitment. It did, however, yield significant rewards.
While Kelly was still taking classes, she started working at acclaimed French fine-dining restaurant Le Coucou in SoHo. "I did my trail for externship and they hired me right away," she explains. "I absolutely loved it. Chef Skurnick and his sous chef were amazing. It was a small team because the pastry department there is tiny. We all worked really well together, and it felt like family from the second I walked in there."
Classic French pastries are the specialty at Le Coucou, so Kelly spent her time crafting desserts like Paris-brest, lemon tarts and baba au rhum. Initially, she had a tough time learning to scoop ice cream quenelles, but she improved over time.
For Kelly, working in fine dining made all the difference. "It takes you up to the next level of trying to better yourself," she says. "The standards are a lot higher. I did one trail at a bakery, and it was too quiet and too slow-paced for me. I just love the environment and speed of a restaurant."
Unfortunately, Kelly's externship was paused due to the coronavirus emergency. "I'm so upset I had to leave," she says. She hopes to complete her hours in North Carolina, where her husband will be stationed next.
One day, Kelly would like to open her own pastry business, but she wants to learn more before then. "The plan is to work under other people for quite some time to gain the experience," she says. "My husband will retire from the military in about five years. I have time to take the next five years to dial in all those little things I need to pick up on for owning something one day. That would be my ultimate goal."
Kelly isn't only looking to hone her pastry skills, she also wants to study business. "I'm actually looking at doing a master's in entrepreneurship, just so I can get that knowledge," she says. "There's so much more than just knowing how to bake for opening a place. I think it would be great to have that education backing."
For now, Kelly is focused on continuing to bake through this crisis. She has been baking birthday cakes, Mother's Day cupcakes and cookies for children to decorate, providing all these goodies for free to other families living on the Fort Hamilton military base in Brooklyn. While this is the best she can do for now, there's no doubt she'll be professionally baking again soon.
Explore the benefits and tuition assistance available for members of the military and veterans at ICE.