Marc Murphy, A New York "Landmarc"
Yesterday, ICE Alumni Hall of Achievement inductee Marc Murphy returned to his alma mater to give students, alumni and members of the general public a demonstration of the food that has made him famous.
Along with his Executive Chef Frank Proto, who oversees Murphy's three restaurants and catering business, Murphy demonstrated how to make Marinated White Anchovy & Cucumber Salad and Shrimp Escabeche — both dishes came directly from the menus at his restaurants. Murphy is the Chef-Owner of Landmarc Tribeca, Landmarc Time Warner, Ditch Plains and Landmarc Catering. He started his career at Terrance Brennan's Prix Fixe in New York and has worked at Le Miraville in Paris and staged at Louis XV in Monte Carlo under Alain Ducasse. Murphy went on to become Sous Chef at Layla and Executive Chef at Cellar in the Sky and La Fourchette before opening Landmarc Tribeca in 2004, and he hasn't looked back since. As his empire has grown he has become a recognized figure in the food world, appearing regularly as a judge on Chopped and he is admired for his French and Italian dishes served in a refined, yet relaxed atmosphere.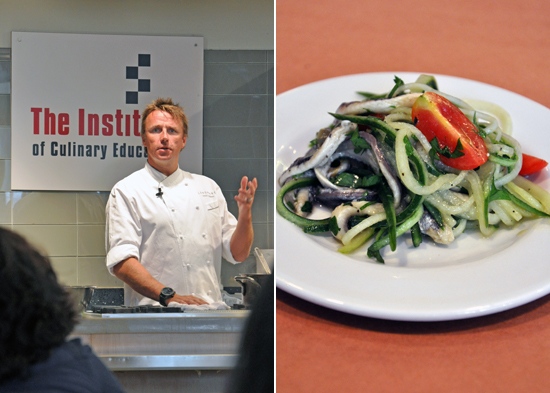 As he prepared the colorful summer dishes, Murphy described his philosophy as making food so that customers are able to read the menu and picture the dish that they are going to get. The neighborhood feel of his restaurants results from keeping the atmosphere casual and the menus accessible. He said, "I don't want to make food that has been touched too much," and joked that "I try to take the fussiness out of food. There's no chervil allowed in my restaurants."
In addition to cooking the two dishes, Murphy came out from behind the stove to answer the audience's questions about having a restaurant empire. "Every year I feel like I get a Ph.D. in restaurant management. I'm always learning about new layers to the business," he said. Though he admitted he had struggled with letting go of being in the kitchen everyday, he felt that the new challenges that come with owning a business were well worth it. His advice was to "try as much as you can. There are a million different jobs in the industry. Even in a restaurant you can work in wine service, purchasing or be part of the front of the house. If you don't like cooking, do something else." The audience ate up both his simple dishes and his inspiring advice.