The Pastry Prodigy: Chef Richard Capizzi
In 2003, Richard Capizzi became the first pastry chef (not to mention the youngest) to ever sweep the awards at the U.S. Pastry Competition. From there, he honed his skills at the heart of Thomas Keller's Restaurant Group, rising from a sous chef at Per Se to the executive pastry chef at both Per Se and Bouchon Bakery within a mere two years. Today, as the pastry chef for both Lincoln Ristorante and the Patina Group, Richard is known for translating the flavors of his Italian heritage into some of the country's most inspired desserts.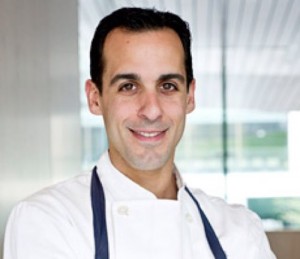 This summer, ICE students will have the chance to train with Richard in a one-day master class at ICE's Center for Advanced Pastry Studies on July 27. In anticipation of his class, we sat down with Richard to talk about his career and passion for pastry.
Why did you decide to become a pastry chef?
Ever since I was about 10 years old I wanted to make cakes. Growing up in an Italian-American house, cooking was a part of daily life. Every weekend, we spent time with family eating and talking about food.
Each grandmother was known for making something special or bringing a specific pastry. I talked to my dad so much about baking that he finally shut me up by taking me into the local bakery and helping me get a job. I started at 16 as a porter and have been working my way up the ladder every day since.
I am so lucky that I knew what I wanted to do at such an early age. I believe that if you are born to cook for a living, it's in your blood. Not a day goes by that I don't feel like I have the best career—perhaps not the best hours, but still, the most inspiring job.
What period of your career had the greatest influence on your current style?
My time with the Thomas Keller Group (working at The French Laundry, Per Se and Bouchon Bakery) were the best days of my career in terms of influence. What we all did together—as a team—was unforgettable. Everyone was working for the same goal and achieving it was everything. Opening the first Bouchon Bakery in Yountville and creating items that were spoken about around the country was pretty cool! Then, opening Per Se and becoming the best of the best—that was it for me.
The feeling I had after working 14-hour days was so powerful. You don't know it until you live it with your "band of brothers." They were the reason I woke up in the morning. When you realize how much you depend on each other, you're motivated to get in earlier and earlier, to work faster, just so no one falls behind. We never stopped moving forward; we kept pushing.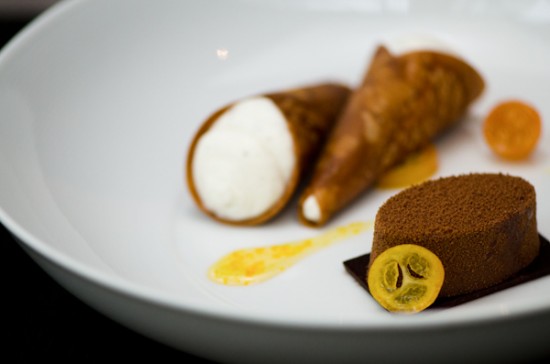 How do you develop your signature desserts?
I develop most of my desserts by researching traditional items from different regions throughout Europe—primarily Italy. I use pastries that I grew up with or others that I have read about or tasted during travels for inspiration.
I also like to use seasonal produce and/or chocolate to create different textures of satisfaction. Generally, I try to incorporate three flavors and five textures in any dessert I do. Once I have the flavor profile, I can build a modern take on any classic dessert.
Tell me a little about your current work.
I have been at Lincoln Ristorante since the opening in 2010, and this year is my fourth with Patina Restaurant Group. My team of six does all the pastries for the Metropolitan Opera, Lincoln and weddings at the Brooklyn Botanical Gardens. We are busy all year long.
Even on a slow day in the restaurant, we're busy in the pastry department. Our philosophy is to be able to work as a team and motivate each person to try harder every day. Mistakes happen, but we learn from them, and if we treat every day as our last, we learn so much more. Nobody in this career will hold your hand. If you want something, you have to screw it up a few times before you get it right.
Click here to register for Richard's July 27 master class at ICE.