How to Prepare Sous Vide Lamb this Spring
Vice President of Culinary Operations Barry Tonkinson shares his 24-hour cooking technique and recipe.
Spring is synonymous with the revival of our favorite greens budding in the garden. Ramps (or, wild garlic) burst onto the scene and mark the start of a colorful and vibrant flavor shift in the food industry.
It is also the start of lambing season. Often confused with when lamb is in abundance, "spring lamb" refers to the breeding cycle. Lambs are born early in the year and are in peak supply in summer and early fall.
Lamb is one of my favorite meats. Growing up in England, tradition called for "Sunday lunch" in my household every week. As with a vast majority of English families, Sunday was a day for family, friends, football (the kind you play with your feet) and finally a feast.
My father would line up at the local butcher shop (remember those?) early in the morning to see what was on offer. Often an aged sirloin of beef or a juicy pork loin was available from a local farm. However, in the summer months, lamb was at its best and in abundance across the country.
Lamb leg was boned and rolled by the butcher and tied ready for roasting. A smothering of Dijon mustard, fresh garlic and aromatic herbs was rubbed into the flesh with a healthy helping of sea salt and cracked black pepper.
The smell of freshly roasted lamb is something that never ceases to surprise me. Glistening fat bastes the flesh and the aromatic herbs, and a slight kick of acidity and heat from the mustard round out the flavors.
Here, I have cooked the lamb in a much less traditional fashion. Using a sous vide method and a Polyscience Immersion Circulator to regulate temperature, the lamb is cooked for 24 hours. The long, low temperature allows the connective tissue (collagen), which is spread throughout the muscle to break down into gelatin. The lamb maintains its moisture, and the texture is soft and perfectly maintained throughout, adding to a perfect mouthfeel.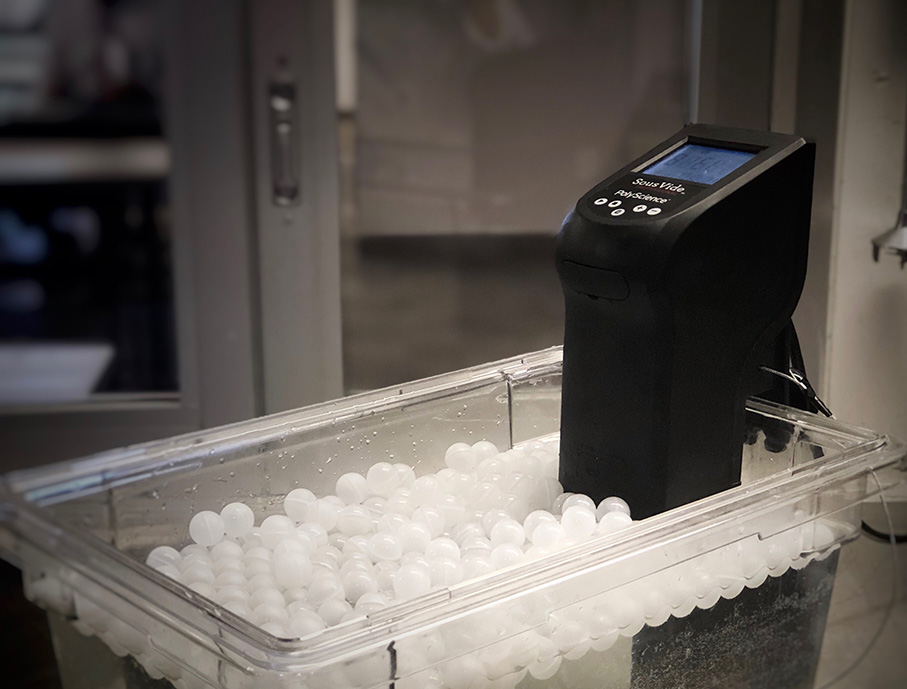 The flavor of the lamb is incredible. The outer layers of fat break down just enough to provide an ideal environment for transfer of flavor deep inside the meat from natural fats and aromatics in which the lamb is cooked.
Learn more about capturing flavor with modern cooking techniques in Culinary Arts.
The leg of lamb is first scored and rubbed with Dijon mustard, English mustard, kosher salt and white pepper. The leg is placed into a polypropylene bag along with a head of garlic and some fresh rosemary stems. The bag is then placed into a water bath with a Polyscience Immersion Circulator to maintain the temperate at 56˚C or 132.8˚F.
Remove the lamb from the water bath after a long 24 hours. Lightly fry caraway seeds, fennel seeds and mustard seeds in grapeseed oil until crispy and aromatic, strain the oil and keep aside. Rub the lamb with the aromatic oil and place into a preheated oven at 470˚F until deep golden brown. This final roasting process should not take long, and it is important to carefully preserve the beautiful pink color and wonderful texture of the meat from the sous vide cooking process.
Finally, combine the caraway, fennel and mustard seeds with some freshly chopped mint and rosemary and mix with Aged Aceto Balsamico di Modena PGI. Brush the leg generously with the balsamic, herbs and seeds giving a sweet and tangy glaze with crispy flavorful seeds and a fresh herbaceous note to finish. A sprinkling of Maldon sea salt completes the dish perfectly.
Recipe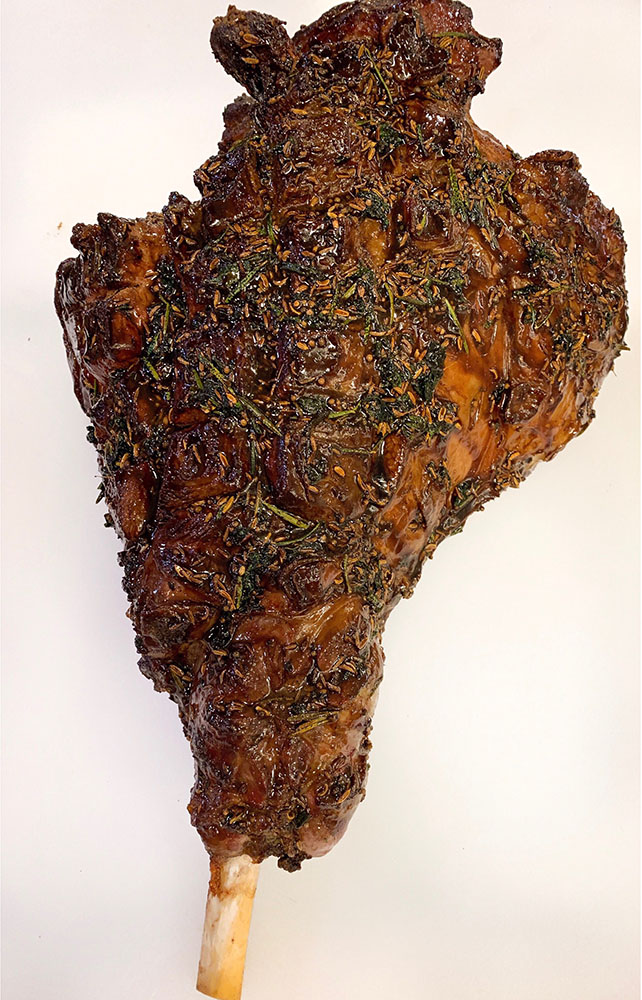 Roasted Leg of Lamb
Ingredients
1 leg of lamb, whole
50 grams smooth Dijon mustard
50 grams English mustard
30 grams salt
12 grams black pepper
100 grams mint leaves
3 sprigs rosemary
1 head of garlic, sliced in half
2 stems fresh rosemary
30 grams mustard seeds
30 grams caraway seeds (whole)
30 grams fennel seeds
Grapeseed oil
600 grams Balsamic Vinegar of Modena
Maldon sea salt to finish
Directions
Score fat in hatch pattern across the whole leg.
Make a rub from Dijon, English mustard, salt and black pepper.
Rub leg. Place leg into sous vide bag with aromatics.
Cook at 56˚C/132.8˚F for 24 hours.
Fry mustard seeds, caraway and fennel seeds until crispy. Strain and reserve oil.
Remove lamb from bag when ready.
Preheat oven to 450˚F/232˚C and place lamb on rack. Cover with aromatic oil.
Roast until crispy.
Create glaze of fried seeds, freshly chopped mint and rosemary, and balsamic, then dress leg.
Finish with Maldon sea salt.
Leave to rest before carving.