We Asked ICE's Instructors: What's Your Culinary Voice?
What drives you? How do you reach people? When you make your mark on the world, what will it look like? What's your culinary voice? With the 2017 #CulinaryVoice Scholarship Challenge in full swing, we turned to the judges, ICE's industry-leading chefs and instructors, and posed them that same question.
Here's a look at their answers.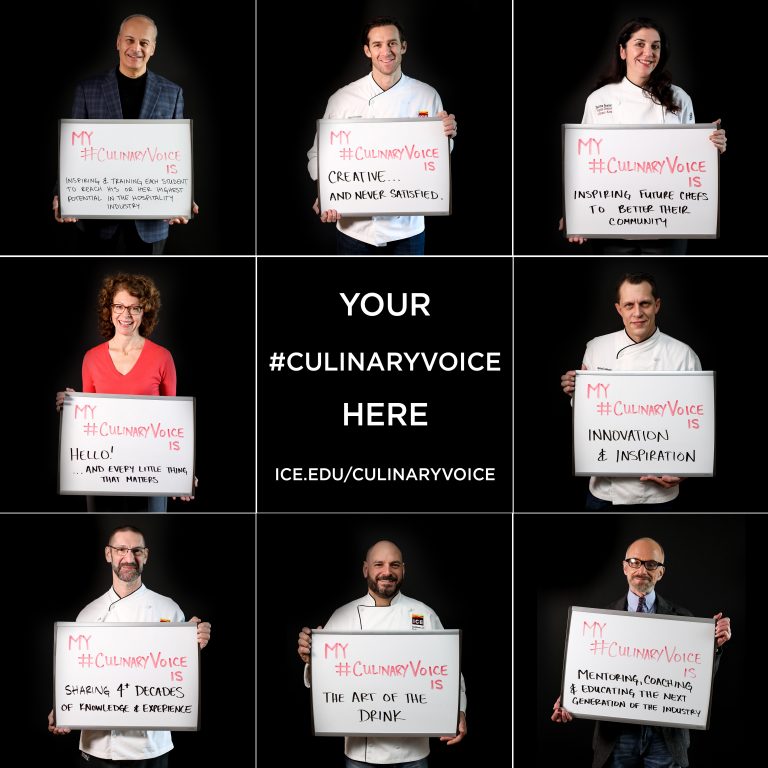 (Top to bottom, left to right)
Tom Kombiz-Voss, Dean of Hospitality Management: "Inspiring and training each student to reach his or her highest potential in the hospitality industry."
James Briscione, Director of Culinary Development: "Creative ... and never satisfied."
Sabrina Sexton, Culinary Arts Program Director: "Inspiring future chefs to better their community."
Kate Edwards, Restaurant & Culinary Management instructor: "Hello! ... And every little thing that matters."
Michael Laiskonis, Creative Director: "Innovation and inspiration."
David Waltuck, Director of Culinary Affairs: "Sharing 4+ decades of knowledge and experience."
Anthony Caporale, Director of Beverage Studies: "The art of the drink."
Steve Zagor, Dean of Culinary Management: "Mentoring, coaching and educating the next generation of the industry."
Entries and voting are open! Click here to enter or vote for your favorite video.