Meet Aska Chef Fredrik Berselius
The Brooklyn chef known for Nordic cuisine inspired by nature will demonstrate a signature dish at ICE in December.
A departure from New York's traditionally successful chefs, Fredrik Berselius did not enlist in cooking with a militaristic approach, he doesn't pride himself on staunch adherence to classical French technique, and there is far less formality to his tasting menu than two Michelin stars and 13 courses imply. At Aska, visitors are participating and experiencing rather than routinely dining or being entertained.
The chef was a model and outdoors enthusiast who found an outlet for his artwork in the kitchen and followed that chance opportunity to unprecedented acclaim. He's known for connecting with nature in Sweden and the Catskills but is just as likely to return from a trip to Japan with pine cones for his kitchen to extract flavor from. He sources same-day scallops, harvests seaweed from Maine, grows succulents and ginkgo in the restaurant's backyard, and curates seasonal produce and herbs at a nearby farm.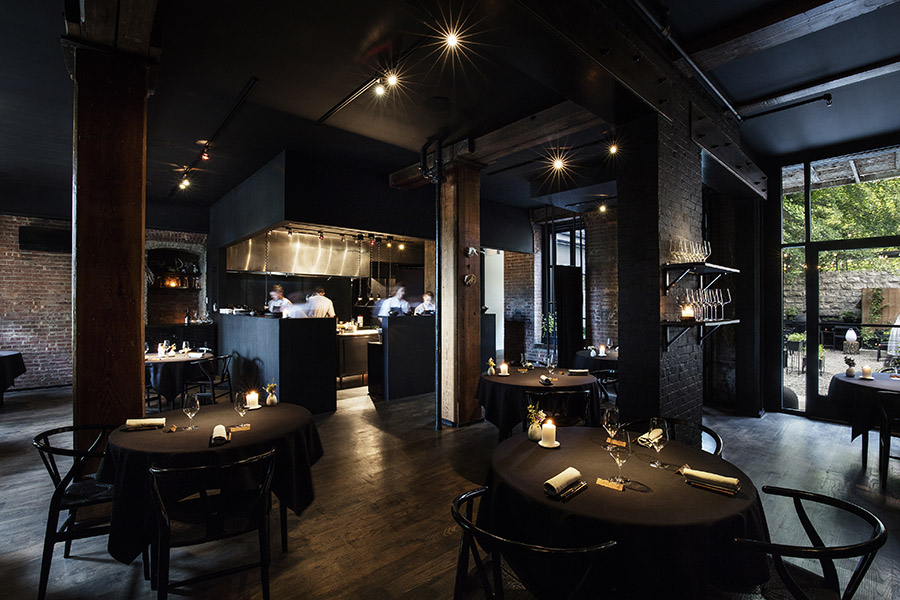 Aska has all the elements that allure in modern Williamsburg: clean and curated design, a charming courtyard for drinks and less committal tastes, intimate lighting without intimate seating, and an attentive-without-smothering approach to service. On a recent visit, I feel welcomed but not pandered to, bewildered but trusting, and drawn to the process but not distracted from my company.
Chef Fredrik's work indicates a sense of wonder more than ambition, though the concept — in its second renowned rendition — is blatantly ambitious. With a team from around the world, he cooks beets in juniper, shaves quail jerky, smokes roe in dried carrot tops and elderflower, extracts oil from leaves and makes broth from the outer shells of peas. He burns pine, toasts hay, ferments honey and dries scallops — successfully.
In a rhythmic series of courses that hold secrets more than they tell stories, seaweed and kelp are presented floating atop oceanic rocks; a kohlrabi bulb filled with crushed ice is the vehicle for a refreshing kohlrabi and linden leaf treat; tender langoustine claw is adorned with vibrant purple chamomile, only to be touched after you've sipped broth with the lobster's brain; and the legs of whole roasted quail protrude from a bowl as if the bird dove in. Charming petit fours top a rustic branch as naturally as maple grows, completing the exotic while elegant affair.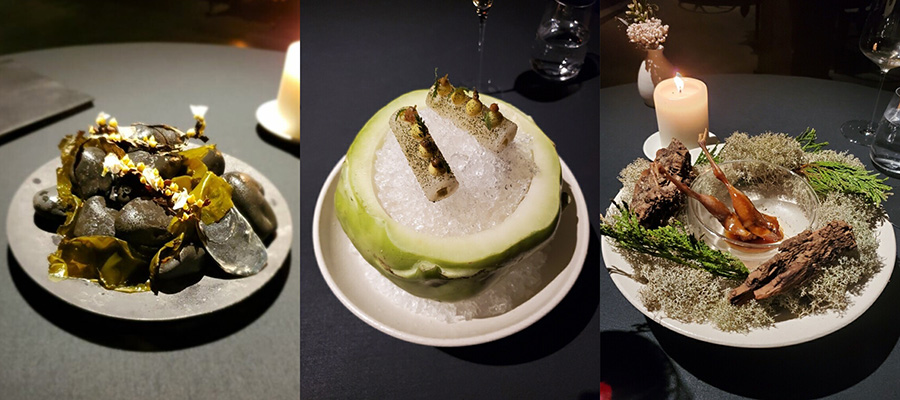 The textures and temperatures alternate, the flavor combinations achieve the ever-more-rare surprise-and-delight effect, and the innovation engages and inspires. I want to glimpse what Chef Fredrik pictures when he stumbles on edible elements of nature and crash a day in the kitchen to watch the creative process, but I'm content consuming the finished product and learning along the way.
With a pleasant chemistry, the kitchen team takes turns positioning dishes and aesthetic accompaniments, pouring broth tableside, and challenging us to channel our inner Viking for a particularly Scandanavian dish, while the service team shares insights about makers and discoveries with each natural wine pairing.
By the end of the meal, I haven't gone scalloping or embarked on a truffle hunt but I've ventured in the wilderness and feel nonetheless satisfied. The trek to Williamsburg on a weeknight is always an adventure, and this destination is worth it: I've completely forgotten about the L train delay that awaits, and I'm unphased, taking time on the platform to reflect on each dish and suspecting I couldn't have captured this feeling in any dining room in Midtown nor met any chef like Fredrik in Manhattan.
Don't miss an exclusive opportunity to meet Chef Fredrik at his Elite Chef Series demo.