How ICE Grad Guy Vaknin Built a Vegan Sushi Empire
The Israeli-born chef has pressed on through pandemic challenges while giving back at his trendy eatery.
Chef and entrepreneur Guy Vaknin (Culinary, '07) has appeared on "Hell's Kitchen" and "Shark Tank" since graduating from ICE, while growing his vegan sushi restaurant concept, Beyond Sushi, to seven New York locations with an app, catering and philanthropic efforts.
Raised to love cooking by his mother and grandmother in Israel, Guy fulfilled his military duty and began a degree in computer engineering before he enrolled at ICE to pursue a career in food. Now, he owns and operates Beyond Sushi, a vegan restaurant chain that has taken New York City by storm.
When Guy was a child, his father moved to the United States with the classic immigrant dream of opening a business. He started a kosher catering company called Esprit Events while Guy stayed in Israel with the rest of his family. "Since my dad wasn't around, I spent a lot of time with my mom and my grandma. I fell in love with cooking when I was a little boy," he says, recalling the Moroccan-Jewish kitchen that taught him about fresh vegetables, herbs and spices.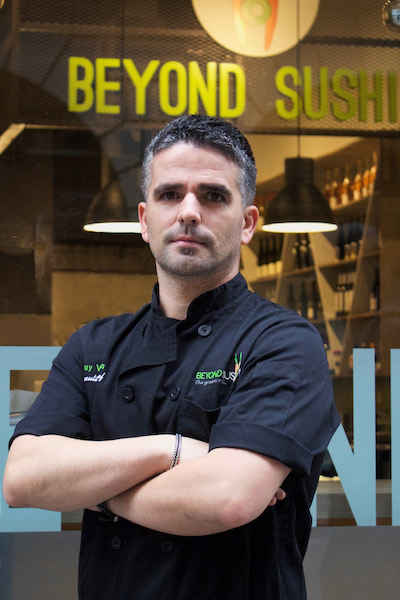 At age 18, Guy entered the Israeli Defense Force, where he completed his three-year obligation as a fighter in the infantry. Afterwards, in 2005, he came to New York to work with his father. "I worked in every possible position in the restaurant business," Guy says. "I was a bartender, a server, a busboy, a manager — anything you can think of."
Guy then went to college as a computer engineering major but quickly realized that it was not the right path for him. "After sitting in the class for a few months, I decided I couldn't do that anymore and wanted to pursue what I really love, my passion, and went to ICE," he says.
Though he had tried many front-of-house jobs, Guy had no professional kitchen training when he started Culinary Arts. He just had an obsession with cooking and ambition to create his own success. "I love flavors. All my memories are related somehow to food," Guy says. "At ICE, I got to experience flavors and techniques at a very high level, so I was mesmerized by it. That started a new phase in my culinary experience — it was a curiosity, basically, in how everything was made, how food reacts, and how I could get better and learn as much as I could."
Despite a lack of professional culinary experience, Guy felt right at home when he began culinary school, thanks to his military background. "The kitchen is very similar, in a sense, to army structure, so it came very naturally to me how to operate under pressure, how to structure hierarchy and how to motivate," he says.
Guy absorbed all the knowledge that he could from his instructors and gained what he considers to be a solid baseline of tools and skills to bring out into the world. Upon graduating, he didn't pursue a line cook position like most of his classmates. Instead, a unique opportunity was thrust upon him. "As soon as I got out of ICE, my dad said, 'You're the executive chef. Good luck.'"
In addition to handing over the food side of Esprit Events, Guy's father also gave him the financial control and left the country. Though this was an incredible amount of responsibility, it gave Guy a clean slate to do whatever he wanted. He decided to seize the creative freedom. "It was a kosher business, which tends to be very old-school in cooking and how it presents itself," he explains. "I was trying to modernize it. Along the way, came the idea of creating a vegetarian sushi using whatever vegetables we had in the fridge."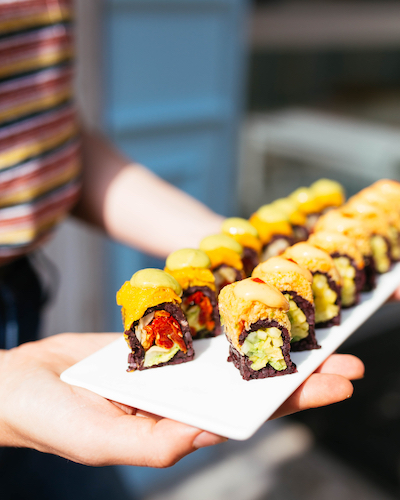 Guy began serving his vegetarian sushi made with black rice as one of the stations at weddings and other events. The reaction was overwhelmingly positive. "Like most things that I do, I try to stretch it to the limit, and that one really captured me," Guy says. "I loved sushi. I had nothing to do with vegetarianism or veganism or anything before that, it was just an idea."
A couple years later, Guy had a fight with his father and left the catering company to pursue his own business, and in 2012, he was selected as a contestant on "Hell's Kitchen." Guy was young and daring at 26 years old. "I gave Gordon Ramsey a sea bass with a chocolate sauce, believe it or not," he says. "I don't know what I was thinking, but it was interesting. It was a fun experience. I learned from one of the best."
With the show under his belt, Guy opened Beyond Sushi, investing all the money he'd saved since he got out of the military and found a space on 14th Street between 2nd and 3rd Avenues. "I had one employee, one table, one toaster oven and a counter, and I made it work from there. It was a small location — 280 square feet — no hoods, no nothing, no real kitchen, but a lot of hard work, drive, determination, sweat, blood, tears and hours."
Beyond Sushi started with a very simple concept: Guy used only fruits, vegetables and grains in healthy grab-and-go dishes like sushi, salads and rice paper wraps. The very first menu, however, was not vegan. With the use of eggs, it was just vegetarian. Guy swiftly learned that would have to change.
"After three weeks, I changed it to vegan because I got harassed by the vegan community to take out the egg products," Guy recalls. "I thought it would be a good business decision, and it was probably the best business decision I ever made, in retrospect. I evolved, I listened, I heard what people wanted. I was very attentive to what people were saying about the food and about the experience. I was reading Yelp seven times a day."
By heeding diners' feedback, Guy managed to get Beyond Sushi listed as the No. 1 New York City sushi restaurant on Yelp for almost a year. He also opened an outpost after just 10 months in operation. "I knew I was taking a risk because I was doing something nobody else did, but I came into this business to do what I wanted to do," he says. "I think that as long as you keep a certain standard that is high enough and you stick to it no matter what, then people appreciate it and will reward you by coming to your business."
Early on, Guy made sure Beyond Sushi was in touch with technology. "We are very heavily invested in digital and social media. I built my website with a store incorporated in it when nobody did and an app that went along with it because I saw that's where we were going. That's the future. I saw the efficiency that it brings along," he says. This strategy only helped the company grow.
In 2018, once the brand was well-established, Guy appeared on TV again. "I didn't really want to go on 'Shark Tank,' but my wife, who is my partner in crime in everything that we do, had asked me and pushed me to do it for many years," he says. "I like the show and then they approached us, so I said, 'Okay.' If there's one thing that I'm good at besides cooking, it's numbers." After Guy's presentation, Laurie Greiner and Matt Higgins committed to invest $1.5 million to expand Beyond Sushi to the West Coast.
Though both Laurie and Matt were engaged and enthusiastic about the deal, visiting Beyond Sushi soon after the episode aired, Guy ultimately declined to accept the investment. "We did our due diligence and negotiation, and at the end of everything, I saw that it was going in a direction that I didn't necessarily want it to go in, so I decided that I wasn't going to move forward and let them go. They're not part of the company, but they're part of the experience," he says gratefully.
After eight years, Guy has built Beyond Sushi into a seven-location mini-chain in Manhattan, with a commissary kitchen in Long Island City. Over time, his grab-and-go format has evolved into mostly full-service restaurants. Though the Spicy Mang roll, which is made of black rice, avocado, mango, cucumber, veggie slaw and toasted cayenne sauce, remains a hyper-popular order, the Hickory Smoked Burger is now equally beloved. Dumplings, skewers, pastas and more now grace the menu, as well.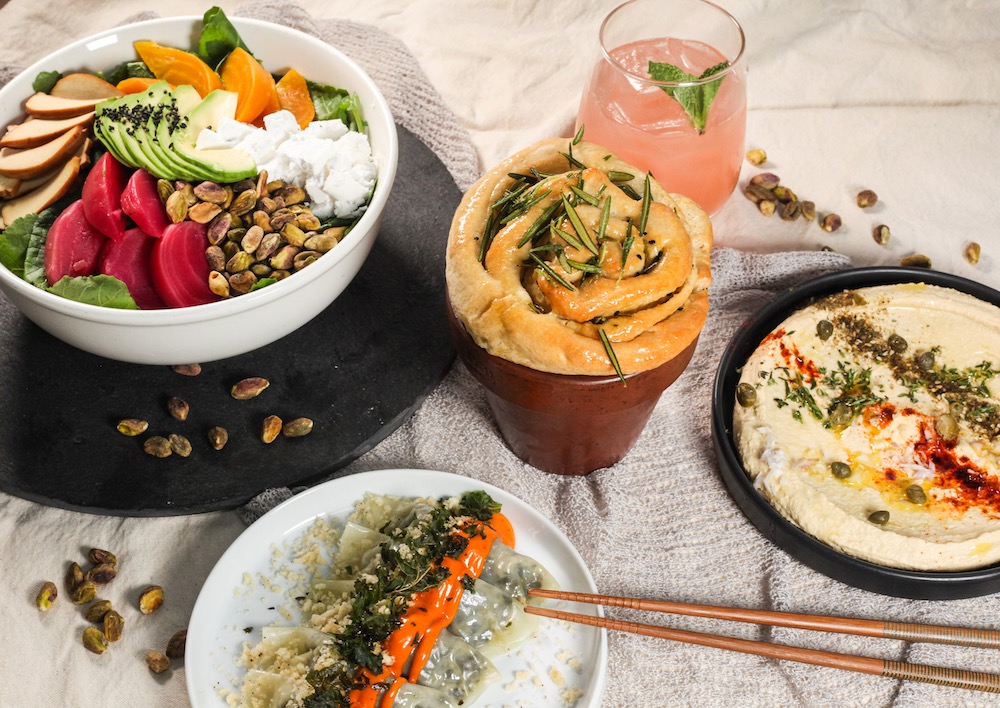 "People think that vegan cuisine might be boring, bland, not fulfilling, not satisfying, and I think that me and a bunch of other chefs out there are proving that wrong," Guys says. "The dining experience and the variety of dishes on the menu can compete with any restaurant."
Another recent addition to Guy's repertoire is a return to catering. Though he initially resisted adding a catering arm to Beyond Sushi, the demand was too high to ignore. His full-service catering operation, Titled City Roots, accommodates weddings, corporate events and party platters for drop-off. Guy finds catering to be a great testing space for new dishes, where he can play with flavor combinations that might transfer over to the restaurants.
Before the pandemic hit, he was scheduled to cater multiple weddings this year. Now, the events are postponed. "Catering business is dead for now. Catering is all about gathering," he says. Unfortunately, the rest of Beyond Sushi is struggling as well.
In early 2020, Guy was serving about 1,500 people per day among all his Beyond Sushi locations. Now, he cooks for just a couple hundred. He was forced to lay off 100 employees and may have to permanently close some locations. "I probably lost a bunch of money, and I probably lost a bunch of my growth and everything that I worked for the past eight years, but I'm grateful that we still have business, for all the people who support us and for the staff that is still coming here every day and working hard," Guy says. "We have a very strong hold on social media, which is great and helping us a lot."
At the moment, delivery and takeaway through the Beyond Sushi website and app account for about 85% of business. The other 15% comes from outdoor seating, which can be found primarily at the Upper East Side, Mulberry Street, and W 56th Street outposts. "My customers are reluctant to go out as much because they're still scared," Guy says. "It's a horrible situation for our business, for our industry. You've got to make the best out of it. That's what we're trying to do."
Through the hardship, Guy has still found a way to give back to those who need it, cooking for hospital staff and partnering with Support + Feed to provide plant-based meals to local shelters. Guy estimates that he and his team have donated nearly 10,000 meals since the beginning of the pandemic.
With all the uncertainty due to COVID-19, Guy's plans for further expansion are on hold. He does, however, think that Beyond Sushi would be well-suited for the healthy eating culture in Los Angeles one day. Despite lucrative offers to franchise, he's never wanted to relinquish control.
"I really do it out of loving what I do. I don't just do it for the money, and it's always been hard for me to let anybody else put their input on it. It's hard for me to let go of that, and I'm okay with it. Seven locations is more than enough, and I can do more and different things — the possibilities are endless."
Typically, Guy spends one day a week working on numbers, another day on logistics, and two or three days cooking. He's not ready to let go of his time in the kitchen. "To do the West Coast, to do other locations, to franchise, I would have to let that go and that's not why I wake up in the morning," he says. "I wake up in the morning to do what I love."
Train for a career doing what you love with our Health-Supportive Culinary Arts program.