Chef David Waltuck Joins ICE Team as Director of Culinary Affairs
ICE is thrilled to announce the newest addition to our faculty—the celebrated Chef David Waltuck, formerly of Chanterelle, as the school's first-ever director of culinary affairs. In this new role, Chef David will bring his talent, insight and years of experience to ICE students.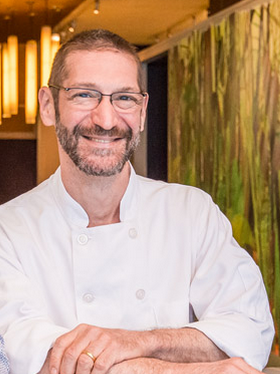 The Institute of Culinary Education welcomes award-winning David Waltuck as Director of Culinary Affairs
Chef David has enjoyed an illustrious culinary career. During his 30-year tenure as executive chef and proprietor of Chanterelle, he and the restaurant received two James Beard Awards, including Best Chef NYC in 2007 and Best Restaurant in America in 2004 (not to mention another 10 nominations) and two four-star reviews from the New York Times (1987 and 1993).
Heralded for its innovative blend of French and New American cuisine, Chanterelle introduced a then-unknown type of fine dining to downtown Manhattan. Most recently, Chef David has served as the executive chef of élan restaurant, which the New York Times awarded two stars. Prior to that, he served as the Executive Chef for Ark Restaurants Inc., where he opened restaurants for the brand across the country from Las Vegas and Washington, D.C. to Boston and New York City.
Outside of the kitchen, Chef David has authored two books: Staff Meals at Chanterelle and Chanterelle: The Story and Recipes of a Restaurant Classic, which won an IACP Award for Best Cookbook: Chefs and Restaurants in 2009.
He began his career in the world of science, earning a bachelor's degree in Biological Oceanography from CCNY and graduating as a member of phi beta kappa. In addition to his role as chef instructor in ICE's culinary arts program, Chef David will serve as the school's first director of culinary affairs. In this role, he will provide mentorship to ICE students as they plan their careers, garner relationships with New York City restaurants to continue placing ICE students in coveted externships, sustain relationships with ICE alumni chefs and provide insight on the school's culinary curriculum to keep current with restaurant standards.
He will also teach in ICE's School of Professional Development and School of Recreational Cooking. "I'm looking forward to the opportunity to share the knowledge and experience I have gathered in my forty-year career as a chef with a new generation of aspiring professionals," Chef David said.
I have chosen to work with ICE because the program is excellent, the new facilities are state of the art and, most important, the instructors and administrators are experienced and deeply committed. 
For its part, ICE is eager for Chef David to join its faculty. "ICE is thrilled to welcome a chef of David's caliber to the school's already outstanding teaching staff," said Rick Smilow, ICE's president and CEO. "He brings with him the knowledge that comes with 40 years of experience in the restaurant industry, the better part of which was spent working in one of the city's top restaurants. Our students will absolutely benefit from the lessons and wisdom he will impart."
To learn about more of ICE's talented instructors, click here.