Endlessly Curious, Always Spontaneous
Meet Chef Jenny
Most chefs are content to have just one prestigious job on their resume. But from Jenny McCoy's first days in the industry, she's racked up nothing but all-star experiences, from the celebrated Blackbird and Charlie Trotter's in her hometown Chicago, to Emeril's New Orleans dynasty and Tom Colicchio's NYC Craft empire—all before the age of 32.
Today, Jenny's focus may have shifted from running multiple professional kitchens to leading hands-on classes for aspiring chefs at ICE, but she's just as busy as ever—creating an exclusive line of baking mixes for Crate & Barrel, judging Rewrapped on the Food Network and working on a follow-up to her acclaimed cookbook Desserts for Every Season.
In light of these accomplishments, you might assume Jenny was an all-star student, the kid who had her life planned out from the age of five. In actuality, it was Jenny's own adolescent rebellion and lack of traditional academic ambition that led her to the food industry in the first place. As a high school graduate, Jenny's only experience in the food industry came from her mother's short-lived vegetarian bed and breakfast in rural Wisconsin and her aunt's small catering business, run out of her home.
In fact, it was actually Jenny's total lack of experience with cooking that drew her to the idea of culinary school. After mere weeks of enrolling in Kendall College's culinary program, Jenny was already rethinking her decision. She didn't know much about cooking, but she was really horrible at baking. On a tour of the pastry kitchens, Jenny became enamored with the chocolate sculptures and exquisite cakes. The beauty and structure of pastry was seductive, and—ever ready for a challenge—Jenny switched programs without a second thought.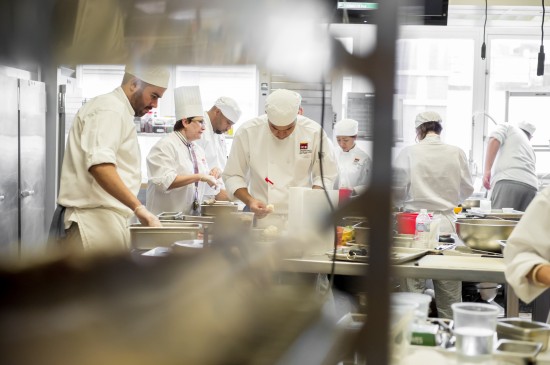 While still in school, Jenny secured a spot at a small fine dining restaurant called Gordon's. Initially, she didn't grasp her good fortune, but soon realized that she had landed in one of the most influential kitchens in Chicago. "I quickly realized I was working somewhere special," Jenny explains, "and that I should be selective with everywhere I worked from that point forward."
With that in mind, it's no surprise that the next two restaurants on Jenny's roadmap would change the course of her career forever. The first, Blackbird, was only in its second year when she arrived, but had already received considerable praise from the likes of Bon Appetit and the Chicago Tribune. The kitchen consisted of a mere six employees—James Beard award-winning chef Paul Kahn and his happy, hand-picked "dysfunctional family." Jenny adds, "At Blackbird, I learned a lot about sourcing, about creating food that felt like it had a soul to it."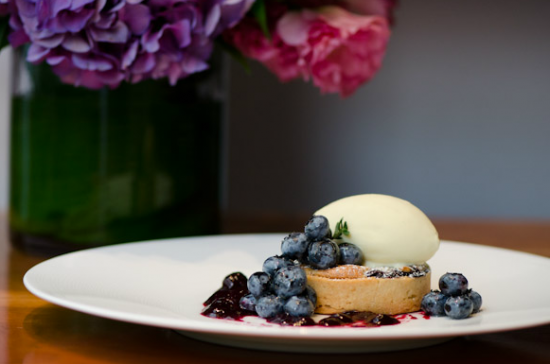 Yet Jenny knew there was another level of restaurant to be conquered: looking to the pinnacle of Chicago's restaurant scene, she set her sights on Charlie Trotter's. This world-famous kitchen couldn't have been more different than Blackbird. Jenny's first trail lasted a full 18 hours and set the bar for the rigor to come. Where Blackbird had felt like a family, Charlie Trotter's was a battlefield.
After six months of grueling 85-hour weeks, Jenny gave her notice. "If I had never had the experience at Blackbird, I might have stayed at Trotter's indefinitely, but I knew that I would learn more in an environment where I felt heard, felt nurtured." In years since, the decision has proved wise—of all the experiences on her resume, Blackbird remains the one that most impresses Jenny's fellow chefs. 
Around the same time, Jenny took a trip to New Orleans and fell in love with the city. Soon enough, she relocated to "The Big Easy"—arriving just two days before Hurricane Katrina. It took five months of waiting and crashing on the couches of various friends, but eventually local restaurants started hiring again.
Jenny submitted her resume to all the top local chefs, including Emeril Lagasse. Starting off at Emeril's Delmonico, Jenny helped reopen the damaged restaurant and ran the pastry kitchen. Intrigued by Emeril's other restaurant locations, product development and media efforts, this was also the period in which Jenny first began pursuing projects outside restaurant kitchens.
Within a mere two years, Jenny had worked on everything from recipe development for cookbooks, to revamping the pastry program at Emeril's NOLA, to writing five posts each week for Emeril's blog. At this point, Jenny was 28, and though she didn't want to leave Emeril's empire, there was still one major city she wanted to conquer: New York.
She first opened Marc Forgione's namesake restaurant as Pastry Chef, but soon pursued another position more suited to the multi-tasking management experience she had gained at Emeril's. Under ICE alum Missy Robbins, Jenny ran the pastry program for A Voce Madison, while simultaneously developing a new pastry menu for A Voce's second location in the city's prestigious Time Warner Center.  
But after two years of immersing herself in all things Italian dessert, Jenny yearned to return to seasonal American pastry. She found the opportunity—and her creative footing—in the kitchens of Tom Colicchio's Craft. There, Jenny was offered the creative freedom she craved: shopping the market four days a week, changing the menu whenever she wanted. "I was surrounded by people who were absolutely dedicated to food and ethical sourcing. It was an experience that refined my perspective and style, and it greatly influenced the recipes in my first cookbook, Desserts for Every Season."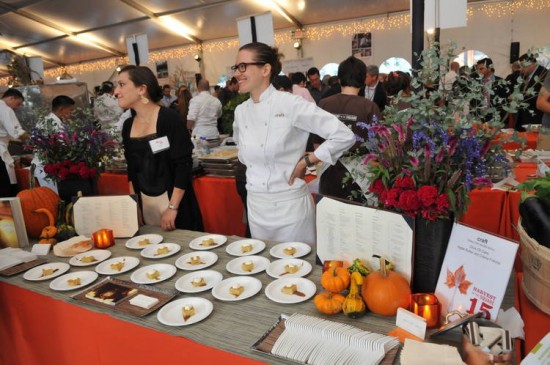 What do you do when you reach the pinnacle of the restaurant industry at the mere age of 32? For Jenny, her "graceful exit" from restaurant kitchens came in the form of an offer she couldn't refuse. An investor approached her about becoming the co-founder of a prepackaged foods start-up. The seed money was already in place; all Jenny had to do was develop the recipes.
So, taking a calculated risk, Jenny left Craft.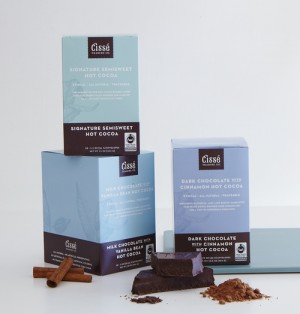 That company, Cissé Trading Co., paved a completely new path for Jenny in the field of product development. The signature baking mixes she developed can now be found in 1,000 stores nationwide and sparked offers for other consulting opportunities—including her line of baking mixes for Crate & Barrel inspired by Jenny's first cookbook, Desserts for Every Season (a side project she pulled off while still working for Cissé).
Combined with her high-end restaurant experience, Jenny's newfound expertise in product development also rendered her a perfect judge for the Food Network's new series, Rewrapped. As if these diverse projects weren't enough responsibility, Jenny had also begun teaching classes at ICE. Back at A Voce, it had become clear to her that she wasn't really a "pastry chef" anymore.
She was a high-level manager, hiring chefs and training them to execute her vision. So Jenny began teaching in ICE's recreational department, and soon enough, she joined the faculty of our Pastry & Baking Arts program. "What I love about teaching is meeting new people and seeing the excitement, the glimmer in their eye," Jenny explains. "It's that moment when they're like, 'Oh my god! I just made a pie! I didn't ever think I would bake a pie!' that I absolutely love. It reminds me of when I was back in culinary school and the reason I got into the industry in the first place."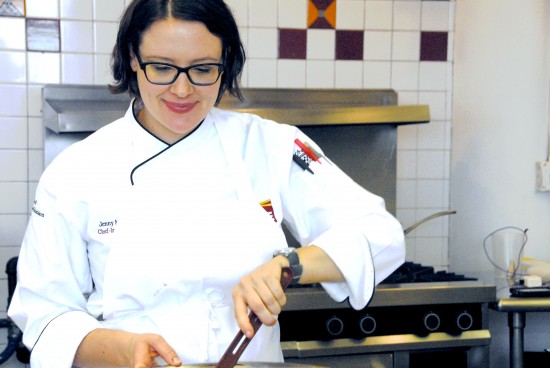 In truth, Jenny has never truly stopped being that fresh-out-of-high-school pastry student—and that's what makes her so successful. Endlessly curious, spontaneous and independent, she has grabbed hold of every opportunity that comes her way and inspires her students to do the same. "Early on in my career, someone wisely told me to spend all my money eating out, all my vacations staging, to buy tons of cookbooks and really immerse myself in the food world," Jenny reflects, "It really has shaped my career—it made me do better."
Want to study with Chef Jenny? Click here to learn more about ICE's Pastry & Baking Arts program.