Richard Chu's Road to Executive Sous
The ICE grad shares his culinary career path from Eleven Madison Park to San Francisco's Monsieur Benjamin.
When Richard Chu (Culinary/Management, '17) realized he would not be completing optometry school after three years, he returned to his family's restaurant while overcoming the setback. He'd been dishwashing, serving and cooking since childhood, experiences that nudged him to tour the Institute of Culinary Education campus while visiting a friend in New York.
The visit, squeezed in before a noon bus ride home to Pennsylvania, inspired his career shift — he began Culinary Arts classes a month later.
"It was difficult getting my dad to wrap his head around the idea of me going to culinary school at first," Richard reflects. "There I was, already helping manage the family restaurant and learning the ins and outs of it. Did I really need to go to school for it? If I was going to go down this route, I wanted to do it right and learn as much about the industry as I could."
Richard says he gained a solid foundation learning classical French techniques and the history and theories behind food. "Most importantly, ICE opened the doors for me to a number of world-class restaurants," he says. "I don't think I would have gotten the chance to stage at some of the crazy restaurants I've been in without the backing of the program."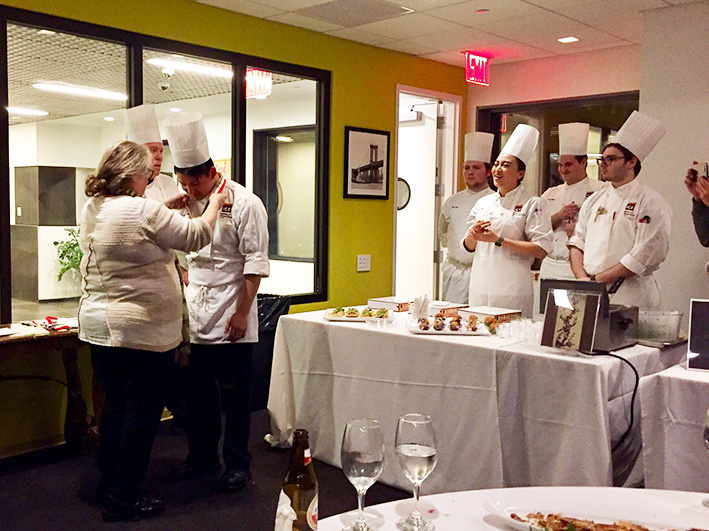 He externed at Eleven Madison Park, ranked No. 1 on The World's 50 Best Restaurants list that year (2017), with three Michelin stars every year since 2012, four stars from The New York Times in its 2015 review and seven James Beard Awards.
"There I learned teamwork, discipline and what it takes mentally and physically to be on the next level," Richard says. "I was hired on as a commis after my externship and moved into pastry shortly after as there was a need in the department at that time."
When Eleven Madison Park underwent renovations, Richard reached out to a chef he met at ICE, Chris Eby, whom he began working with at BLT Steak followed by CUT by Wolfgang Puck.
"CUT was where I grew exponentially as a cook," he says. "The type of service and chefs there at the time really pushed me outside of my comfort zone and as a result, I quickly rose through all of the stations in a few months, eventually becoming lead."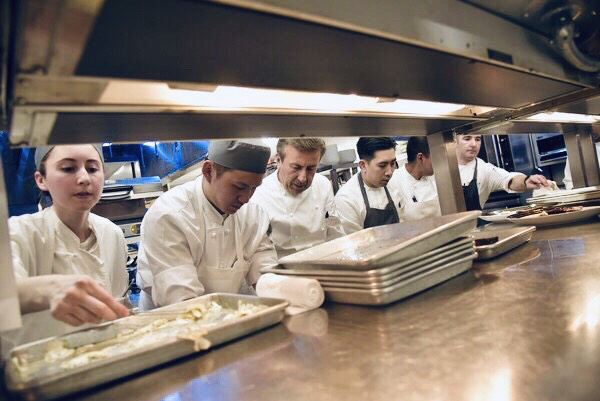 Richard went on to a sous chef position at Charlie Palmer Steak at the Archer Hotel, where he managed the back of house alongside the executive chef.
"I quickly learned that cooking was the easy part of running a restaurant," he says. "I was thrust into an executive sous role trying to manage three services a day, room service, hotel amenities, a rooftop bar, catering and PDR parties. If that wasn't enough, I also was in charge of HR stuff, staffing, scheduling, onboarding, managing vendors, all ordering, inventory, invoicing and budgeting. It was a lot but I am grateful for the opportunity to learn an entire operation top to bottom."
Admittedly burned out and ready for a change, Chef Richard drove from New York to San Francisco, where he took a sous chef position with less responsibility at Monsieur Benjamin. "After seven months, under the mentorship and guidance of Chef Brandon Rodgers and Chef George Dingle, I became the executive sous," he reports.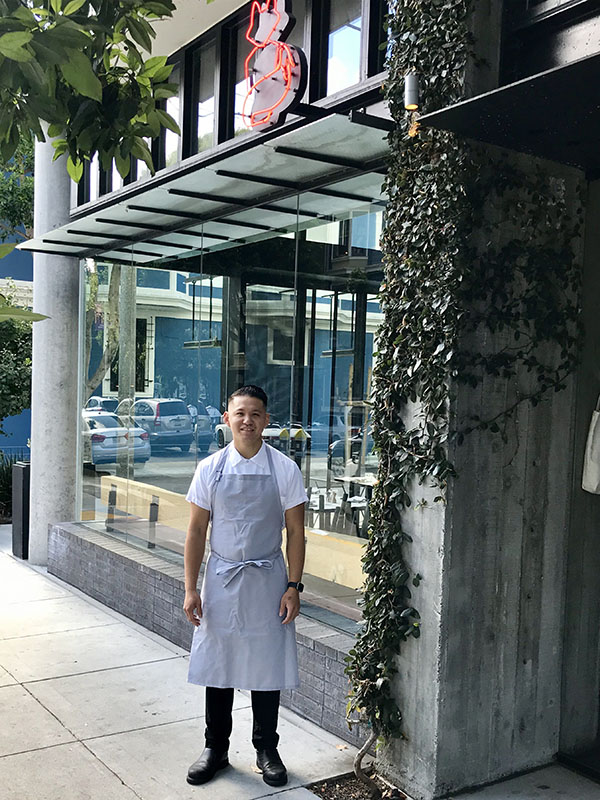 Today, Chef Richard works with purveyors, surveils the morning production of sauces, soups and mise en place, makes the staff meal and oversees cooks and stations for dinner service. He works stations, floats and expedites service, takes inventory of each station at the end of each night and delegates the prep list before the following day.
Richard combines "classic French techniques with a modern twist inspired by all the amazing products available in the Bay Area," he says. "It's similar to NYC in terms of liveliness and diversity. You can find just about any kind of food that you are craving. However, I don't think you can have access to as many fresh and local ingredients as you can in San Francisco. We are so close to the water and so many farms that you just can't beat the seafood and produce here."
Outside of work, Richard does his own fishing, crabbing, tide pool exploring and foraging for live sea urchin and seaweed. "I would like to begin foraging for live mussels as soon as California lifts its annual quarantine on them," he says. "Scuba certification and deep-sea diving are on the horizon as well!"
Two years after graduation, Richard reports loving his position, aiming to gain confidence and comfortability in the year ahead and crediting hard work and guidance for his career success.
"You can have the best chef and mentor in the world, but if you don't have a high level of commitment, discipline, work ethic and resilience, it will be a harder and longer road than most," he advises. "Most importantly, you have to really find joy in what you do. When there is joy, you stop counting how many hours you've logged in and you're just there for your restaurant because you enjoy being there and you want to do whatever it takes to crush a successful service."
Begin your journey to joy in restaurant service with career training at ICE.